The Hood River County Education Foundation (HRCEF) has confirmed Laurie Stephens as the new executive director for the organization. Stephens has been a resident of Hood River since about 2002, and she and her husband, Doug Ward, have two sons. Ryan graduated from HRVHS in 2015, and Casey is a junior at HRVHS.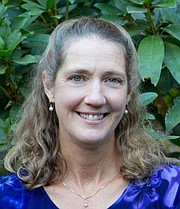 "I am excited to join HRCEF to support excellence in education for students and teachers in Hood River County schools," she said. "I want to showcase the Foundation's achievements and bring greater community awareness of those important activities. Since 1991, HRCEF has been quietly, but heroically, assisting hundreds of students and teachers with scholarships, grants and special programs through donations from individuals and businesses in the Gorge."
Stephens has experience on the Hood River City Planning Commission, where she served for eight years, two as Commission chair. She served as a charter school board member for Mosier Community School, and as the treasurer and fundraising coordinator. She has a Ph.D. in Molecular Biology from University of California Berkeley. She worked as a scientist in a biotechnology company in the Bay area and taught biology at Mills College and University of Washington.

Currently, she is a volunteer for the ASPIRE program at HRVHS. ASPIRE assists students with the college admissions process and finding financial aid.
"The hiring committee felt that Laurie's experience with college financial aid and fundraising gives her skills that we know will benefit HRCEF," said Chuck Bugge, HRCEF Board president.
HRCEF manages one million in dedicated funds donated by individuals and businesses. Annually, HRCEF awards over $50,000 in college scholarships to Hood River Valley High School graduating seniors and to HRVHS graduates.
In addition, HRCEF provides over $20,000 annually in teacher grants to Hood River County School District teachers and staff for innovative teaching ideas that cannot be funded within the regular school budgets.
A new initiative, the HRCEF Opportunity Campaign, is now seeking funding to assure that all middle school students are able to participate in fee-based sports and activities. With continuing cuts requiring "pay-to-play" for middle school sports, many families cannot afford the costs. Participation has dropped by 50 percent.

HRCEF has pledged to help raise $50,000 per year for three years to support middle schoolers via the Opportunity Campaign. With the help of generous grants from the Providence Hood River Memorial Hospital Foundation, Hood River Lions, and donations in memory of Jim Mallon, most of the funds for 2016-17 have been raised. Recruiting of students in need of financial support for spring sports is now underway at both middle schools.
See the HRCEF webpage at www.hrcef.org for information about how to donate to any of the funds — the Opportunity Campaign, music in the schools, teacher grants, and scholarships. Stephens succeeds Dan Spatz, who is now director of Gorge Community Foundation.