Rep. Mark Johnson (R-Hood River) held a casual town hall meeting at Dog River Coffee last Wednesday evening.
The Hood River state representative gave a legislative update to about 15 gathered people, spanning hot topics like the recently passed minimum wage hike, recreational liability at ski resorts, education initiatives and infrastructure funding for the Gorge.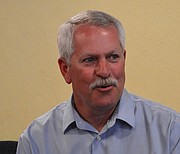 Johnson first took up — and criticized —the minimum wage law, signed into effect by Gov. Kate Brown in March. He said the rules hadn't been vetted or researched properly in the 2016 short session due in part to the looming fear of two more extreme ballot measures. Both of those are off the table now, he said.
The plan splits the state into three wage tiers. Over six years, the Portland metro area will rise to $14.75, semi-urban counties including Hood River and Wasco will climb to $13.50 and eastern Oregon counties will lift to $12.50. Oregon's current minimum wage, $9.25, will nudge up to $9.75 on July 1.
Johnson said about 95 percent of his constituents told him "please don't do this" on the wage hike. He argued the swelled cost will harm Hood River County businesses and farms. Several orchardists testified against the bill in February.
"This doesn't hurt the Walmarts of the world, it hurts the locally owned businesses," Johnson said.
Johnson said he will pursue a bi-partisan plan to implement a training wage, which would give employers flexibility in hiring teen workers.
Recreational liability was another top concern Johnson hopes to address.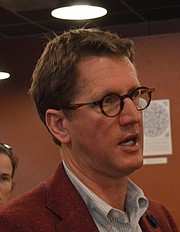 Matthew Drake, head of Mt. Hood Meadows ski resort, said at the town hall that his business, like other mountain resorts in Oregon, has been increasingly vulnerable to safety lawsuits due to the "gray area" of outdated laws regulating the recreation industry.
Johnson has been trying to update a 1979 ski statute to reflect new technology (such as snowboarding) and the "inherent" safety risks to tighten up the rules and better protect the resort industry from legal backlash.
Johnson's proposed statute update didn't pass this session, but he did get language into another bill — HB 4146 — that requires the state to study barriers preventing the growth of Oregon's recreational tourism industry. This could forge a new path for the rules tweak.
Johnson weighed in favor of a flurry of bills that passed in the short session.
A clean energy bill got Johnson's thumbs up. SB 1547 sets a deadline for Oregon to be coal-free by 2030. It also requires the state to get at least 50 percent of its electricity from renewable sources like wind, solar and small hydro by 2040. Johnson, who backed the bill, said it supports hydropower in Hood River County like projects at Farmers Irrigation District.
Another achievement by Johnson and Sen. Chuck Thomsen (R-Hood River) was political pressure that encouraged Oregon Department of Transportation to designate the Hood River-White Salmon Interstate Bridge as a national highway. The Port of Hood River is now better positioned to apply for federal grant funding to support the bridge.
On housing legislation, Johnson was mixed. He felt a new urban growth boundary (UGB) pilot program and an inclusionary zoning bill that passed were tools more tailored to the Portland metro area.
"It's mostly geared toward multi-family (housing) … it doesn't pertain to us as much," he said.
Nick Salter of Hood River asked Johnson about the future of affordable college programs.
Johnson said he'll be seeking funds to carry out Oregon Promise, the tuition waiver program for community college, which takes effect this fall term. This session, the legislature approved the initial two-year round of funding.
"Now we've got to make it work," Johnson said. "We're only paying for one cohort of students."
Congestion in the Gorge will be another issue for the state representative to tackle. The Columbia River Highway Collaborative, a team led by Johnson and Multnomah County Commissioner Diane McKeel, has been hammering out plans to address overcrowding of the region, especially the waterfall alley in the western Gorge.
Johnson said ODOT has proposed a pilot transit project that would provide buses from the Portland Metro area to Multnomah Falls. They're also working to turn space at Rooster Rock Park into a satellite parking area.
The agency has been gathering input through surveys. Depending on funding, they plan to start the pilot bus program either this summer or next.