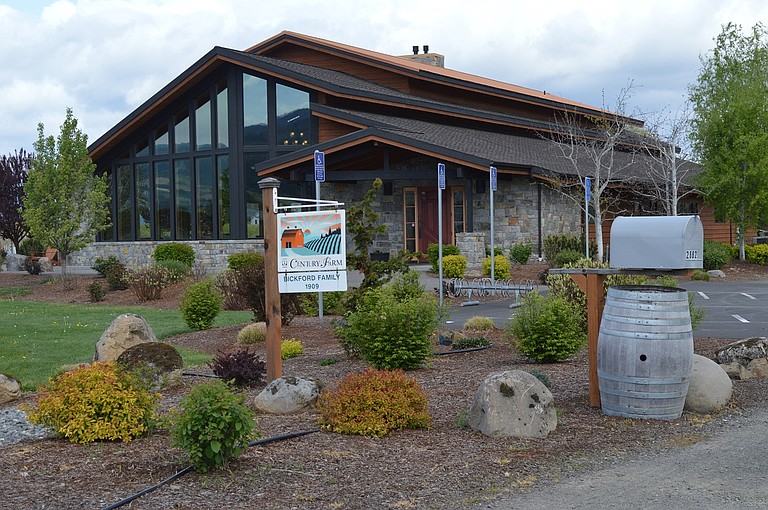 Originally published April 13, 2016 at midnight, updated April 13, 2016 at midnight
Here's a stop for your Blossom Time wanderings this weekend: Mt. Hood Winery, just voted 2016 Oregon Winery of the Year.
The panoramic tasting room is located five miles south of Hood River, near Highway 35, on Van Horn Butte Drive. The patio takes in views of both Mount Adams and Mount Hood. Wine Press Northwest announced the award last week, stating in a release, "Steve Bickford and his family grew up in the Hood River Valley with generations of success with tree fruit, but they've been a rather quick study when it comes to wine. And it wasn't even his idea to plant a vineyard back in 2000."
"I just took a gamble on some grapes," Bickford said. "A friend spurred me into it, telling me there was nursery that had some grape vine cuttings. I asked how many, and he said, '4,000.' I guess it was 'go big or go home.' "
Bickford began by replacing Newtown Pippin apples with 5 acres of Pinot Noir and 1 acre of Pinot Gris. Those efforts by Bickford, his brother Don and sister-in-law Libby paved the path to Wine Press Northwest naming Mt. Hood Winery as the 2016 Oregon Winery of the Year.
Their résumé for 2015, authored by winemaker Rich Cushman, led with a double platinum for its 2014 Dry Riesling — the highest-ranking Riesling at last fall's Wine Press Northwest Platinum Judging. That wine earned its way into the Platinum with a double gold at the Great Northwest Wine Competition, one of six gold medals won by Mt. Hood at the spring event, which also awarded the 2012 Glacier Late Harvest Riesling as best dessert wine and 2012 Barbera and 2014 Gewürztraminer with best-of-class awards.
More validation came this winter when the Mt. Hood 2013 Merlot finished second overall in the Wine Press Northwest peer-judging of 100 Northwest examples of Merlot.
"I don't come in and just get work orders," Cushman said. "It feels like a family here. We all have lunch together every Friday and drink other people's wines. But I've also walked through those vineyards so many times since 2007, and the Bickfords are really good farmers. They are dedicated."
It's been a steady climb for Mt. Hood Winery. Those initial plantings reached their third leaf in 2002, and the grapes weren't going to turn themselves into wine.
Cushman's winemaking path included stops in Germany and the University of California-Davis before working throughout Oregon for 25 years. He moved back home to Hood River and began making wine for a couple of clients. One brand rented space from the Bickfords, who'd recently sold their successful fruit-packing operation and transitioned into a 10,000-square-foot winery facility.
"We got bigger, and Rich ends up staying here," Bickford said.
Cushman's arrival in 2007 is not a coincidence with the rise of Mt. Hood Winery. Production of the brand has reached 3,000 cases, with Cushman's own Viento label at about 2,000 cases. There also are a handful of custom-crush clients, and they partner on their growing Hood River Ciderworks. Estate plantings make up 70 percent of Mt. Hood's bottlings.
Bickford, a mechanical engineer from Oregon State University, sits on the board of directors for the Columbia Gorge Winegrowers Association. The group counts more than 30 wineries along both sides of the river with 80 vineyards covering a total of 1,250 acres.