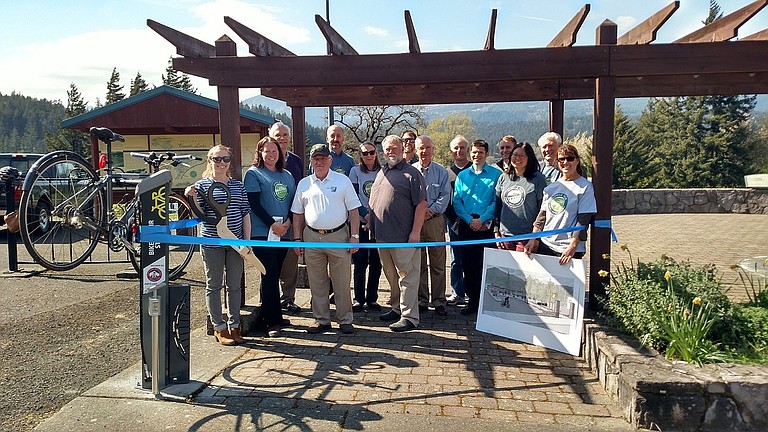 Wednesday, April 20, 2016
Cascade Locks ushered in a new biking hub at Overlook Park on April 11 with a ribbon cutting ceremony, which drew leaders from Gorge cities as well as transportation, historical and biking groups. The fix-it station opened just in time for the spring recreation season.
The hub, near the post office on WaNaPa Street, will encourage visitors to explore Cascade Locks' main street and the sample the town's culinary highlights.
Six communities along the Historic Columbia River Highway State Trail from Wood Village to The Dalles have banded together to develop a system of Gorge Hubs, which anchor the communities on the trail. The hubs are going in alongside Oregon Department of Transportation and partner groups' multi-year project to connect the old highway into a seamless hiking and biking trail.
The fix-it station is a common amenity of each Gorge Hub provided through a donation from the Portland Wheelmen bike group to the Friends of the Historic Highway.
Cascade Locks' hub is being developed in the city's core near the post office and will take advantage of Overlook Park.
The plan is to leverage opportunities for funding a proposed pedestrian bridge over the railroad tracks that will link WaNaPa Street to the port's Marine Park on the river.

Each city has developed a hub design unique to their community that will feature kiosks, maps, and a bike fix-it station.
Groups say the idea behind the Gorge Hubs project is to help spur economic development by encouraging visitors to stage their trips from the communities' business cores.
•
Hood River got a head start with the first completed Gorge Hub. Special features of the hub, located at Third and State Street, are its two restrooms, bike racks, drinking fountain, and a sculpture, "View," by Hood River artist Macrae Wylde.
Coming later this summer and in 2017 are an information kiosk, repair station, and additional art, among other amenities.