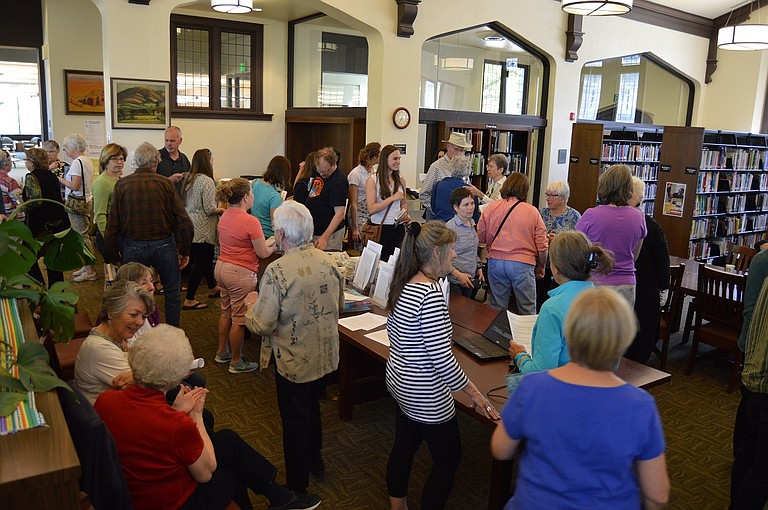 Wednesday, April 27, 2016
Hood River County Reads celebrates its 10th anniversary this year and kicked off the 2016 season with book distribution of this year's selection, "Martin Marten" by Brian Doyle, at the Hood River Library on sunny Sunday, April 17, with additional books at the Parkdale and Cascade Locks branches April 19.
In all, 515 free books will be distributed at community events and select students at Hood River Valley High School, Hood River and Wy'east middle schools, and Westside Elementary.
While it's the 10th anniversary — the event began in 2006 — we're technically 11 years in. The annual event skipped a year, in 2011, when the Hood River County Library was closed due to budget cuts.
The kickoff included Library Director Buzzy Nelson reading the Hood River County Reads proclamation, local author Glenn Harris presenting a section of Doyle's poetry, and four Hood River Valley High School AP Studio Art 2D students — Finn Peterson, Lindsey Hegemann, Amber Kennedy and Alina Watt — describing the winning posters they'd entered into the annual contest.
Hood River County Reads began with Pat and Leighton Hazlehurst, who moved to the valley from Vermont, where Pat had served as the library director for 25 years, said Mole Schaeffer, one of the original members of the Hood River County Reads committee.
"She was responsible for many innovations at her library there, including having a community reads event," Schaeffer said. "It was a huge success (and) really brought the community together, people all around town discussing the book."
When the Hazlehurts moved to Hood River, Pat immediately became part of the library's volunteer group, and when she suggested a similar community reading program — the idea was to pick an author and a book that reflected the diversity of Hood River County, and to share it for free — the other volunteers quickly came on board. The first event launched in the spring of 2006 with "Bat 6" by local author Virginia Euwer Wolff.
That first committee consisted of Schaeffer, Hazlehurst, Jean Harmon, Elizabeth Garber, Mary Ethyl-Foley, Pat Schmuck and then Library Director June Knudson. Schaeffer, Harmon, Garber and Schmuck still serve today, with Helen James joining after Hazlehurst's death, eventually taking on the role of committee chairman.
Organizers knew from the start this would be an annual event — and each year (excepting 2011), community members have gathered to read, discuss, and learn from the current selection.
Doyle, this year's author, has gone above and beyond to not only come to Hood River on multiple occasions to talk to students and adults, but has made many of his poems and essays available free for distribution, said Schmuck, who emceed the April 17 event.
"Brian has put so much into this," she said.
"Martin Marten" tells the story of Dave, teenage boy, and Martin, a young pine marten, as they come of age on Mount Hood. It poses the question of who — and what — makes up a community: The people, certainly, but what about the animals and surrounding countryside?
"It's just a joyous book," said James. "Doyle has a local following already, and it's a very pro-community kind of book."
More events have been added this year — although some are private — for senior citizens and students, including programs, book club meetings and author visits at Providence Down Manor and local schools. Gloria Arnold is again reading the selected book on Radio Tierra, KZAS 95.7 FM, Hood River — she started April 1 — and will continue to do so each Friday at 8 p.m. until the book is finished. While previous selections were read in English and Spanish, "Martin Marten" is only available in English.
The goal is to simply get as many people as possible enjoying the book.
"The whole point (of Hood River County Reads) is a book, an author and the community," said James.
In addition to free copies of "Martin Marten," several of Doyle's other books can be checked out at any of the Hood River County Library branches. Copies of his poems and essays are also available, with the author's permission.
'Martin Marten' a book to savor
"I didn't just enjoy 'Martin Marten' by Brian Doyle! I savored it, learned from it, reflected on it, and was so sorry when it ended!" wrote Pennie Burns, essay winner of News columnist Peggy Dills Kelter's Most Compelling Book of 2015 contest in February. "This is a coming-of-age story, but so very much more. It's really about love, and love in almost every form that can be imagined. From the youngest of humans and animals, to the elderly humans and animals. And the beauty part is it all takes place on Mt. Hood, or Wy'east, as Doyle correctly calls it.
"Martin is a marten ... when we meet him he is a newborn, being taught the many lessons of survival by his mother. I learned more about martens than I ever thought I would. And elk, fox, birds of all kinds, rivers, meadows, trees, and humans.
"Brian Doyle writes long, Dickensian sentences, but there is nothing artificial about what he says and what his characters do. Everything serves the story well. "
EVENTS SCHEDULE
Note: There is no charge for the book or any of the following events.
• May 1 — "The Natural History of Martin Marten's World," 2 p.m. in the library reading room. With Bill Weiler, a wildlife biologist and naturalist who has lived for 20 years near Lyle and works in the Sandy River basin where Martin Marten, and all of his great animal friends, live.
• May 5 — Hood River Library Book Club discussion of "Martin Marten," 6:30 p.m. in the library reading room.
• May 15 — "Crag Rat Mountain Rescue Stories," 2 p.m. at the History Museum of Hood River County. With Bill and Don Pattison.
• Through May 20 — Radio Tierra will feature a reading of the book on Fridays beginning at 8 p.m. Tune in on 95.1 FM in Hood River, 107.7 FM in The Dalles, and 95.9 FM in Stevenson.
• May 21 — "Stalking the Wild Marten with Bill Weiler," 9 a.m. to 3 p.m. on a Mount Hood trail. Includes lunch with Weiler and author Brian Doyle. Space is limited; reservations for this event began April 17. For more information or to RSVP, contact the Hood River County Library District at 541-386-2535, info@hoodriverlibrary.org, or hoodriverlibrary.org.
• May 22 — Family-friendly public presentation by author Brian Doyle, 2 p.m. in the Hood River Library reading room.
Hood River County Reads through the years
2006: "Bat 6" by Hood River native Virginia Euwer Wolff
2007: "Gonzáles and Daughter Trucking Company" by María Amparo Escandón, and "Esperanza Rising" by Pam Muñoz Ryan
2008: "River Song" by Oregon author Craig Lesley
2009: "Stubborn Twig" by Lauren Kessler, about the Yasui Family of Hood River
2010: "The Hearts of Horses" by Molly Glass, which took place in eastern Oregon during World War I
2011: No event
2012: "The Circuit/Cajas de Cartón" by Francisco Jiménez
2013: "Ricochet River" by Oregon author Robin Cody
2014: "Ask Me: 100 Essential Poems" by William Stafford
2015: "Into the Beautiful North" by Luis Urrea, and "Becoming Naomi León" by Pam Muñoz Ryan
2016: "Martin Marten" by Oregon author Brian Doyle