Originally published April 27, 2016 at midnight, updated April 27, 2016 at midnight
Check your mail in the next few days: the distinctive long envelope with the pink "Election" logo should arrive no later than Monday.

The Primary Election ballots will be mailed April 27 — the earliest day allowed, according to Hood River County Elections' Kim Kean.
Election Day is May 17 but all voters who mail their ballots are urged to do so earlier than usual – by May 10, to ensure it gets to the county in time.
For about 300 county voters, there is another twist.
Some folks will receive TWO ballots, if they recently changed their voting information. The key to all this is the bright green sticker (see image at right).
We've prepared this Q and A on this election oddity.
Q: Wait: TWO ballots?
A: Yes, a few people will get two, but only one is valid.
Q: What do I do if I get two ballots?
A: Keep the green-sticker ballot, destroy the other one.
Q: Who does this effect?
A: Anyone who, between April 5-26, 2016, changed any registration information — address, name, or party affiliation.
Q: What happens if I mail the wrong ballot?
A: It won't get counted (see details at right).
Q: How did this happen?
A: Data already sent to the county's mailing center in Bend (new this year) cannot be changed or pulled, so every voter gets a ballot based on their original data. Those ballots are ready to be mailed. Anyone who changed information after April 5 will get a SECOND ballot rather than a replacement.
That Green Sticker
Did you change your voting information after April 5? You will receive a ballot with this green sticker on the envelope.
Keep that ballot and submit it;
DESTROY the other one — it will not count: it will literally stop the machine and be pulled.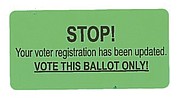 If County Elections catches the invalid ballot in time, it can contact the voter by email or phone, if they have that information. However, many voters' records include mailing address only, and unless it is caught early enough, a letter from the county informing the voter of the need to re-cast a ballot might not get to the voter, and back, by 8 p.m. May 17.
The sooner you vote the better, but the key is to make sure you send in the ballot that came in an envelope with the green sticker. Call Elections at 541-386-1442 if you have any questions.