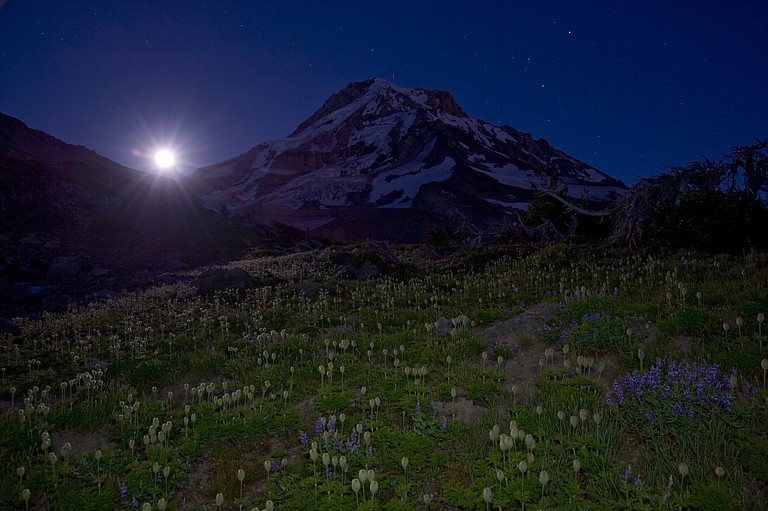 Wednesday, August 3, 2016
"It's not the destination, it's the journey."
This often-used phrase has its merits, but there are adventures to wild places where both the journey and the destination are equally divine.
For more than 20 years I have roamed the wild world of Mount Hood, searching for undiscovered country, hoping to stumble upon a magical place — a place with no name — that would fill my soul like no other. A decade ago I stumbled upon a miraculous meadow that blooms ever so briefly that it is gone in a cosmic blink of an eyelash.
I have returned to this meadow every year since then and over time have come to realize that the entire journey is filled with wonder. In early June, the lower trail comes alive with a carpet of avalanche lilies, nodding and waving, their brilliant white petals performing a synchronized ballet so welcoming it's impossible not to smile.
In July, further up the trail comes the bear grass, with its golden, sweet scented flower so large it resembles an oversized county fair cotton candy tuft. In the evening light it glows like a magic lantern, and somehow holds the light until there is no more.
But the tallest and most compelling of blooms comes in August when fireweed takes center stage. Since the devastating wildfire of 2011, the increased soil nutrients have turned these rose and violet petals into seven-foot monster spikes. They bloom from the bottom up, like a sunrise bathing the stems in an upward moving light show. Then the seeds are cast into the wind in a downy parachute and take root for the next generation of beauty.
These mighty, miraculous three, the first to come back after the natural rhythm of fire, provide a compelling and fleeting moment of beauty to the stark lunar landscape of the burn zone.
Beyond the tree line, you enter through a portal into the mystery on an unfamiliar land. There is an eerie passage through wind blasted, gnarled white pines. This stretch is like walking through an elephant's graveyard, with dozens of tusk-like pine remnants bleached white against an azure sky, anchored in a dune of desolation, skeletons from another time.
And then you are there, in a place of raw beauty that only nature could create. This meadow is tiny yet it is filled with so many wonders it would take a lifetime to describe. A lichen-covered boulder chiseled by time in the exact likeness of the mountain looming large. The ebb and flow of mountain winds, the gentle whisper of a glacial creek, a twisted, snake-like pine remnant that came to rest on a boulder eons ago, a tiny pond that appears and holds the mountains face for but a week, then disappears.
This is my church, cradled between two ridges, with a cerulean sky as the cathedral dome, a rainbow community of flowers, bees, tress, boulders, and moonlight — all fellow congregants in silent reverence in this holiest of places.
This meadow defies description. It is quite the little miracle, a bold piece of life daring to thrive at the edge of snow and ice. At nearly 7,000 feet, this annual bouquet of color lasts for but a wrinkle in time, a week, maybe two. To rest among the honey-scented lupines is to be wrapped in a blanket of ecstasy. A frenzy of bees gorge on pollen, and fly away low like drunken sailors with their wilderness feast.
Many a night I have stayed, dining on stars all night and slaking my thirst from a nearby glacial stream. On a recent July Full Buck moon, I laid atop my sleeping bag staring in disbelief at the moon beams shining down on me as it crested the horizon. Moons have always had a powerful effect on me, arousing all of my senses and making sleep impossible. My eyes were drawn to how the moonlight bathed the meadow in a surreal light not of this world.
While lupines and paint brush are the better known superstars of high mountain meadows, my favorite here is the pasque flower (also called Old Man's Beard). This cup-shaped marvel with brilliant white petals is the first to bloom and the last to leave. Long after the others fade, the pasque flower reigns on, shape shifting into a tall fluffy seed pod, that many mistake as the actual flower. The folklore of the Dakota Nation tells of the pasque flower speaking as a grandparent addressing her grandchildren. The flower tells the grandchildren she has come out first to show that spring is here. Then, when all others come out, it is time for her to die. By example, she shows they must become old and grey and pass on to the next land that has been prepared by ancestors. The pasque flower will return, speaking her message to generation after generation.
It comes to me, as I lay supine from a flower's eyed perspective of the azure universe above, why I return year after year. There is an overwhelming sense of coming home, a return to a time of enchantment. I was blessed to have a mother who took my four-year-old hand and guided me into the magical world of meadows, forests and cloud watching. She taught me that nature is not to be feared, a safe place where no one can hurt you.
This is a haven where you are freed from the man made rules of conforming to societal expectations, a safe place where you can scream and no one will hear, where you can allow grief and pain to surface, where tears can flow and hope rises.
In the light of early morning, where shadow and sun are the only inhabitants, I give thanks for the decade of coming to know this arena, for the landscape of thoughts — often uplifting, many bittersweet, some painful — but always departing with renewed strength and resilience to take on the challenges of life in the lowlands and dream again of this place with no name.
Author's note: Special thanks to Darryl Lloyd for introducing me to the general area years ago that lead to my own discoveries in this sanctuary.