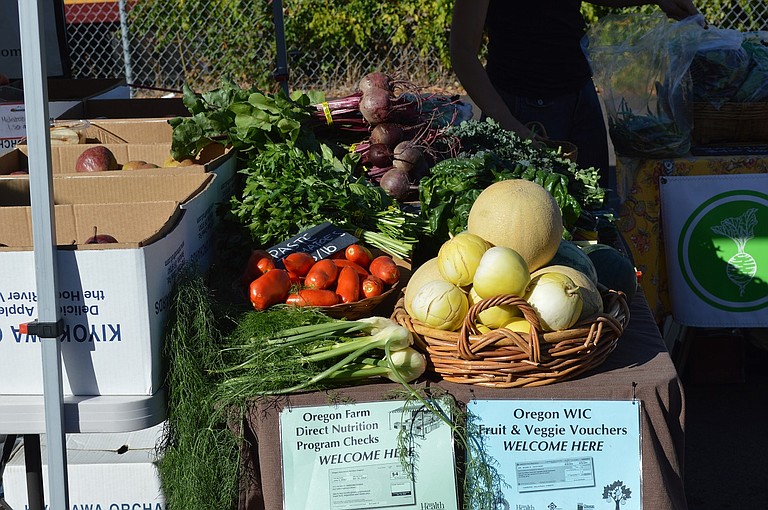 National Farmers' Market Week is Aug. 7-13, and all nine Gorge markets, from Parkdale to Trout Lake and Stevenson to Goldendale, are celebrating with special events like live music, market games and raffle prizes.
Farmers' markets are more than just an outlet for fresh produce and friendly farmers — they preserve farmland, stimulate local economies, increase access to fresh nutritious food, improve community health, and promote sustainability.
For example, for every $100 spent at the farmers' market, $62 stays in the local economy and $99 stays in the state. If just 20 percent of the fruit, vegetables and meat consumed in the Gorge were purchased directly from a local farmer, $9.6 million would stay in the local economy. Farmers' markets also promote community; people who shop at farmers markets have an average of 10 interactions while shopping versus just three interactions at the grocery store.
"Farmers' markets play a vital role in forming healthy, local food systems," said Jen Cheek, executive director of the Farmers' Market Coalition. "By providing the opportunity for farmers to connect directly with consumers, markets serve as education centers. Vendors are teaching customers about agriculture, sharing recipes, and exposing them to new foods. Markets are making people and communities stronger and healthier."
Now more than ever, customers can increase their purchasing power at the farmers markets. Nearly every Gorge market accepts SNAP (Supplemental Nutrition Assistance Program), formerly Food Stamps. A number of the markets offer a $5 SNAP-Match for SNAP recipients each time you visit the market. Card-holders can swipe their SNAP card at in the info booth and get $5 more dollars in tokens to use at the market. These markets offer SNAP-Match: Hood River Farmers Market, Mercado del Valle, Mosier Market, The Dalles Saturday Market, Stevenson Farmer's Market, and White Salmon Farmer's Market.
Many markets also accept WIC vouchers, while all farmers markets in the Gorge also accept Veggie Rx Vouchers. These vouchers are given out by a handful of health clinics.
Support local farmers, food producers and communities by shopping at the any farmers market in the Gorge. For more information visit gorgegrown.org.