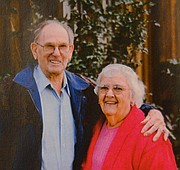 Wasco County Historical Society invites the public to a free presentation on the Gray Century Ranch by Nancy Gray Proctor on Saturday, Aug. 13 beginning at 2 p.m. The event will take place at the Moody/Rorick House, located at 300 W. 13th St., The Dalles. As the presentation will be outside on the lawn, participants may bring lawn chairs or blankets; enter from the side street or through the house. Refreshments will be served.
The Gray Ranch, located near The Dalles, began in 1868, when Yancy Gray, accompanied by his wie, Martha, left Missouri for Oregon. In 1878, Yancy purchased property on Five-Mile Creek and rented pasture to Fort Dalles for their horses. With the passing of Yancy, the ranch was assumed by his son, Thomas, and he acquired additional property on Pleasant Ridge in 1888, raising horses for the U.S. Calvary. Thomas and his wife, Margaret, expanded their ranching interest to include cattle, hogs, hay, grain, dairy and fruit.
With Thomas' death, son Clarence took over in 1925, interrupted by World War II. After serving in the military, Clarence married Selma in 1949 and, having reestablished the ranch, raised grain, hay, and registered Polled Hereford cattle. The two were involved in a number of organizations, including the Wasco County Electric Cooperative, the Wasco County Livestock Association, the Oregon State Cattlemen's Association, and the Oregon and Wasco County Wheat Leagues. During those years, Clarence received a number of honors for his many contributions.
Clarence and Selma's daughters, event presenter Proctor and Suzy Gray Goolsby, continue as fourth generation owners of the original property on Pleasant Ridge.