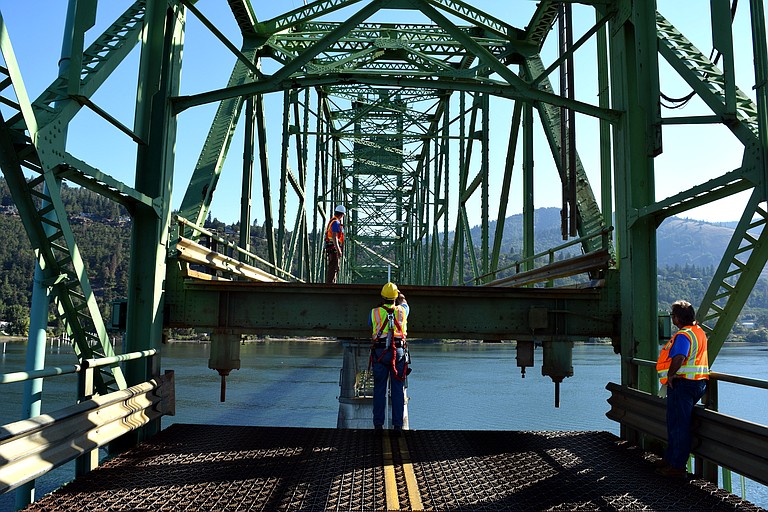 Originally published August 13, 2016 at midnight, updated August 13, 2016 at midnight
Traffic periodically clogged the Hood River-White Salmon Interstate Bridge this week while Port of Hood River engineers tested the structure's lift span, but their work proved constructive.
Crews have installed new equipment to stabilize the bridge's vertical lift, which had been offline since last fall, when a barge allegedly struck one of the bridge's support towers.
After running several tests Wednesday and Thursday, the Port discovered the span worked fine — crews raised the mechanism up about 45 feet. Extra tests scheduled for Friday were cancelled.
"We're back to full operational status. We've made multiple lifts … and everything checked out well," Port Executive Director Michael McElwee said.
"It's a big step forward to have this lift span (operational) again and be able to tell the Coast Guard."
That 246-foot piece in the middle section of the Port-owned bridge — which is designed to be raised for especially tall ships passing in the Columbia River's navigation channel below — had been shut down for months.
Last September, a suspected barge tow scraped the north pier of the bridge. Engineers dove into an inspection and found damage to the concrete support pillar, as well as cable connection points to the structure's lift span.
The prime concern: whether the span could be raised up and lowered back down in proper balance, without damaging its structure.
Typically, the span gets raised several times a year to accommodate taller vessels, but not routine barge traffic.
There was no threat to vehicular traffic in the meantime, but the Coast Guard issued the Port a waiver to hold off on any bridge lifts until the vertical mechanism was fixed.
McElwee explained that the river is a federal waterway and the Coast Guard has been "anxious," checking on the Port's progress on restoring the lift.
"This has been a challenging and lengthy process," McElwee said.
In late July, an electrical engineer from Stafford Bandlow Engineers, Gorge Electric electricians, and Port staff started making wiring changes to the lift span. This week, crews installed new gear, including an inclinometer instrument that measures angles of the span's lilt.
The Port expects the new setup, which has improved controls and "fail stop mechanisms," will keep the lift span stable in the future.
The lift tests, which held up traffic over the bridge, were slated for mornings and afternoons Wednesday through Friday. Traffic jammed up longer than the 20 minute periods expected during some of the tests, but the work culminated one day ahead of schedule.
Port engineers will be back out on the bridge in three or four weeks to check on the new equipment.
---