Originally published August 17, 2016 at midnight, updated August 17, 2016 at midnight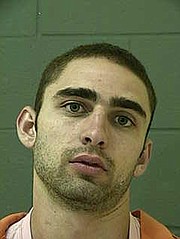 A Hood River man accused of robbing at gunpoint Jack's Mini Market had a court appearance Tuesday in Wasco County but did not enter a plea as expected. A plea entry is anticipated by or before Sept. 20.
Tucker Douglas Shepherd, 21, of Hood River, first appeared in court on July 22 to be charged with first-degree robbery and unlawful use of a weapon, or carrying a firearm with intent to use against another person, said Wasco County District Attorney Eric Nisley.
Nisley is handling the case and said at the Tuesday court appearance, Shepherd's attorney asked for additional time to gather more information.
Shepherd is also accused of robbing a Subway in Hood River July 3. Nisley said "evidence was recovered during the investigation of the Hood River robbery that assisted the city of The Dalles in their investigation and ultimately led to charges being filed."
Shepherd has remained in custody since his arrest July 7 at the Hood River Library, Nisley said. Jack's Mini Mart in The Dalles was robbed July 6, the day before his arrest in Hood River.
In both instances, a tall, thin man with a mask or scarf over his face burst into the business, demanded cash, then left.
In a court hearing in Hood River County, Hood River County District Attorney John Sewell said Shepherd had a history of referrals in local juvenile court and a weapons charge out of Mesa, Ariz., for which Sewell said Shepherd is on probation, according to the Hood River News.
Nisley said Wasco County has on average about one armed robbery a year. "Some are threatened that 'I've got a gun,' some are with guns, some are with other weapons."