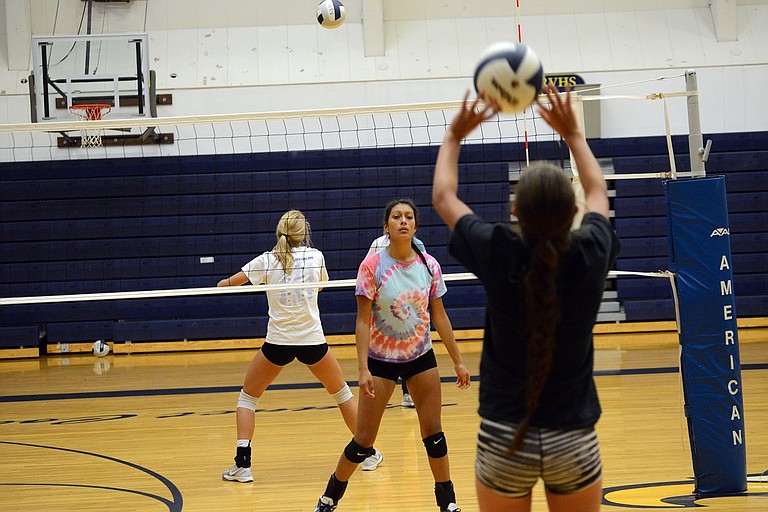 Saturday, August 20, 2016
Hood River Valley High School athletic teams have been enduring the hot weather all week in preparation for the start of the fall sports season that kicks off next week with some preseason scrimmages.
Though many athletes have been putting in the work all summer long, if not earlier, fall sports practices officially started on Monday for all athletes and tryouts for teams also concluded this week. The rosters for HRV's fall sports teams were announced Friday evening at the annual Blue and Gold celebration that featured team introductions, intra-squad scrimmages, and a community barbecue at Henderson Community Stadium.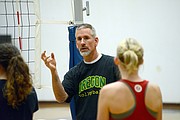 The collective Eagles will be looking to top what was one of the most impressive fall sports seasons in the history of HRVHS last year, where every single team made the post season.
The boys and girls soccer teams will get things started on Thursday, Aug. 25 with a jamboree at Woodburn High School. The boys, who have won the last two 5A state championships and haven't lost a game since November 2013, will once again be coached by Jaime Rivera, who was 5A Coach of the Year last year. Kevin Haspela, who was named the Columbia River Conference's Coach of the Year, will also return to coach a girls team that made it to the 5A quarterfinals.
Also on Aug. 25, the HRV volleyball team will be at Benson Polytechnic for a jamboree. Last year's young team has a bit more experience this time around and will aim to build on the improbable run the Eagles had last season that resulted in the team winning a conference title for the first time in 27 years. CRC Coach of the Year Scott Walker will helm the HRV squad again in 2016.
Regular season home openers
Football: Friday, Sept. 2, 7 p.m. at Henderson Community Stadium against St. Helens
Volleyball: Thursday, Sept. 1, 6:30 p.m. at Vannet Court against David Douglas
Cross country: Wednesday, Sept. 14 (Skip Sparks Invitational, various teams, middle school races start at 4 p.m. at the track)
Boys and girls soccer: Saturday, Sept. 3, 4:30 p.m. at Westside against McLoughlin/Weston McEwen
Boys and girls water polo: Saturday, Sept. 17, 5:30 p.m. at Hood River Aquatic Center against Reynolds
(All games listed are nonleague competitions; for complete schedules, go to hrvathletics.com)
Up the road from the soccer and volleyball squads will be the boys and girls cross country teams, who will be attending a night meet in Wilsonville on Friday, which will feature friendly, 3,000-meter competitions. Brandon Bertram, another CRC Coach of the Year, returns to coach both teams. Normally, the HRV harriers only get to host one race a year (the annual Skip Sparks Invitational), but this season, the Eagles have the rare treat of hosting the CRC championship, which will take place in October. Both teams will look to continue increasing the ranks and the prowess of the HRV program, which culminated in a fourth-place finish for the boys and an 11th-place finish for the girls in the state meet last year in Eugene.
The HRV football program will get started by hosting a jamboree with Prairie, Parkrose, and Pendleton on Aug. 26 at 6 p.m. at Henderson Community Stadium. Last season, the Eagles earned a postseason berth for the first time since 2004. Caleb Sperry returns as HRV's gridiron manager and will help navigate the team through a period of transition as they merge with Intermountain Conference teams and former CRC rivals Pendleton and Hermiston to form the catchy-sounding "Special District 1." The Dalles football team moved to an independent designation to help rebuild its program.
Finally, the boys and girls water polo teams will have a jamboree at David Douglas High School on Tuesday, Aug. 30. Both teams continue to grow every year, both in numbers and in ability. The boys took fourth in the state tournament last year and the girls, who didn't win a single game in their 2014 season, fought their way to a spot in the state tourney, where they finished third. Both teams took the top spot in the Metro 5A Conference last season. This year, David Robinson will coach the boys team and Kellie Dunn will coach the girls.
Watch the Hood River News in the coming weeks for more in-depth previews and other sports coverage.
Horizon Christian School also gets started
The Hawks also began their sports practices earlier this week and will start their fall sports season next week with the girls volleyball team hosting C.S. Lewis Academy on Thursday, Aug. 25 at 3 p.m. The volleyball team will seek to improve over last year's two-win season.
Horizon's co-ed soccer team gets going Wednesday, Aug. 31 with a game against Santiam Christian in Corvallis. The team will attempt to grab back-to-back 1A championship titles for the first time in the program's history. The soccer team's first home game will be against Umpqua Valley on Monday, Sept. 12 at 4:15 p.m.