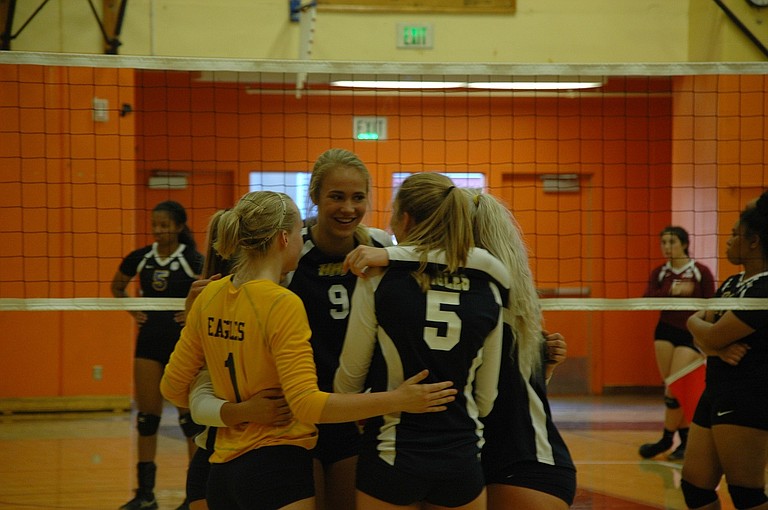 Saturday, August 27, 2016
The defending Columbia River Conference champion Hood River Valley Eagles volleyball team begins the season with a tremendous amount of optimism, while the squad is hopeful of continuing the momentum that they had a year ago.
Considering that a core group of solid players is returning from a very successful 2015 squad, all indications are that the Eagles could enjoy even more success than they had a year ago.
The Eagles participated in a five-team jamboree Thursday at Benson High School in Portland and they definitely displayed the form of a championship team. In the four one set matches, HRV had a dominating overall performance. The Eagles won 25-9 over Benson, won 25-9 over Franklin, won 25-12 against Jefferson and lost a close 25-22 set to Lincoln.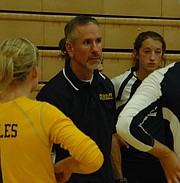 The Eagle offense was rolling as they powered solid hits to the floor for points. Their passing was sharp and their defense was rock solid as they notched three impressive double digit wins. With a roster that includes five players 5-foot-9 or taller, the Eagles have much needed height to attack the net strong and score points.
Hood River has players who earned 2015 CRC First Team All League Awards who return to lead the Eagles again this year, with the quartet of Rebecca Johnston, Emily Curtis, Katie Kennedy and Shae Duffy.
"I feel that since we have so many returning players (six total), the team chemistry is already well developed and now we're just building on that," said Johnston. "Everyone knows each other very well and I think we'll just be able to continue to put things together and improve as well. It sure helps having the momentum coming back from the previous season too and it's exciting to start the season now. I think everything is shaping up for us to have a pretty good season."
The Eagles finished 12-6 overall last year and 8-1 in the CRC to win their first conference title in 27 years. HRV, guided by 11th year coach Scott Walker, advanced to the second round of the Class 5A state playoffs, but lost 3-0 to the Bend Lava Bears.
The Eagles can rely on the leadership provided by senior outside Johnston, middle hitter Bianca Badillo, outside hitter Brina Hebert and right side hitter Lorena Johnson. With a roster of juniors Hannah McNerney, Leticia Martinez, Kaylin Winans, Ashley Pierce, Duffy and Kennedy James helping out as well, HRV definitely has an experienced squad that should be considered a CRC title contender for sure.
UP NEXT
HRV begins the season with its first match Aug. 30 at 6 p.m. on the road against the Redmond Panthers. HRV won its opening contest 3-0 a year ago over Redmond and the Eagles are hoping to have a similar start to the 2016 season. Hood River's first home match is Sept. 1 against David Douglas.
"It feels good to have such a strong performance in our first game," said Badillo. "We really played great in a couple of sets that we won by lopsided scores. I definitely think that since we're the defending conference champs, then we'll have a good chance to win it again this year. We'll face some tough teams in our conference again (Pendleton, Hermiston, The Dalles), so we'll have some strong competition, but I think we'll do pretty well again this season. Our goal is to reach the state tournament and hopefully we can even win the state championship, which would really be great."
"The girls were looking good at the jamboree," said Walker. "Our passing isn't as good as it should be right now and we need to improve that. Everything else seems really good though and we're serving the ball pretty well. I've had a very optimistic outlook for the team since our first day of practice (Aug. 15). We've struggled in the past in early season road games like this, but I was impressed with the way we came out and just dominated Franklin (a 25-9 win) in our opening matchup of the season."
The duo of 6-1 outside hitters and All-Stars Duffy and sophomore Kennedy will help bolster the Eagle offense as they could very well overpower teams lacking in taller players. Duffy and Kennedy led the Eagle offense in kills last year and they're again expected to provide HRV a potent one-two scoring punch again. Curtis, a sophomore setter, will also provide a key component to help ignite the offense with her pinpoint passing ability.
The jamboree provided a very positive outlook about how much success the Eagles can expect to have this year. Coach Walker certainly has a strong group of highly confident Eagle players that could very well come together and produce a winning formula for success again this season.