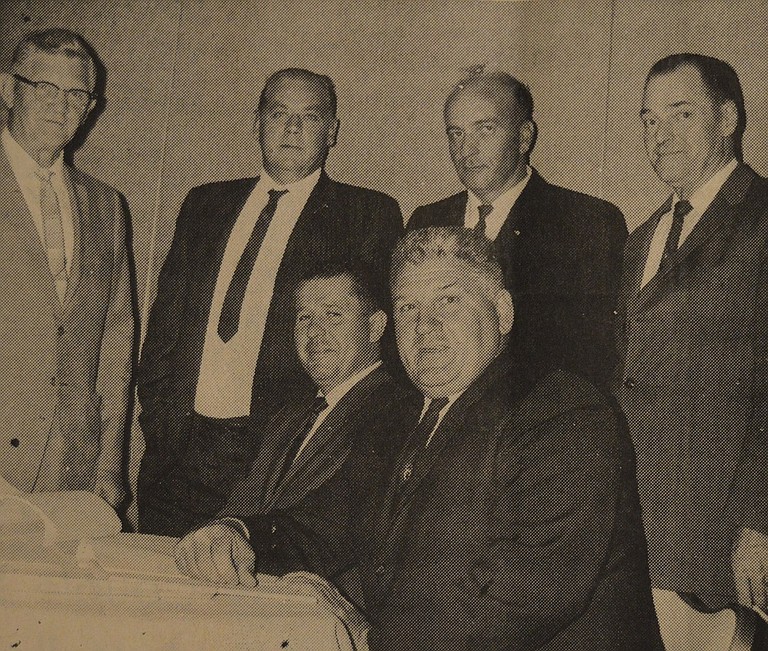 Wednesday, August 31, 2016
1916 — 100 years ago
Monday afternoon on the trip from Parkdale to Hood River, the front axle on the rail auto bus of the Mt. Hood Railroad broke. The car was promptly stopped and the passengers brought to Hood River by train. On account of the accident, the car will be tied up for a few days while a new axle is being made. It is expected to have the car running again on Friday.
1926 — 90 years ago
An improvement in telephone service, which will be much appreciated at this busy harvest season, was completed this week by the Oregon-Washington Telephone Co., between Hood River and the Upper Valley. This improvement furnishes through connection with Parkale, without the necessity of first calling Odell. In the future, all telephone users in Hood River wishing to talk to parties at Parkdale will call Parkdale and give the number.
1936 — 80 years ago
Hood River's newest industry, the Hood River Woolen Mill, operated by Plymouth Nelson and J.J. Dixon, is now doing a nice business, stated Mr. Nelson Monday. Since starting operations a few months ago, business has steadily increased and many orders for this fine product are being filled for local people as well as customers from outside territory. To the person not familiar with the method of manufacturing wool, a trip to the local woolen mill will be well worthwhile. From the time the raw wool leaves the bag until the finished product is delivered in rolls, the operation is most interesting.
1946 — 70 years ago
Scores of fires, started by lightening last week in various national forests in the Northwest, were brought under control by the first of this week, including the fire on Mount Hood four miles southeast of Government Camp. All available firefighters in the Mount Hood National Forest area were called into action on the blaze and many loggers pitched in on this most severe of nearly 20 fires touched off in the Mount Hood forest during the week. Over 100 fires, mostly of lesser consequence, were started by lightening throughout the state during the latter part of last week.
VERBATIM: Growers like the look of valley apple crop
The main part of Hood River's apple harvest is a little more than two weeks away, and Hood River orchardists are already pleased with the crops they are producing.
"We're anticipating a harvest with good crop and good quality fruit," said Gary Wells of Viewmont Orchards in Hood River.
Wells said that the cooler evenings Hood River has had of late have been beneficial to the crops.
"The cold nights are really helping us finish," he said. "At this point, we're optimistic about going into harvest."
This year is a welcome change from last year's crop, which, although not bad, was not what many growers in the valley would have hoped.
"We had quality issues that were frustrating all season," said Wells. "This year we're not seeing that. We're looking at good acceptance in the market."
And, according to Wells, Hood River apples are going to be contenders once again in the fruit market this year.
"The demand for apples should be strong," he said. "The crops from other states are average, so the competition won't be so great that we shouldn't get a good price."
Wells said that harvest for Gala apples will probably begin sometime next week, with the "serious harvesting" running from mid-September into October.
"The good quality so far is giving us confidence," Wells said. "We have some good opportunities this year."
— Hood River News, August 30, 2006
1956 — 60 years ago
Take your bath early tonight (Thursday), for the water supply to the city will be discontinued between 10 p.m. and 6 a.m. to permit placement of cross connections in the present line, reports City Engineer Hal Puddy. A limited amount of water will be available to users located below the Heights reservoirs in the city, but users between these reservoirs and connections will be without water during the eight hour period, Puddy adds.
1966 — 50 years ago
Nippy autumn weather arrived in Hood River County early this week, and for 3,000 youngsters or so, it meant time to get ready for "back to school" day. Several schools have already issued registration advice. Pre-registration during the past school year should solve most last-minute rush problems. For those who have questions about signing up, the schools and central office are ready to handle questions.
1976 — 40 years ago
Approval for filling the Port of Hood River's West Cove area at the industrial landfill site here won Division of Lands approval Friday. The major reversal was announced by William S. Cox, director, after a review had been held on a hearing conducted here last December. A stamp of approval by the Division of State Lands doesn't automatically mean the land will be filled. Specified conditions were attached to the approval, and the project could be overturned at the federal level. But for the Port of Hood River officials, the decision meant removal of a major roadblock in its efforts to complete a landfill program that started in the 1960s.
1986 — 30 years ago
Screaming sirens blasted Hood River residents from their beds early Thursday. A rosy glow of fire lighted the sky. Black smoked boiled up and blew eastward. Firefighters converged from 10 departments to fight the blaze. Television and newspaper reports alerted the Northwest to a disastrous building fire, creating a statewide media event. But when the flames died, it hadn't really amounted to much more than a spectacular bonfire. Crews had completely cleared the charred debris from a concrete slab beneath the roof by Tuesday morning. Consultants were making plans for a new roof to replace the burned one — a leaky structure that was due for a quick replacement anyhow. Waucoma, the old Diamond cold storage building in the process of renovation, suffered some interior damage to stored building materials. For the rest, it was merely a matter of drying out and clearing up.
1996 — 20 years ago
Phase one of a multi-part plan to bring a skate park to Hood River is set to begin in September, thanks to some brainstorming by Hood River Valley Parks and Recreation and a major boost from the United Way Foundation. While surveying Jaymar Park for possible site ideas, Parks and Recreation Director Paul Daniels hit on an idea that scored big with both the Hood River City Council and the Parks and Recreation Board of Directors. The improvements to the Jaymar Park property also involves vegetation control, litter removal and replacement of barricades to block access of the road to overnight camping.
2006 — 10 years ago
A power outage Wednesday afternoon left 1,500 businesses and residences without electricity for several hours. Pacific Power and Light reported the outage began at 2:53 p.m. and that power was restored at 6:21 p.m. The cause was a driver who ran into a power pole about 50 to 75 yards south of Tucker Road's intersection with Icy Road. The accident didn't take down the pole, but did knock down the conductor wire. The outage meant many businesses in the Heights district closed for the duration of the outage including the laundromat, Windmaster Market, Nobi's Gas and Rosauers Supermarket.
— Compiled by Trisha Walker, news staff writer