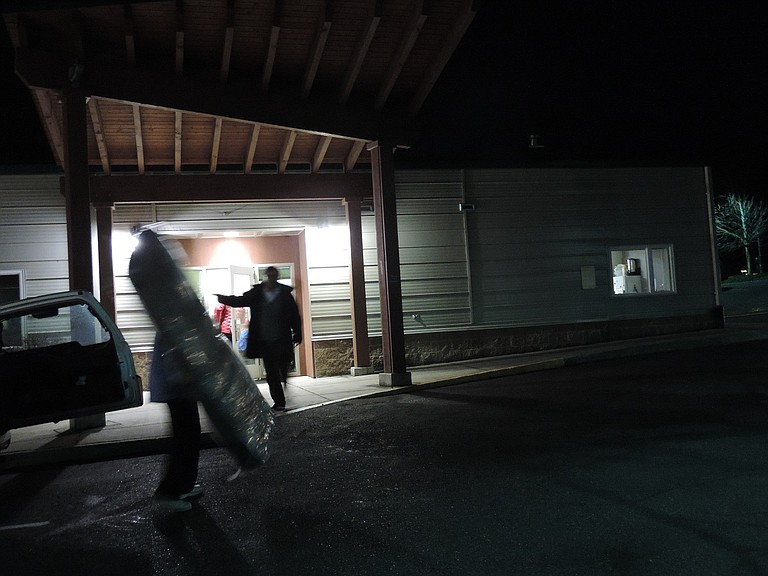 Saturday, December 3, 2016
Just as temperatures dipped close to freezing, Hood River Warming Shelter operations got underway this week.
The shelter is completing the first week of its 2016-17 (November through March) season, at the first of what will be six locations hosting the shelter on a rotating basis. Meanwhile, Shelter Services still seeks a season-long home. The non-profit organization went to "plan B," the rotating sites, after an agreement fell through for a downtown location that would have hosted the shelter through March
Through the night of Dec. 3-4, the shelter is located at Mid-Columbia Center for Living, 1610 Woods Ct., on the Heights.
On Dec. 4, volunteers will move mattresses and supplies to the Dec. 4-11 location, Hood River Valley Christian Church, 975 Indian Creek Road.
The shelter is open to anyone needing a warm place to sleep; mattresses and sleeping bags are provided, and guests also get hot dinner and breakfast, along with access to laundry and other services.
Shelter hours are 6 p.m. to 7 a.m.; no tobacco, drugs or weapons are allowed.
Dr. Laura Starrett will again provide medical exams and referrals when needed. Rite Aid will come to the shelter to provide needed vaccinations and flu shots. This year Jim Goode, working for Mid-Columbia Center for Living, will provide adult counseling as needed. Guests also have access to laundry and showers.
The shelter will rotate between Center for Living, Rockford Grange and four churches, Valley Christian Church, St. Mark's Episcopal, Immanuel Lutheran Church and Riverside Community Church.
Two regular volunteers — Carole Dearholt and Jan Miller — took on the position of co chairman when Rev. Anna Carmichael left Hood River in August.
How to help the shelter
Call Miller at 425-223-0816 or Dearholt at 547-490-1920 if you know of a place the shelter could locate to for the duration of the season.
The website 'hoodrivercare.org' will also give you needed information.
• Become a volunteer. Contact. Andy Wade, Volunteer Coordinator and Lorena Ruiz-Gonzalez, Guest Service Coordinator, at hoodrivercares.org
• Guests are often in need of good winter boots, winter weight sleeping bags, socks and gloves. If you go to the web site—- hoodrivercares.org—-you can purchase food stuffs, socks, or sleeping bags from the virtual store or you can leave any donations through the website or at St Mark's Episcopal Church.
• Purchase copies of "12 Columns of Christmas," a compilation of 12 years of annual Christmas editorials in the Hood River News. All proceeds go to Shelter Services; copies are available at the Hood River News office, 419 State St., for $5 each. (If your church or organization would like multiple copies, contact editor Kirby Neumann-Rea at 541-386-1234; lots of 10 are sold for $40.)