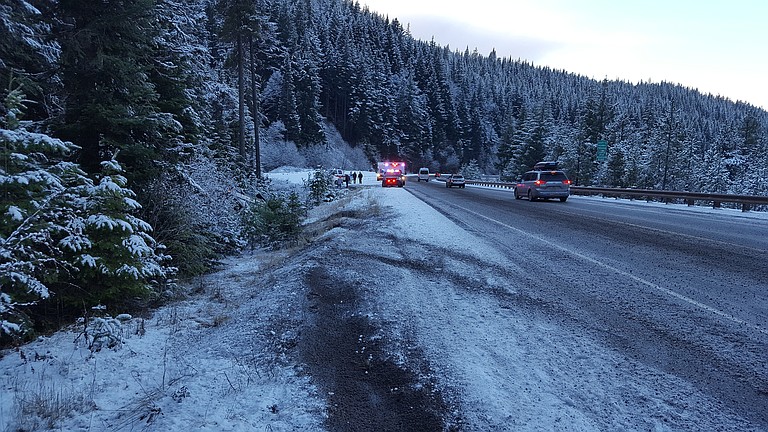 Originally published December 6, 2016 at 3:23 p.m., updated December 6, 2016 at 3:23 p.m.
An Oregon Department of Transportation employee from Hood River was seriously injured in a crash on Highway 35 near Parkdale Sunday.
Stephen Capps, 65, was struck by a car while he was standing on the highway shoulder, near milepost 73 . He was transported to a local hospital with "non-life threatening but serious injuries," Oregon State Police reported in a news release Tuesday.
On Dec. 4, at about 3:09 p.m., OSP troopers, Hood River County Sheriff's deputies, and emergency crews responded to the report of a single vehicle crash involving a passenger car and an ODOT employee, who was struck by the vehicle near milepost 73 south of Parkdale.
Authorities' early investigation found that a white 2005 Toyota Scion car was travelling south on Highway 35 when the driver came across the scene of another crash and lost control of her vehicle, striking Capps.
The driver, Lucia Acevedo Martinez, 25, and passenger, Jose Melecio Barragan Cruz, 26, were not injured. Both were from Vancouver, Wash.
Just before the crash, another SUV had lost control and rolled over on the shoulder of the highway. The driver of that vehicle was identified as Nicholas Michael Magaurn, 29, from Portland, and the passenger was Edward Girard Levesque, 30, from Beaverton. Both escaped unhurt.
Magaurn, who reportedly witnessed Martinez' car hit Capps, was just able to avoid the collision by jumping out of the way after Capps had stopped to check on him and Levesque, the news release said.
Highway 35 remained open during the investigation, and icy conditions are being investigated as the contributing factor in the crashes.
OSP was assisted by the Hood River County Sheriff's Office, ODOT, Parkdale Fire Department, and other emergency responders.
"OSP reminds drivers that winter conditions are now upon us and to travel with extreme care," the news release advised. "Slow down and check the emergency equipment in your vehicles including the safety equipment needed such as chains and snow tires to travel into Oregon's snow zones."