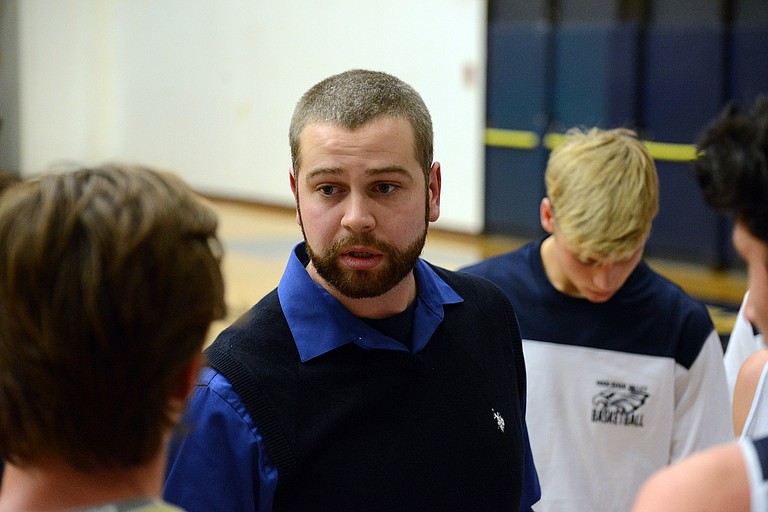 Wednesday, December 7, 2016
Like the girls basketball team, the HRV boys have had their fair share of struggles over the past 20 years or so, including last season, where the Eagles won just four games.
Now, with a roster that looks vastly different than those who participated in the 2015-16 campaign, and a new head coach, the Eagles will look to turn their fortunes around this winter.
Christopher Dirks, an alum of the school's basketball program, was named head coach in the offseason, taking over for Steve Noteboom, who served as head coach for five seasons. Dirks inherits a team that has little to no varsity experience and a state tournament drought that, at 24 years old, is as old as Dirks himself.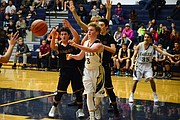 This year's squad will be captained by senior Zack Moore — a guard/wing who is one of the few seniors on the team and one of the few that saw varsity playing time last year — along with juniors JJ Mears (guard) and Tanner Wells (forward). Wells was a captain on HRV's football team and Mears was a captain on the school's water polo squad.
Dirks is well aware of what he called a "a very inexperienced team for varsity competition," and has been working to get his players the reps they need as the season gets underway. Right now, the team is focusing on the fundamentals.
"As far as my expectations for the season, I just want to be playing our best basketball when league play comes around," Dirks said. "I think we have potential to earn a play-in game once we come to the end of our regular season. That is my expectation for this team."
While the team hasn't qualified for the state tournament since the mid-1990s, HRV did manage to take third in what was a weak Columbia River Conference last season, qualifying for a play-in game. HRV lost that game to Milwaukie by 35 points.
The Eagles didn't have much luck in their opening contest last Wednesday at Sandy, and despite an improvement in the second half, they ultimately lost to the Pioneers 61-42. Dakota Kurahara — a 6-foot-6-inch junior center/forward who saw some varsity playing time last year — led the way in that contest, tallying eight points, nine rebounds and two steals.
Despite the loss, Dirks said he saw that the team had "made strides in only one game," and lauded "how smart and coachable this team is." He chalked the game to "first varsity game jitters," and expected a better performance from his team on Friday in HRV's home-opener with Redmond.
He got it. HRV hammered Redmond early and often with an up-tempo and prolific offense that poured in 27 field goals on 58 attempts (47 percent), while the team collected an impressive 49 rebounds in the 66-37 win over the Panthers. Kurahara and 6-1 junior guard Jonah Tactay each scored 15 points in the contest, while Kurahara collected a team-high nine rebounds, matched Tactay and Mears with four assists, and recorded the team's only block of the evening.
"That was the performance I was expecting after watching the second half at Sandy. There were times that the captains of the team were telling their teammates to focus on certain things without me saying a word," Dirks said. "They played with such a positive energy. If that positive vibe continues, this team could do some great things."
HRV was scheduled to play Vancouver's Heritage High School on Tuesday at 6:30 p.m. (results not available at press time) and then hit the road this weekend for a tournament in Madras.