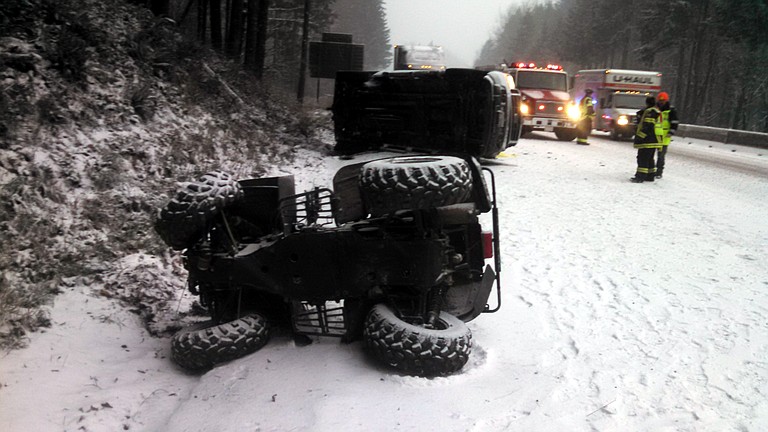 Originally published December 9, 2016 at 11:02 a.m., updated December 9, 2016 at 11:02 a.m.
A Stevenson man was killed in a crash on Interstate 84 during a snow storm Thursday afternoon.
Timothy Ashe, 70, suffered critical injuries in a rollover crash on I-84 near milepost 43, just east of Bonneville Dam, in Hood River County.
On Dec. 8, around 2 p.m., Ashe was driving eastbound in a 2003 Ford F250 pickup truck, police said, when the vehicle lost traction, struck a concrete center barrier, slid across the eastbound lane, and struck an embankment, causing the truck to roll over.
Ashe, who was ejected from the vehicle, was pronounced dead at the scene.
His passenger, 67-year-old Shawne Boardeaux-Ashe, sustained minor injuries, and was treated by medics and released.
The Oregon State Police said early information points to speed and safety restraint use as possible factors contributing to the fatal crash.
A four-wheeler the truck was carrying also tumbled to the ground, but no other vehicles were involved in the crash, Sgt. Kaipo Raiser explained.
At the scene, I-84 was reduced to one lane of travel for about four hours as the investigation was completed. OSP was assisted by the Cascade Locks Fire Department and the Oregon Department of Transportation.
The weather conditions at the time of the crash were packed snow and ice with freezing temperatures. "The Oregon State Police urges motorists during these weather events to slow down and increase their distance from other motorists," OSP said in a news release.