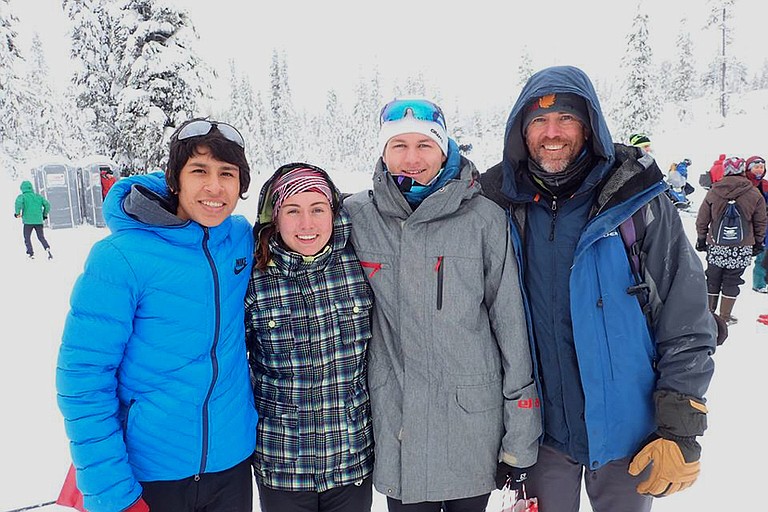 Wednesday, December 14, 2016
About half of the HRV Nordic team traveled valiantly through winter weather to Mount Bachelor for their first Oregon Interscholastic Ski Racing Association (OISRA) race of the season on Saturday. Amid blowing snow and cold temperatures, the Eagles waxed and warmed up, then delivered three podium finishes. This was a 5k classic-style race with many short and steep up-and-down hills and tight corners.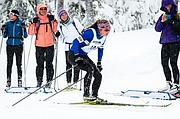 The team is off to a strong start, with senior Leif Bergstrom winning overall for the boys with a time of 15 minutes, 27 seconds, giving HRV a third-place finish out of seven teams. Junior Elkin Parker supported him for sixth place (time of 17:29), while senior Daisy Dolan flew past a phalanx of Summit girls for a fifth-place finish with a time of 19:55. First-place finisher for the girls was Fiona Max, of Summit (17:49). The boys race had 60 competitors, while the girls had 72.
Returning racers on the HRV boys' side included sophomore Ben Kaden, who placed an impressive 24th with a time of 20:48, and classmate Leo Kissinger (50th, 26:17). Coach Joe Dolan mentioned he was especially proud of exchange student Aryun Agrawal from India, who finished his first Nordic race after only being on skis four times. Agrawal said he "likes winter weather as long as (my) legs, hands, and feet aren't freezing." After sledding the other day when school was canceled, he said he felt like his hands "were burning off with freeze."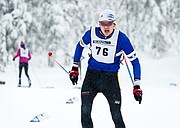 HRV girls' field also included returning racers Ivy McDonald (sophomore from Columbia High School, 13th, 22:38), Samantha Thompson (junior, 18th, 25:04, and Davis Mackintosh (sophomore, 61st, 34:52). New racer Alina Watt (senior) also finished her first race with a smile on her face and an impressive time of 28:52 (39th).
Coaches Bonnie Lambert and Joe Dolan noted that they are extremely proud of their "great group of kids" and look forward to participating in the Mt. Hood Meadows Nordic Center race series starting this weekend and more OISRA races after winter break.
•
Two more events are upcoming this week for the Nordic team:
— "The 12 Days of Christmas" winter workout with Rutger Engbersen. This fun winter workout is open to the public and is for anyone who wants to participate in a group outdoor workout. This is a fundraiser for the team so donations are accepted. Thursday at 3:30 p.m. at the HRVHS track.
— Kid's Nordic Ski Clinic with HRV Nordic racers Sunday from 1-3:30 p.m. at Teacup Lake Sno Park off Highway 35. Open to beginning and intermediate elementary and middle school skiers. Discounted ski rentals at 2nd Wind Sports for clinic attendees. Register with HR Community Ed (under "Other activities") or email lambert@gorge.net for more information.