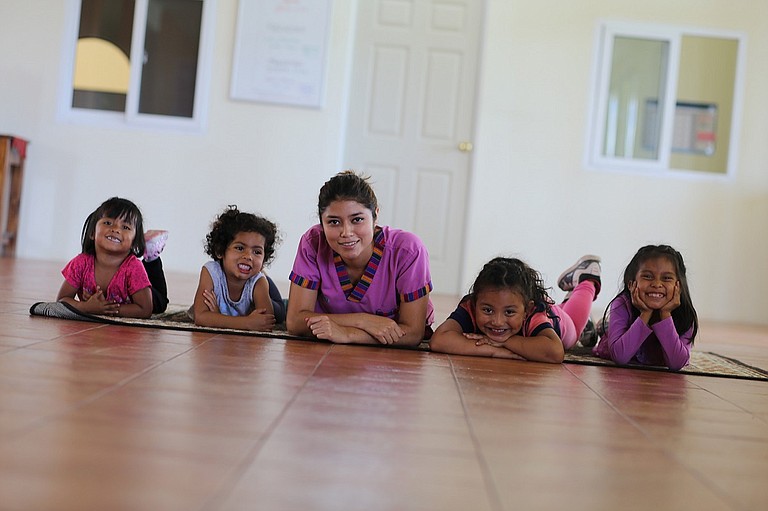 Wednesday, December 14, 2016
Angela, a beautiful 4-year-old, was wandering the streets crying uncontrollably.
"My mommy and daddy are dead," she cried. A neighbor ran to her home and found her two parents, victims of a murder-suicide, with Angela as the only eye-witness. In that tragic moment, she became one of more than 140 million orphans in our world today — innocent children destined for hunger, poverty, lack of education and hope. But Angela found hope! Within hours, the courts entrusted her to the care of Child Beyond International's brand new children's orphanage home in San Cristobal, Guatemala. Now she has a new home where she's safe, secure and loved.
Angela and many other precious Guatemalan orphans are the reason that the Immanuel Lutheran Church family, located on the corner of Ninth and State streets in Hood River, has birthed a new mission called "Child Beyond International." This newly formed non-profit international children's charity is focused on lifting up orphans to new life and, wherever possible, restoring them to a loving family. We're inviting everyone in Hood River to join us in this powerful, life changing mission through their donations and volunteer efforts.
Located on Mexico's southern border, Guatemala has a rich, cultural history, but recent civil wars, political corruption and drug cartels create economic poverty and deeply rooted chronic societal problems. Life is considered cheap and babies are born with many strikes against them, including the lack of a healthy family structure.
Out of the 14 million people living in Guatemala, it is estimated that over 500,000 are orphans. In our American mindset, an orphan is a child without both parents. But in Central America, an orphan can be any child who has no one to care for them, feed them, love them or protect them. Most children living in orphanages in Guatemala have at least one living parent, usually their mother, but for various tragic reasons, the child is abandoned, abused or neglected to the point that they become "orphaned."
Our little Hood River church went there to start lifting as many children to a new life as possible. Their stories start out tragic, but now will have a much better ending. There is 4-year-old Pedro, who was abandoned at birth and lived in other homes until they shut down. He has many developmental challenges, but we have seen amazing improvements. Now, little Pedro plays hard, sleeps hard, and loves hard!
Geison (pronounced Jayson) at 2-years-old was the very first child we received in our home. He was abused and neglected, but now he is like a chubby little bull in a china shop as he tromps around like the mini-alpha male of the casa!
Geison's sister, Beberly, is just seven months old and came to us with infections and a diaper that had not been changed for days. But she is an incredibly happy baby. Her smile lights up the home and she has such big bright, intelligent eyes and rarely fusses or cries.
Three sisters, Sara (7), Ingrid (4) and Esmeralda (3), came to us after they were found by authorities naked, filthy, beaten and covered with lice. Sara had been forced to become the "mother" of her two younger sisters, but no more. They are all thriving. Sara is going to school for the first time and Ingrid and Esme are adorable little "bookends." It's often difficult to tell them apart. They are all happy, excitable little girls full of joy and life.
Damian, age 2, arrived with a broken left foot presumably from parental abuse, but was soon taking his first wobbly little steps with us and has gained confidence and strength in his leg. Now he is marching all over our beautiful property and will even bust a move dancing if music is playing. It is such a joy to see his personality and sense of humor emerge as the Lord heals his little body and spirit.

Heidi, also age 2, was recently moved to the home because her mother is a drug addict and her father, who lives on the streets, is completely unable to care for her.
The single mother of Yoshua, age 7, was arrested for gang-related armed robbery.
•
Every child has a story that reveals the tragedy of family breakdown in a society where children can easily be used, abused, trafficked and thrown away. But when these children are lifted up to a new life filled with love and promise, words truly cannot fully express the humble joy it brings. Child Beyond International is just getting started. There are so many more orphans to take beyond hunger, pain and poverty to a life filled with hope and joy.

Immanuel Church and its new mission, Child Beyond International, invite the community to become partners with us in lifting many more children like Angela to life. Through child sponsorship, children who are orphaned, abused or abandoned will rise beyond their trauma and hopelessness to a life of happiness and possibility. Simply look for Angie's face in a special insert right here in this Hood River News, respond to our display ads or go to our new website, Childbeyond.org, and join us in lifting up orphans to new life! Thank you so much, Hood River!