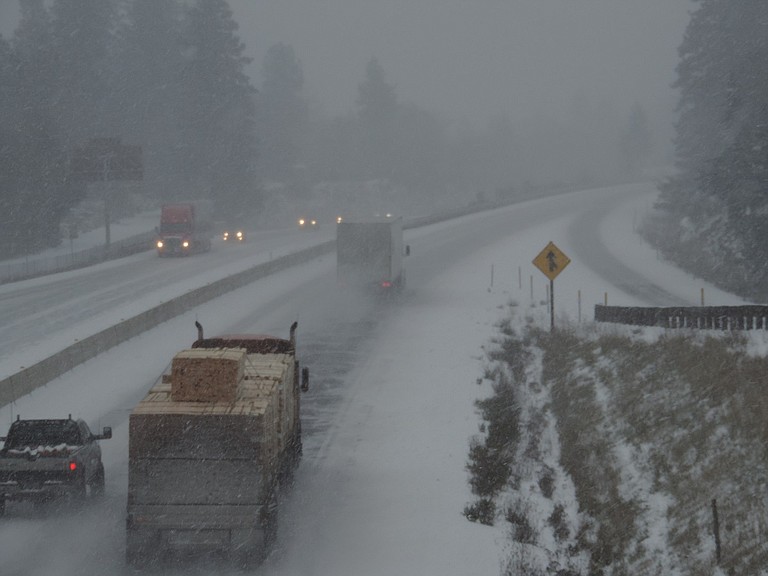 Wednesday, December 21, 2016
Driving In Winter Weather
While the Red Cross encourages you to stay off the road if possible, if you have to drive in snow or freezing rain, follow these tips about how to drive safely in winter weather.
• Fill the vehicle's gas tank and clean the lights and windows to help you see.
• Pay attention to the weather forecast. Before you leave, let someone know where you are going, the route you plan to take and when you expect to get there. If your car gets stuck, help can be sent along your predetermined route.
• If you have to drive, make sure everyone has their seat belts on and give your full attention to the road. Avoid distractions such as cell phones.
• Make sure your vehicle is ready for winter with a window scraper, shovel, kitty litter or sand in case you get stuck, extra clothes and a disaster supply kit in your trunk. Pack high-protein snacks, water, a first aid kit, flashlight, small battery-operated radio, an emergency contact card with names and phone numbers, extra prescription medications and blankets.
• Don't follow other vehicles too closely. Sudden stops are difficult on snowy roadways.
• Don't use cruise control when driving in winter weather.
• Don't pass snow plows.
• Know that ramps, bridges and overpasses will freeze before roadways.
If you become stuck in the snow or icy conditions:
• Stay with the car and call for assistance. Do not try to walk to safety.
• If you can, move your vehicle off the roadway. Stay with it — don't abandon it. If you have to get out of your vehicle, use the side away from traffic.
Cold Weather Safety
• Assemble disaster preparedness kits to keep at home, in your vehicle and at work. For a full list of recommended kit items, visit www.redcross.org/PrepareGuide.
• In case of a power outage, make sure you have enough non-perishable food and water stored to last everyone in the household until power has been restored. A three-day supply of food and water for each person is recommended.
• Use battery-operated flashlights or lanterns instead of candles (because it could be a fire hazard) during a power outage. Do not leave burning candles unattended.
• Have plenty of blankets and warm clothing available should you be without heat for an extended period of time due to a power outage.
• Make sure you have batteries in your radio (to receive information updates) and keep a spare battery for your cell phone handy (also keep your phone charged).
• Protect your pipes: Run water, even at a trickle, to help prevent pipes from freezing.
• Wear waterproof, insulated boots to keep your feet warm and dry and to maintain your footing in ice and snow.
• Bring pets indoors. If they can't come inside, make sure they have enough shelter to keep them warm and that they can get to water that is not frozen. For more cold weather pet safety tips, view our blog at www.redcrossblog.org.
Home Heating Safety
When the weather is cold, the number of home fire incidents tend to rise. Use caution when heating your home with space heaters, fireplaces and woodstoves.
Portable Space Heaters
• Use portable space heaters with an automatic shut-off so if they're tipped over they will shut off.
• Keep at least 3 feet of space between the heater and combustibles such as furniture, curtains, bedding and papers.
• Inspect heaters for cracked or damaged cords, broken plugs or loose connections. Replace before using the space heater.
• Turn heaters off when not in use, before going to bed or when leaving the room.
Fireplaces and Woodstoves
• Have chimney and woodstove flues and vents inspected and cleaned every year. Check for creosote deposits, soot build-up and physical damage.
• Always use a fireplace screen made of sturdy metal or heat-tempered glass to prevent sparks from escaping.
• Clear the area around the hearth of debris, decorations and flammable materials.
• Store kindling, fire logs and wood at least 3 feet from any heat source.
• Use proper fire starters, such as newspaper, kindling or specially manufactured starters designed for indoor use. Never use flammable liquid, such as lighter fluid, kerosene or gasoline to start a fire.
Weather Alerts And First Aid Tips
People can download the FREE Red Cross Emergency App for instant access to winter storm tips and weather alerts for their area and where loved-ones live. Expert medical guidance and a hospital locator are included in the First Aid App in case travelers encounter any mishaps. Both apps are available to download for free in app stores or at redcross.org/apps. For information on road conditions from the Oregon Department of Transportation, visit www.tripcheck.com.