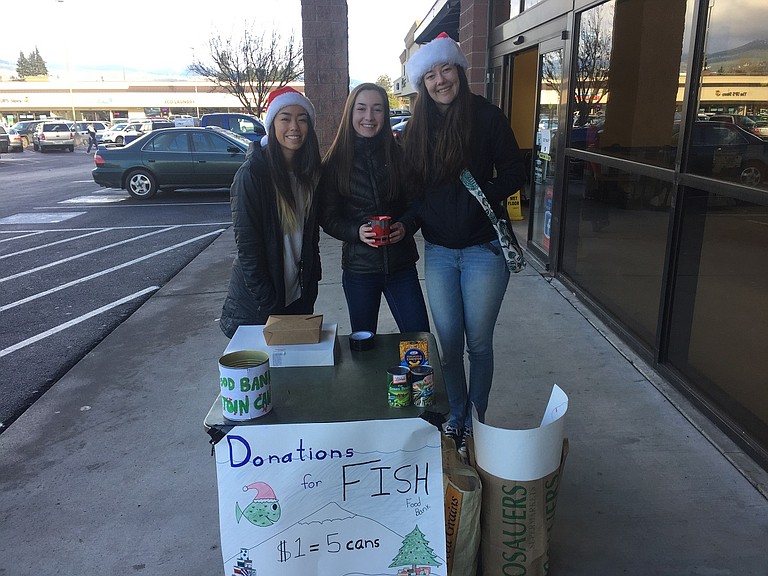 Originally published December 28, 2016 at midnight, updated December 28, 2016 at midnight
An end of the year is now a new year effort.
The Hood River Valley High School food drive has been extended through January.
High school students are devoting parts of their vacation days to drumming up more donations of food and money for the FISH food bank. Look for them at local businesses this month.
Students are scheduled to be at Rosauers Dec. 29-30, according to Morgan Graves, an HRVHS senior and member of the Leadership class.
"Student government has stepped in to boost the numbers," Graves said. "We've always been a big part of what goes into FISH and it's good to see the high school students out there helping."
The annual campaign historically has helped account for nearly a third of the food banks coffers for the year, according to Graves. Yet it was hampered in December by school days cancelled or delayed due to snow, so the school extended the drive.
Prior to Christmas the students delivered the food gathered so far, a 50, 248 unit equivalent, to FISH food bank headquarters on Tucker Road.
Since then, the students have raised another $2,000, according to Graves.
Donations of non-perishable food items are welcome, and each $1 donation can be turned into five items of food by the food bank through purchasing by Oregon Food Bank Network.
Anyone may donate to the project by writing a check and mailing it to the school or to FISH with HRVHS in the memo line.
People can also give checks to HRVHS with FISH in the memo line to students who can then take the checks to their classes in January.