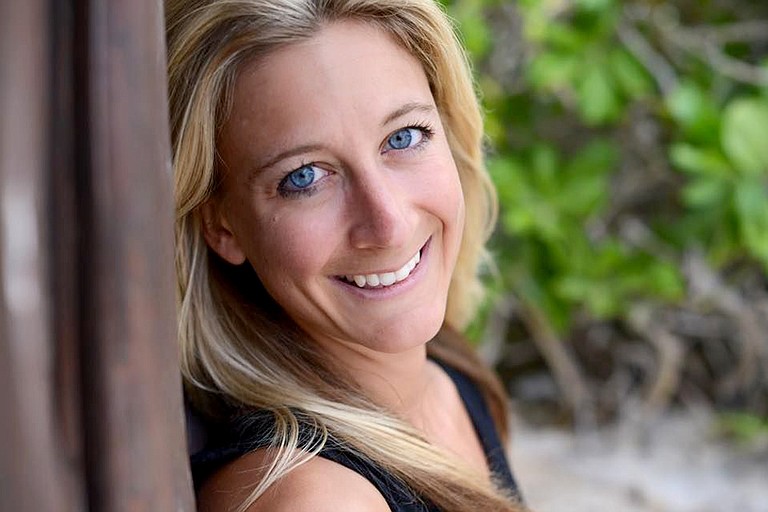 Originally published December 28, 2016 at midnight, updated December 28, 2016 at midnight
To this day, Kayla Bowker can't shake the crunching sound her body made as two tons of moving steel slammed into it. She remembers shattering the car window on impact, breaking her ankle, flying into the air. She remembers the pain, the anger, the arduous recovery.
A few months later, Bowker would feel quite different. Strong. Ecstatic. A champion.
Bowker, a Hood River Valley High School alum, is heading to the Ironman World Championships in Kona, Hawaii, after placing first in her age group at Ironman Arizona last month. It was her first full Ironman ever and came just four months after she was hit.
"Even now… it's still a bit surreal to me…" Bowker said in an email to the Hood River News.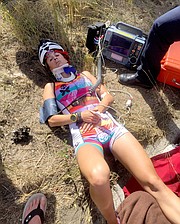 Bowker, neé Lloyd, currently lives in Spokane, Wash., with her husband, Brandon, but grew up in the community of Mt. Hood, attending Parkdale Elementary, Wy'east Middle School, and HRVHS, where she was an accomplished four-year varsity track athlete. She also played soccer for four years and was on the ski team her junior and senior year.
Bowker graduated HRVHS in 2007 and then attended Gonzaga University, where she walked onto the cross country and track teams her junior year after dealing with a knee injury as a sophomore. She made the West Coast Conference team both years for cross country and was also one of Gonzaga's top five track athletes.
After graduating college, Bowker said she went through a "rough time" and started to do triathlons (run, bike, swim) as a way to cope. She picked up her mom's old touring bike and began training. Bowker instantly felt a connection.
"I fell in love with triathlon at that moment as it brought me to life, it taught me to believe, to have faith, and feel the strength that has always been inside," she remembered.
Bowker wanted more, though, and began training for Ironman competitions in 2015: a type of endurance triathlon that consists of a 2.4-mile swim, a marathon (26.2-mile run), and a 112-mile bike ride, in that order, with no breaks. She started by running in marathons and had three under her belt when she attempted the Portland Marathon in October 2015, where she aimed to go under three hours. Bowker had been experiencing some hip pain, but chalked it up to overtraining and went on with the race, wanting to get in shape in time for the Couer d'Alene Ironman in August 2016.
'After the accident, I was angry. Angry that just because someone decided they didn't want to pay attention to operating a moving vehicle, they took something away from me that I had spent hours and hours and hours training for.'
KAYLA BOWKER
"At mile 11 of the marathon, I was already in some serious pain and by mile 16, I had lost some feeling in my leg, had burning sensations running down it and ended up walking," Bowker recalled. "I spent the next 10 miles walk/limping my way to the finish line. After that, I went and got it looked at to discover I had a torn labrum in my left hip. I needed surgery in order to repair the tear."
Bowker said the first physical therapist she consulted told her to put aside any ideas of racing in 2016 as "there was no way I'd come back strong enough from surgery." Bowker got a second opinion, and then surgery in December 2015.
After some dedicated rehab, Bowker returned to win the women's category of the Bend Half Marathon four months after hip surgery. A month later, she won the Troika 70.3 long course triathlon (half the length of an Ironman) with a time of five hours flat.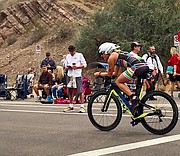 "…I was on my way to Ironman Couer d'Alene!" she said.
Four weeks before the race, Bowker was out wrapping up a training run when she was struck from behind by a distracted driver, which left her with a broken ankle, bruising on her left side, inflammation to her back, shoulder and hip (the same one that had the surgery), as well as a laceration on her left leg that caused nerve damage. Even for Bowker, the Couer d'Alene Ironman was now out of the question.
"After the accident, I was angry," she said. "Angry that just because someone decided they didn't want to pay attention to operating a moving vehicle, they took something away from me that I had spent hours and hours and hours training for."
But again, Bowker had something to look forward to: Brandon had signed her up for another Ironman, this time in Arizona, and Bowker was determined to make it. After three weeks on crutches, Bowker again threw herself into rehabbing her body, attending physical therapy three times a week and easing herself back into training seven days a week — not to mention working 40-50 hours a week on top of that.
Three months after getting cleared by her doctor to train, Bowker stood on the starting line at Ironman Arizona in Tempe with 2,500 other competitors. She aimed to complete the race in 11 hours, 15 minutes, but wasn't sure if her body would cooperate. A few minutes after hopping into the water, though, Bowker had a good feeling.
"There is a lot of unknown in an Ironman, even when you've done many of them, but the energy is something unbelievable," she explained. "There is so much power and strength radiating from everyone at an Ironman — it's impossible to not feed off it."
Bowker didn't finish in 11 hours, nor 11 hours 15 minutes. She finished in 10 hours, 15 minutes. She finished first in her age group, 30th woman overall (including pros), and the second fastest time out all age-groupers. Her top finish meant a qualification for the Ironman World Championships, which will be held in October 2017.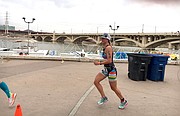 "At the time I crossed (the finish line), I didn't think much of winning; all I could think about was how strong I felt, how much strength I felt radiating out of me," she recalled. "A quote I used in my blog to describe it was: 'The tears that I thought would come never did and all I felt was strength.' I was ecstatic, riding this high that I never thought would end. I had crushed my goal."
Bowker is now in the process of training for Kona and has some new goals for the world championship race: take five minutes off her swim time, improve her power in the bike portion of the race, and maintain a consistent time during the marathon. She wants to take top five in her group. She acknowledges, though, that Kona "is a different beast," and competition will be stiff. If nothing else, she hopes her story will inspire others to go after their goals — regardless of what adversity they may face.
"My main goal of this journey is to hopefully be able to show others — men, women, girls, etc. — that as long as you believe in yourself, have faith in yourself, set goals, dream, work hard, and believe in the strength that I know is in every one of us, that you really can do anything," she said. "I have a passion and joy for health and fitness and I want to be able to help others find that passion as well."
Those interested in following Bowker's progress can go to her blog at whereyourfeettakeyou.wordpress.com.