Friday, December 30, 2016
Madison Mooney and Morgan Graves, both Hood River Valley High School seniors, have been selected as the November Students of the Month. Both were presented checks for $100 in recognition of their volunteer efforts in the community and their achievements at school during a Lodge Meeting.
•
Mooney is no one-trick pony. She's a scholar, athlete, and wage earner. She plays tennis for the HRVHS girls tennis team.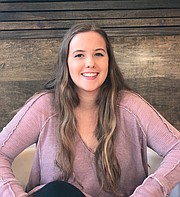 She's worked at a local orchard, Cooper Spur Mountain Resort, and for Mt. Hood Railroad. She's a nature lover, and spends her free time backpacking, hiking, biking, and participating in snow sports. Mooney also loves to read, and is particularly interested in natural medicine, science, gardening, and travel.
She has spent many, many hours serving her community. She spent several days constructing bus stops for the Hood River community. She served guests at the Mt. Hood Town Hall's Enchanted Evening and contributed to the high school's Community Work Day efforts.
Through Young Life, she performed cleaning and painting at Wy'east Middle School, did yard work, helped at a First Friday event, and served drinks at Blossom Fest. The focus of her service, however, has been 4-H. Through 4-H, she has served as a poultry health checker, poultry judge, assisted with goat maintenance, raised her own animals, worked with the public to inform people about animal care, and served as her group's 4-H secretary. In fact, volunteering to help people learn about raising, showing, and selling animals has been her most meaningful service.
Mooney is the daughter of Linda and Bart Mooney of Parkdale. She has two sisters: Amy Baggett, a Hood River ValleyHigh School grad who attends Bastyr University in Kenmore, Wash., and Rachel Mooney, who is a sophomore at HRV. Mooney has applied to Central Oregon Community College, Oregon State Cascades, the University of Alaska Fairbanks, and Western Washington University; she hopes to dual enroll at COCC and OSU Cascades.
•
Graves is the daughter of Brian and Jennifer Graves of Hood River and has an impressive resume of academic achievement, leadership, and community involvement.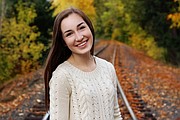 Graves is a member of the National Honor Society, was Science Student of the Month, and is a member of the Speech and Debate team and participates in Leaders for Tomorrow. She has a full load of classes, including Honors Medical Biology, AP English Literature and Composition, AP Calculus, and AP U.S. Government and Politics. She provides one on one and group tutoring through AVID and National Honor Society at the high school.
Graves is involved in school and leadership activities. She has been involved in student government since her freshman year. She is an HRVHS Site Council representative, was a LINK crew leader, and volunteers for the HRVHS swim team.
She organized HRV's Cupcake Friday, a major fundraiser for her class. She participated in French Club, track, the canned food drive, and Youth Heart of Hospice, a high school club that does outreach to assisted living homes, visits hospice patients, and assists with events such as the Gorge Butterfly Release.
She has been a cheerleader throughout high school and was selected All American Cheerleader by the National Cheerleading Association of America and was awarded MVP Varsity Cheerleader for HRV.
Graves was also chosen to be a Student Ambassador, helping welcome new students to the school and serve as a voice for all students. She was nominated for the U.S. Senate Youth Program by the high school principal and her high school counselor, and was a Rotary Exchange Youth Ambassador to Switzerland.
Graves stays quite busy outside of school as well. She has volunteered for the Bridge of the Goddess Run, the FISH Food Bank, the Pink-Out for Cancer Pig Bowl, the Hood River Tongue Twister Tournament to benefit the SMART Reading Program, and helped with Wy'east Middle School's musical production of "Peter Pan."
She has worked as a nanny and currently has a part time job as a clerk at Hood River Stationers.
In addition, she practices dance at the Columbia Gorge Dance Academy. At a young age, she began taking classes in ballet, tap, jazz, contemporary, modern and Hip Hop, and now is an elite dancer. Graves is an excellent student and an amazing school and community volunteer. She embodies what it means to be a scholar, athlete, and involved citizen.