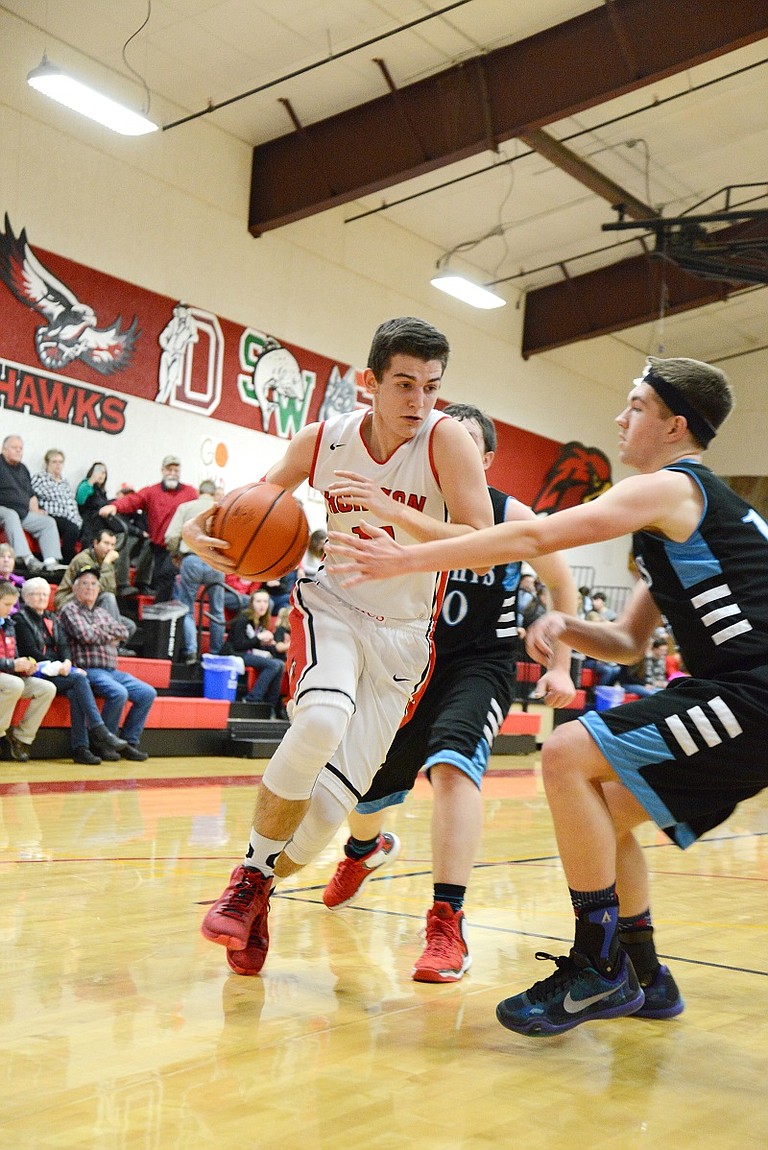 Wednesday, February 3, 2016
The Horizon boys captured their fourth consecutive victory with a 56-43 home win over the Condon Wheeler Knights Friday in Hood River. The No. 14 Hawks (8-10, 5-4 Big Sky) then traveled to Moro Saturday for a tough matchup versus the league-leading, 1A fourth-ranked Sherman Huskies (15-4, 9-0), who snapped Horizon's win streak, though, with a 58-45 win.
The trio of frosh Derek Johnston (career-high 19 points), Ian Walker (eight points, six rebounds, five steals) and Jared Bryan (13 points, seven rebounds, four assists) combined for 40 points to help lead the Hawks over the Knights (8-10, 4-5). Horizon jumped in front with a 16-10 first quarter lead and then upped its advantage to 34-23 at halftime. The Hawks' momentum continued in the second half when they led by as much as 20 points and built a 47-31 margin after three quarters.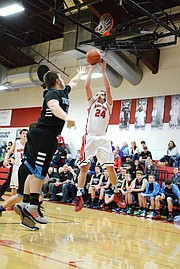 Horizon is in fourth place in the league standings with five games left in the regular season, which concludes Feb. 13. The Hawks are seeking to reach the Big Sky district playoffs Feb. 19-20 at Madras High School and achieve their goal of capturing a sixth-straight Big Sky district title. The top-six teams out of the eight-team league qualify for districts. The top three squads advance to the 1A state playoffs beginning Feb. 24.
"Condon/Wheeler is a great team and they're one of the classiest teams I've ever played against," said Horizon Head Coach Samuel Trevino. "Our boys worked our strategy very well and stayed dedicated to our game plan. Derek Johnston shot the lights out while going seven-for-nine from the field and he was on target behind the arc too (4-for-4 in three-pointers). We've been working on developing his shot quite a bit and he's responded better than we imagined."
The Hawks started sluggish versus Sherman and trailed 15-6 after the first quarter. The Huskies maintained their momentum in the second, outscoring the Hawks 16-11 to take a 31-17 halftime advantage. The teams traded baskets throughout the second half, though, so Horizon was unable to overcome the double-digit deficit. Sherman led 47-32 after three quarters and the Hawks outscored the Huskies 13-11 in the fourth to narrow the final margin to 13 points.
"Sherman is a real good team and I think we proved that we belong on the same court with them," said Trevino. "We're learning rapidly and we're playing with a higher confidence level in every game. The boys are starting to believe that they can win, instead of wanting to win, so that's a huge step for them."
Kameron Brown had a strong game as he led Horizon in scoring with 14 points, rebounding (seven) and blocked shots (three). Walker (10 points), Luke Holste (six points), and Johnston (seven points) also made significant contributions to the Hawks' offensive attack. Bryan, who wears a protective mask while recovering from a broken nose he sustained versus Damascus, also scored six points for the Hawks.
The Hawks will now focus on hopefully starting a new win streak when they meet the Arlington Honkers (7-13, 1-8) in their next game at 7:30 p.m. Friday at Horizon. The Hawks then have a pivotal matchup Saturday on the road against the Dufur Rangers (6-3, 9-8). The Hawks could have an opportunity to overtake Dufur and possibly move up to third place in the standings with a win over the Rangers.
Horizon girls split weekend games
The Horizon Christian Hawks girls basketball team beat the Sherman Huskies 52-35 Saturday in Moro to get a weekend split of Big Sky Conference contests. Horizon lost 55-44 on Friday at home to the fourth-ranked and four-time defending league champion Condon/Wheeler Knights.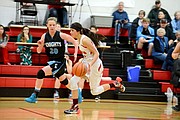 The Hawks, guided by coach Brian Stevens, have almost clinched a Big Sky District playoff berth for the first time since 2012. Horizon (7-11, 4-5) is in a three-way tie for fourth place with Dufur and South Wasco. Condon/Wheeler (17-2, 8-1), Ione (10-7, 7-2) and Arlington (13-7, 6-3) are currently in the top three spots with five games remaining on schedule. A district playoff spot would mark Horizon's second-ever in school history.
"The main reason we won against Sherman and played so well against Condon/Wheeler is that we've improved tremendously in free throw shooting," said Stevens. "We were shooting about 21 percent in our previous games, but we shot nearly 70 percent in our last two games. The girls are just playing good basketball right now; they're playing together as a team and they're improving in every game."
The resurgent Hawks will try to solidify their position in the upper half of the league standings, while seeking to get victories in their two weekend contests. Horizon hosts the Arlington Honkers (13-7, 6-3) Friday at 6 p.m., followed by a 7 p.m. road matchup Saturday at Dufur (5-12, 4-5).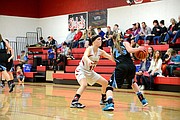 "We'll face a very tough opponent on Friday," said Stevens. "We're in a good position, though, and I think we can win four of our last five games and finish in fourth place in our league."
Horizon played extremely well versus Condon Wheeler and trailed just 40-37 with less than four minutes left in the game. The Knights extended their lead to 44-37 by scoring two baskets, while Horizon missed four consecutive free throws on back-to-back offensive possessions.
The Hawks tried to come back while utilizing a full-court press. Condon/Wheeler handled it without too much trouble, though, while outscoring Horizon 11-7 over the last couple of minutes to get the victory. Horizon's 44 points represented the most scored by a Big Sky opponent this season against the Knights. Paulina Finn (16 points, eight rebounds), Jodee Hicks (12 points, 10 rebounds) and freshman Kaitlin Wenz (eight points, 13 rebounds) led the Hawks.
The Hawks had a strong performance against Sherman while getting revenge from an earlier loss at home (38-33 Huskies win Jan. 8). Led by Finn's career-high 29 points, the Hawks had their highest scoring output of the season.
At one point in the game, overlapping the third and fourth quarters, Horizon had a 10-0 run, with Finn scoring all 10 points. Finn scored on a driving layup and was fouled and added a free throw for a three-point play. On another Hawk possession, Finn fired in a three-pointer. Then, Finn connected on a three-pointer while she was fouled and she sank a free throw for a four-point play.
Haley Becnell (14 points, six steals) and Wenz (five points, seven rebounds) also made solid contributions to help lead the Hawks to the victory. The game marked the first time in four years that Horizon has defeated Sherman (3-14, 3-6). The last Horizon win against Sherman was 44-39 on Jan. 31, 2012 and the win snapped a seven-game losing streak to the Huskies.