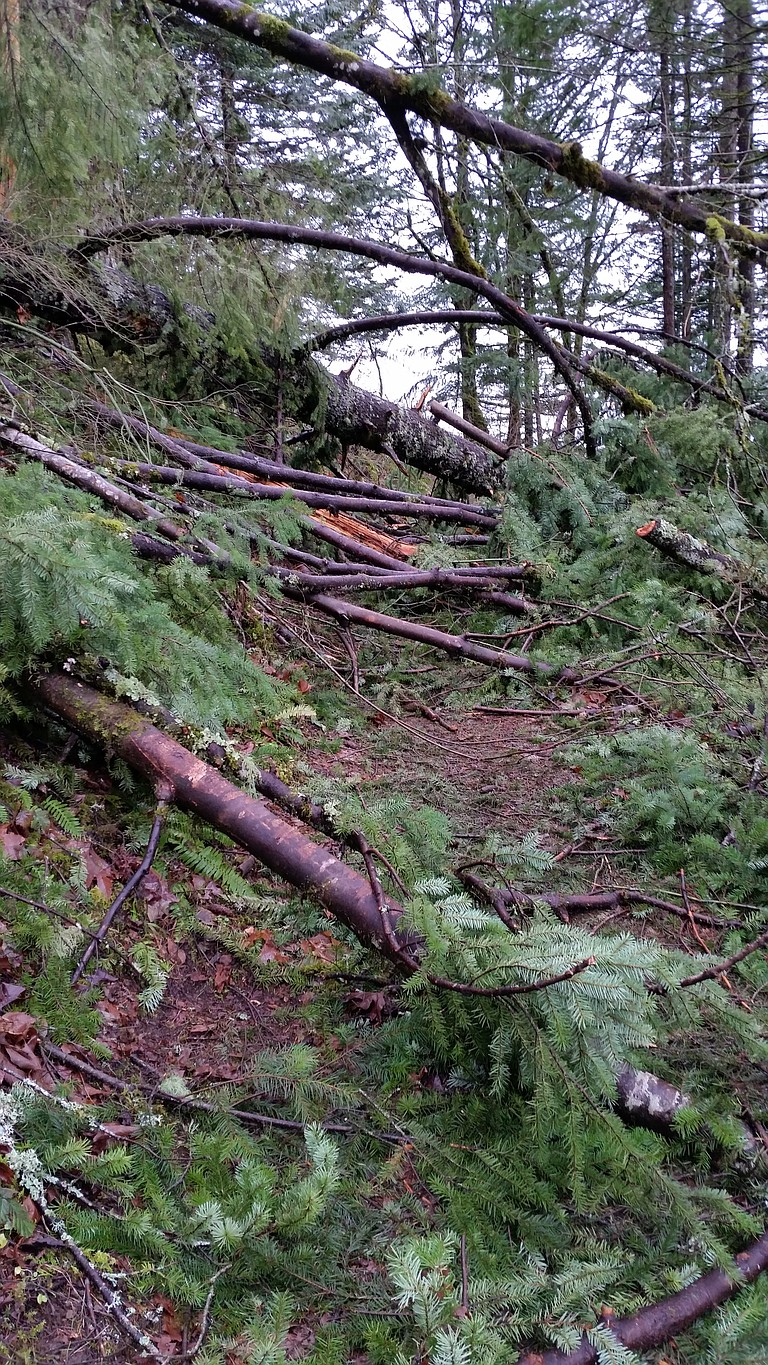 Originally published February 6, 2016 at midnight, updated February 6, 2016 at midnight
Wind and rain storms in December and January have created a mess of downed trees and small landslides on trails in the western part of the Columbia River Gorge, and hikers can expect to encounter obstacles for at least the next few months.
Stan Hinatsu, recreation program manager for the Columbia River Gorge National Scenic Area (CRGNSA), said that in many cases the downed trees, landslides, and damage done to trail infrastructure, such as bridges and fences, likely won't be tackled by crews until the weather clears in the spring and summer.
"We know that there is a lot of blown down trees and minor slides throughout the Gorge. Our plan is basically continue to inventory where we have those trouble spots," he explained. "We know the winter isn't over yet, so we're expecting more to occur."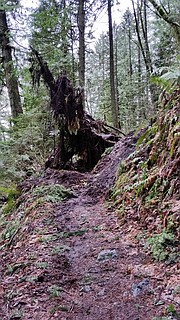 Hinatsu said that the damage was most noticeable on trail systems located east of Cascade Locks, where he said the CRGNSA has fewer trails, and that "we didn't experience a lot of it on our trail system" in Hood River County. In some places on trails east of the county line, like the trail to Upper Gorton Creek Falls or Wauna Viewpoint, large trees with exposed root bulbs block the path of hikers or have taken out safety railings. Small landslides have also made traversing portions of the trails more difficult.
It doesn't come anywhere close to the damage sustained during the storms that caused the infamous Willamette Valley Flood of 1996, said Hinatsu, who has been rec program manager for 25 years, but it's the worst he's seen in the past five years or so.
"We've been fortunate that we haven't had bad weather to cause significant problems to the trails in the past couple years," he said.
According to Hinatsu, in general there is no emergency recreation trail funding. He said that some Federal Highway funds can be used for nationally designated trails (in the Gorge's case, the Pacific Crest Trail), or the CRGNSA can receive funding for trail reconstruction based on projects that we have submitted. They haven't received the budget yet for this year, but last year, Hinatsu said the CRGNSA received $73,000 to be used for operations and trail maintenance — the majority of which goes to staffing the trail crew and other positions. The agency also receives money from user fees (such as day use and recreation passes), which varies from year to year.
With a nominal budget, Hinatsu said the CRGNSA relies heavily on volunteer trail groups such as the Pacific Crest Trail Association, the Washington Trails Association, and many other local and state recreation groups who coordinate with the CRGNSA to maintain area trails.
"Our volunteer groups are so helpful," he said.
For now, Hinatsu said, the CRGNSA is inventorying and prioritizing what trails need to be addressed first based on factors such as popularity and safety risk, and will then go from there. Areas on the target list include a metal bridge near Eagle Creek's Punchbowl Falls (Tish Creek Bridge) that was damaged by a falling tree and a portion of the boardwalk that got washed out at the BZ boat launch on the White Salmon River.
Hinatsu said due to access, many of the fallen trees will simply be bucked up where they lay, but in some cases, if they can be hauled out, they will be used to create picnic tables or as woody debris for stream restoration for salmon.
With so much work to do, though, Hinatsu said the trail rehabilitation could take some time.
"We may not be able to get everything done this year, especially if we get more storms," he said.
For information on trail conditions, head to www.fs.usda.gov/recmain/crgnsa/recreation#conditions or call the CRGNSA at 541-308-1700.