Saturday, February 6, 2016
Humans tell stories — to remember, to understand, to connect with each other. Everyone has a story (or two, or four, or ...) that deserves to be told. People can come to find out how to tell their own stories.
Libraries of Eastern Oregon (LEO), the Port of Cascade Locks and the Hood River County Library District present "What's Your Story" with the Portland Story Theater. The free workshops will be held Saturday, Feb. 20, 10 a.m. to 12 p.m. at the Cascade Locks Community Center and Saturday, March 5, 2-4 p.m. at the Hood River Library.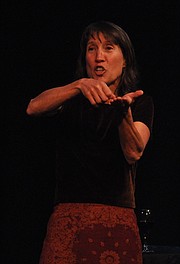 The storytellers of Portland Story Theater (PST) will offer a lively, interactive two-hour workshop on the contemporary art of personal storytelling. Participants will learn to identify their stories and what it takes to share them with an audience. Participants will explore the necessity of vulnerability of storytelling, as well as techniques for bringing stories alive. PST tellers will perform excerpts from their stories, while engaging participants to begin exploring stories of their own.
These workshops are free and open to the public but registration is required because of limited space.
To register, please visit the Hood River or Cascade Locks Library, call 541-386-2535 or 541-374-9317, or email info@hoodriverlibrary.org.
Launched in 2004, Portland Story Theater is a non-profit organization dedicated to making the narrative arts an integral part of Oregon's rich cultural identity. PST is committed to bringing authentic story theater that inspires, challenges and expands a sense of community among people living through the state. Lynee Duddy and Lawrence Howard are founders of PST; Leigh Hancock is one of their Mainstage tellers and instructors. More information can be found at www.portlandstorythe-ater.org.
These workshops are funded through the Libraries of Eastern Oregon (LEO) by a grant from ArtPlace America. LEO received the prestigious national grant award from ArtPlace America for "The Arts: Engage at the Library!", an 18-month project to promote the arts as a community and economic development tool — with community outreach through the library.
For more information, visit the Hood River County Library's website at hoodriverlibrary.org.