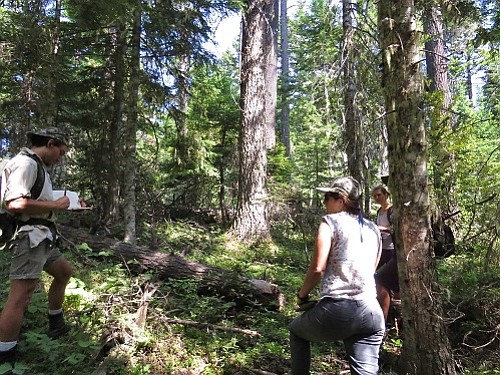 Originally published February 6, 2016 at midnight, updated February 6, 2016 at midnight
This story has been updated Feb. 8, 2016.
The U.S. Forest Service is planning a nearly 3,000-acre forest thinning and fuels reduction project on the north slope of Mount Hood, drawing more than a thousand written comments from Oregon environmental advocates and local biking groups.
The Hood River Ranger District will hold a public meeting Wednesday, Feb. 10 from 5 to 7 p.m. at the Hood River Fire Department, 1785 Meyer Parkway, to discuss "Polallie Cooper Hazardous Fuels Reduction Project."
The public will get a chance to study the proposal, look at maps and ask district specialists questions in a casual setting.
Janeen Tervo, Hood River District ranger, said fire suppression and safety prompted the thinning plan, which takes a "proactive" approach.
"I really believe it's just a matter of time until the next fire comes to this region," Tervo said. "The degree of severity depends on drought conditions."
Polallie Cooper aims to reduce fire danger and restore the ecosystem on scenic Cooper Spur, roughly 10 miles south of Parkdale.
The Forest Service also wants to protect two drinking water districts: the Crystal Springs Watershed Management Unit, and The Dalles Municipal Watershed, which draws partially from eastern Hood River County.
However, environmental conservation groups such as Portland-based Bark and recreation groups like Hood River's 44 Trails Association argue the Forest Service's plan could tarnish Cooper Spur's natural beauty and harm the booming outdoor recreation presence it enjoys.
"This proposal includes destructive logging in beloved, unlogged forests. Hikers and mountain bikers come from all over to witness this breathtaking area and that's good for the community," Bark Executive Director Amy Harwood said.
Across 2,830 acres in the forested Cooper Spur area, the Forest Service plans to take on various logging operations, including sapling, plantation and stand thinning.
Several popular trails would be closed while the project's underway, including Dog River Trail.
"Of the trails impacted by the proposal, the Dog River Trail is the highest profile within the mountain bike community," 44 Trails members wrote in a Jan. 28 post on their website. "Not only could the proposal result in cutting within 55 feet of the trail, it will surely impact the trail with extended closures while the work is being done."
Polallie Cooper marks the third large-scale thinning project on Mount Hood in recent years, after Red Hill and Lava Ridge. The Polallie Cooper project was originally proposed in 1997 and then abandoned in 2005 due to work required to address damage from insect and vegetation disease among other issues, Tervo said.
Bark advocates said the new redux, "Polallie Cooper II," is bigger this time around — almost 3,000 acres instead of the original 865. The impact on popular trails is more substantial, they said.
Tervo acknowledged the controversy from concerned groups.
"This project stirs a lot of emotion in people … there's a lot of concern about the bike trails," Tervo said.
However, she said the Forest Service weighed various interests with an interdisciplinary approach, which included the input of Hood River Collaborative Stewards Crew (Stew Crew) virtually "every step of the way" on Polallie Cooper.
The Forest Service released its environmental impact statement on Jan. 26, which laid out details on the project and its total impacts, and now a 30-day public comment period will close Feb. 25.
Russ Plaeger, Bark restoration coordinator, said the groups worked with Tervo to move the public comment window into February, after the holidays, so more interested people could take part in the discussion.
Tervo said if plans move ahead "in a perfect world," the Forest Service will reach a decision on Polallie Cooper this summer.