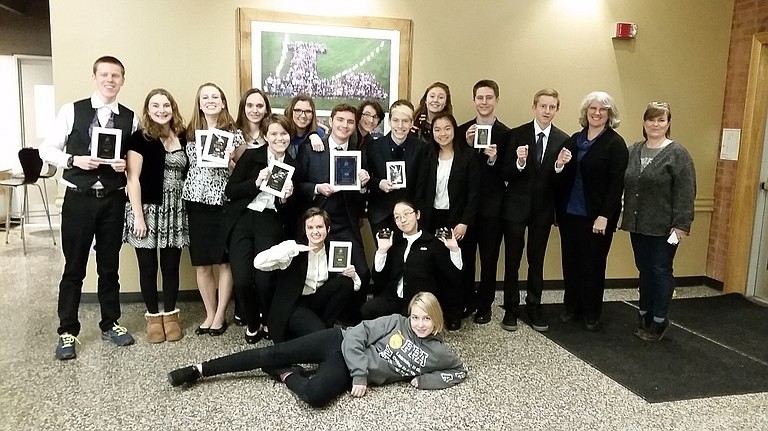 Wednesday, February 10, 2016
Last weekend, the Hood River Valley Speech and Debate Team attended the 81st Linfield Singletary tournament at Linfield college in McMinnville. The college began hosting the tournament back in 1933 and it is one of the oldest in the country.
The tournament was an overall success for the Speakin' Eagles. Sixteen Hood River students attended and seven finaled or placed in their events. They walked away with third place in sweepstakes, despite the competition of many much larger teams.
Congratulations to: Sarah Wang for fifth place in Novice Poetry and fifth place speaker in Novice Public Debate, Sofie Larsen-Teskey for first place in Novice Poetry, Mason Leavitt for second place in Novice Radio, Soren Rajani for fourth place in Presidential Debate, Nathan Johnston for second place in Expository, Ruby Patterson for second place in Poetry, and Hannah Hart for second place in Prose and first place for Poetry.
The Linfield Singletary was the first tournament to have Presidential Debate as an event. The debate was created by Hood River Valley alum Jack Patterson. Presidential Debate requires participants to write a presidential platform and essentially debate as they would if they were in an actual presidential debate. Four students from Hood River competed in the debate and Rajani made it to the final round. (Jack Patterson was a high school debater and has gone on to participate in college competitions at Linfield.)
The Hood River Valley Speech and Debate team will be attending the National Qualifiers Tournament on March 11 and Districts soon after. They hope to be successful at districts and send as many competitors to the State Tournament as possible.