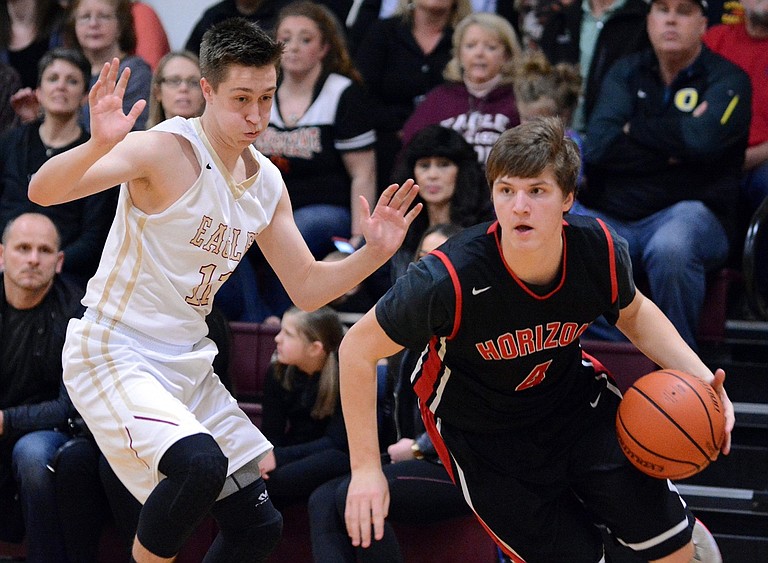 Saturday, February 27, 2016
The Horizon Christian boys basketball team's playoff run and season came to end Wednesday night in the Portland metro area, as the No. 15 Hawks fell to the No. 3 Damascus Christian Eagles, 55-38, in a first-round OSAA playoff game.
It was one of Horizon's quietest offensive outings of the season, second only to the team's first meeting with Damascus this season at the Moda Center, which Horizon lost 42-29. The Hawks couldn't duplicate their 66-62 upset of Damascus that they achieved Jan. 25 on the Eagles' home court, falling too far behind too quickly, as the Damascus defense came prepared and punished Horizon Wednesday night, holding the Hawks scoreless for nearly seven minutes to start the game.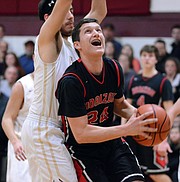 The Eagles outscored Horizon 16-3 in the first quarter and never looked back, letting their defense do the work. Horizon was able to narrow the gap to five midway through the third, but Damascus responded with a 13-2 run to seal the Hawks' fate.
Horizon Head Coach Sam Trevino, who just wrapped up his first season helming the Hawks, said that Horizon struggled to close out Damascus shooters and had trouble getting around their defense. The building was loud, he said, and playing from behind proved too difficult for Horizon.
"They were everywhere," he said of Damascus' defenders. "Their defense was good, they were trapping hard, they were anticipating passes… our passes weren't crisp. I don't feel like we won the rebound game and I don't think we were as effective on defense."
Damascus kept all of Horizon's scorers to single digits with the exception of frosh Derek Johnston, who put up 11 points. Jared Bryan was next with six and led the team with eight rebounds. Cody Lingel and Kameron Brown had five points, followed by Luke Holste (four), Zack Walker (three), Ethan Evans (two), and Ian Walker (two). As a team, Horizon had a bit of an off night from the field, going 13-for-38 (34 percent) on total field goals. However, the Hawks did capitalize on their opportunities at the foul line, going 7-for-9 (78 percent).
The post-season exit was Horizon's earliest since the Hawks' 2009-10 season, indicative of a team in the midst of rebuilding, having undergone coaching changes and losing numerous key players from last year's roster due to graduation. Trevino said that for a team that has enjoyed ruling the Big Sky roost for the past several years, expectations were high — even in a transitional season.
"I felt the pressure going into it. It was an adjustment for everyone. You take a team that is heavily favored to win everything and then go on a five-game losing streak (at the start of the season) — I have a sense of what Joe Girardi felt like with the Yankees," he noted, referring to the Yankees manager, who in his first season heading the team, saw New York miss the post-season for the first time in 15 years.
Still, Trevino was generally content with how the season turned out. He said it provided numerous learning experiences for both himself and the athletes. The team saw its fair share of trials and tribulations: Losing league games, making the playoffs, dropping games by double-digit margins against teams they had beaten in previous years, but also pulling off upsets.
"We got all of that in one year… I would say the season was a tremendous success," he said.