Kara Kiyokawa and Marelie Vorster are the Elks November Students of the Month and were presented checks for $100 at a recent Elks Lodge meeting. They are both seniors at Hood River Valley High School. They, along with all other monthly winners, will be honored at the annual banquet at the end of the school year.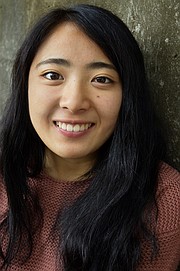 Kara is a National Honor Society member and a member of the Asian Club, where she was the treasurer her sophomore year, vice-president her junior year and is president this year. She is a member of the Leos club and has participated in various community service activities. Kara is a four-year member of the girls' soccer team and was all-conference second team in 2012 and 2013, and first team all-conference in 2014 and 2015. As a club player for the Portland Bridlemile Soccer Club, the team won the Nike Lake Oswego Cup in 2013 and 2015. While a member of the soccer team, she assisted with HRVHS girls' soccer Big Sister/Little Sister program, helping young girls get accustomed to high school soccer, high school life and answering questions they might have.
She enjoys playing the piano and has performed at multiple piano recitals and festivals, such as the Baroque Festival and Junior Festival, and has received various awards and trophies. She also enjoys dance and has participated in different types, such as hip-hop, ballet, pointe and jazz. She has performed annually in the Senior Spring Recital and Nutcracker.
Kara has done volunteer work for the local FISH Food Bank, where she helped pack food into bags, provided customer service, organized food on the shelves and sorted donated food. Through Leos, she has spent time collecting and sorting cans and bottles and then donating the money made to a non-profit organization, such as Relay for Life. As a National Honor Society member, she and others went around local neighborhoods to collect canned food and donations for the FISH Food Bank. Kara volunteered time at the Harvest Fest kids' zone, where she assisted kids with fruit printing, coloring trick or treat bags, handing out candy and assisting with the scavenger hunt. As a member of the National Art Honor Society, Kara helped make the design for the 2014 senior sweatshirts. She has also been a Link crew leader, assisted with the Asian club Christmas project, buying food and presents for an adopted family, and has spent time with the National Honor Society Christmas project. Kara has also worked with the Eagle summer soccer camp, volunteered for HRVHS' Community Work Day, and helped kids during Bowl for Kids' Sake.
Kara is the daughter of Meeling and Don Kiyokawa and has an older sister, Mikayla, who is currently a junior at the University of Washington. Following high school, Kara would like to attend a four year college in the Pacific Northwest. She is considering Oregon State, University of Washington, Gonzaga and Seattle University. At the moment, she would like to pursue a career in the sports medicine field. Her hobbies include piano, photography and playing soccer with her friends.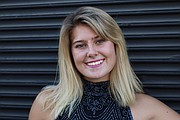 When she was just eight years old, Marelie Vorster and her parents moved from East London, South Africa, to Hood River. A local pharmacy chain had recruited her father to work at some of their stores in the U.S. They came because they felt it would be an amazing opportunity and it has indeed been all they thought it would be. They had to adapt to a totally different culture and for Marelie, learning English was a difficult challenge but one that she soon became proficient in. She currently is fluent in English and Afrikaans and is proficient in Spanish.
Marelie is a member of the HRV wind ensemble, where she plays the clarinet. She is the first chair player and leader of her section. Last year the HRV Wind Ensemble took a musical tour to Seattle to work with college band directors. She was also a member of the Mid-Columbia Honor Band. Marelie is a member of the new HRVHS Climate Action club, which works within the community to show people how climate change affects everyone. They attend town hall meetings to voice concerns to leaders of the community.

At school, she is a member of the National Honor Society and this year is serving as secretary. She helped coordinate and carry out efforts to gather food for the FISH Food Bank and this year's effort raised over $100 and 500 pounds of canned food items. She volunteers at her church, where she is a Sunday school teacher for children 3-5 years of age. She creates lesson plans and activities for the class. Also at her church, she helps with set-up and cleaning for the annual harvest party.
Marelie is a very active sailor and this summer became a certified sailing instructor. She is a member of the first Hood River sailing team. They compete against teams from the Portland area in two person sail boats. On community sail night, she helps set up and take down boats for sailing. She takes young children out in the boats and teaches them how to sail.

She has spent time at the FISH Food Bank packing food bags and assisting when people come to pick up food. She has done volunteer work with Zumba in the Hood and the Lila May Fundraiser by making decorations before the event and helping with set-up and cleaning up. She has also helped monitor swimmers at the Cross Channel swim on Labor Day.
Marelie is the daughter of Ben and Ellen Vorster. Following high school, she would like to pursue an ultimate career as a lawyer. She has two options of where she would like to go to school. Her top choice is the California State University Maritime Academy, also known as Cal Maritime. It is mainly an engineering school, but it also has a major in global studies and maritime affairs, which would fit nicely with her desire to become a lawyer. Her second choice is the University of Oregon honors college. She thinks that she would study political science before turning her attention to law school.
"Both of these young ladies have terrific futures ahead of them," said George Johnson, Student of the Month chairman. "They are very active at school and in their community, giving back and helping others less fortunate. The Elks Lodge congratulates them and wish them continued success."