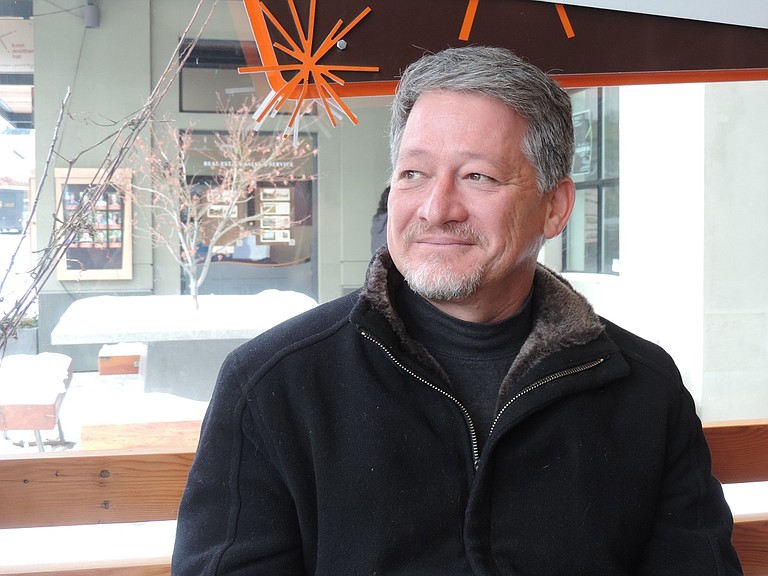 Originally published January 6, 2016 at midnight, updated January 6, 2016 at midnight
Time for a change, Maui Meyer says.
Meyer, the Hood River representative on Hood River County Board of Commissioners, said Monday he will serve out his term in 2016 and not run for reelection.
He was elected in 2003 and will complete his third term of four years in December.
Meyer and his wife, Jan, have a son, Nathaniel 13, and daughters Julia 10, Emma 7, and Meyer wants to spend the next 12 years or so with his family. When he took the oath of office in 2004 he held Nathaniel in his arms.
"If I could stay for a long time I would, but personally I'm exhausted," said Meyer, who turns 50 in July. An Oahu native, he came to Hood River in 1985 as a visitor, and settled here in 1991, buying 6th Street Bistro, which he ran as cook and then front-of-house guy when chef Ben Stenn took over.
"I have lived more of my life here in Hood River," he said.
Meyer owns Copper West Properties and is a partner with Stenn at Celilo restaurant and BMP Yasui Project (the New Yasui Building), and other holdings and projects focusing on urban redevelopment. In 2015 the group remodeled the Diamond Davidson Building, formerly the ANPC headquarters, now home to Knot Another Hat, Farmers Conservation Alliance, and a forthcoming kombucha café.
"Hood River has been good to us. It's good to be making a living here," Meyer said. "The county work is icing on the cake. I get to do things civically that are with a group of people that's been great. It's amazing I've been doing it for 12 years."
He serves with board president Ron Rivers, Les Perkins, Bob Benton and Karen Joplin. Rivers and Perkins' positions are also up for re-election in 2016; Rivers said he will decide by the end of January about running again, and Perkins could not be reached for comment.
"It has been a civil, wonderful time on the commission, with these four people and the staff of Hood River County, who are my friends. I would do anything for these guys," Meyer said.
"Sometimes we go at each other in session and go have a beer afterwards," Meyer said. "I've learned that's a decent way of making things work."
Asked about his accomplishments, he said, "accomplishments implies an agenda, and I don't know that I had an agenda, though a lot of people thought at first that I did. I had certain ways of doing things."
"My accomplishment is that I've shown 'it's okay to trust people that are not like you.' I can intellectualize wheat you are going through and be part of your team. I don't have to be your buddy in order to help you. I think all of that is lot in modern politics, but I think we have retained it and grown it."
"I am pro county making decisions for themselves, which is a very conservative view," he said. Asked of the perception that he is not a conservative "it depends on who you ask," he said.
"It's gone away in the past six years. But one of the things that traditionally been there is a long memory of … maybe not the smoothest times. It's a case of 'I may not agree with you, but …' and that's the way it should work. It's not liberal and it's definitely not conservative."
"The list is long of things we've gone up against," Meyer said, citing affordable housing, the bed and breakfast ordinance, and "dealing with huge cutbacks" in timber revenue.
"How do you manage when you know the next year is going to be your last in terms of revenue and the timber fund? It was stressful on Ron (Rivers)," he said.
"Ron and Karen and Les and Bob, these are great people who working really hard for not much money, for the good of the people," Meyer said. "It means things like we don't sign pro-gun legislation. It's not in our wheelhouse. We understand the (oil) trains issue and we put a letter out on that (opposing fossil fuel trains in the Gorge), but we're trying to focus on something that matters in Hood River. If a train goes off the rail here it's a big problem. In that context, those are the places the community can and will act."
Meyer said one thing that is clear to him is, "we're an ag county with some tourism. Let's make sure we keep it that way. Ag town, ag town, ag town, and one of the best on the west coast. Don't mess it up.
"Tourism is a false economy. I am in support of tourism. I rely on it, but not where we want to go for our kids,"' Meyer said. "Ag has proven to be over the years, for all its ups and downs it is a wealth creator, not a wealth transferer."
Meyer serves on the Travel Studio steering committee, which is planning a series of tourism workshops in the Gorge over the next four months.
Asked if he misses his former role as restaurateur, Meyer said, "I do, terribly." But he sees Celilo as an example, among other local restaurants with a locavore approach, as bridges between "ag town" and "tourism town"
He said Celilo restaurant "did what it needed to do for us, to let everybody know the best food in the country and we can use it here instead of shipping it to New York. The mushrooms, the fruit, the meat, was bypassing us, it was totally unfair. To the extent we can reestablish that in this community is a big thing."
Anyone seeking a position on the county board should "keep an open mind," Meyer said. "There are a lot of really smart people out there and it's not book smart, it's experience smart and compassion smart and being able to listen smart. "I hope it's a good race. I hope there's some good people."
Interested in running? The deadline is March 8, and the filing fee is $50 for county board seats. Go the Oregon Secretary of State website, under Elections, and download the SEL 101 form.