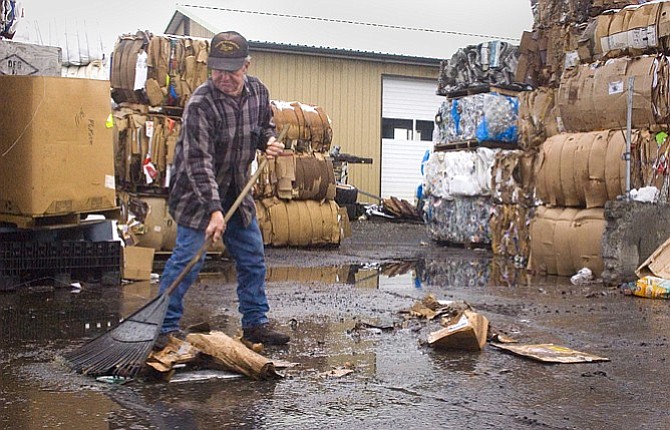 Originally published January 6, 2016 at midnight, updated January 6, 2016 at midnight
A new report from the state Department of Environmental Quality says people in Oregon sent more garbage to landfills and recycled less in 2014.
In Wasco County, 18,175 tons of trash were disposed of, 7,356 tons were recovered, with a total recovery rate – which includes reuse and residential composting – of 34.8 percent. Sherman County disposed of 1,159 tons, recovered 220 tons with a total recovery rate of 22 percent.
Sherman County exceeded the state recovery goal, set in 2009, of 20 percent but Wasco County was slightly below the recovery goal of 35 percent.
Paul Lepinski, owner of A&P Recycling in The Dalles, has made a business out of recycling since the 1980s.
"It's a changing world out there," he said of the current recycling market, which is driven now by the global economy.
"All this stuff is recyclable, but if there is no demand … you can only stockpile for so long," he said.
At one time, industrial operations within the region paid to receive metals, plastics, cardboard and other common recyclables. Today, most packaging comes from China, creating an overseas recycling market. "The transportation costs just kill you," Lepinski said.
One exception is cardboard, which he trucks to a plant in Longview, Washington, which uses it to make fruit boxes. He recycles 150 tons of cardboard a month, he said. But even cardboard has issues: In the past, recycled cardboard was just that, cardboard and glue. Today, there are many more contaminants like tape and staples. In the 1980s, contaminants made up only five percent of a load: Today, they make up 10 to 15 percent.
The market for recycled glass is also smaller than in the past, he said. "The only people using glass today are wineries and breweries," he said.
Plastic is a good product, although the price today is very low, only two cents a pound. "It's a petroleum product, and when the price of oil goes down, so does the price of recycled plastic," he explained. Plastic is a good product, much lighter than glass, but you have to take care of it at the end, he said.
Although statewide Oregon sent more garbage to landfills and recycled less in 2014, Peter Spendelow, a DEQ solid waste analyst, told the Statesman Journal the state beat its recycling target overall and continues to rank near the top nationwide for recycling rates.
Oregon households and businesses threw away a total of 2,572,453 tons of garbage last year, up 5.5 percent from 2013.
That's 1,298 pounds per person, up 4.4 percent from the previous year's per capita rate.
The statewide recovery rate was 51 percent of total waste generated, down from a record 53.9 percent in 2013. The state goal set by the Legislature is 50 percent.
Recovery includes recycling, composting, and burning for energy.
New legislation will make future recycling targets tougher for the state.
Senate Bill 263, passed by the 2015 Legislature, sets new recovery goals of 52 percent by 2020 and 55 percent by 2025.
Goals for each of the state's 35 "wastesheds," or counties, will also be revised, and the recycling and composting program credits will be eliminated.
The bill also will require all apartment complexes to provide recycling to tenants by in 2022.
A companion bill, SB 245, will increase DEQ fees on landfill tipping charges in order to fund more recycling and waste prevention activities. Those include grant programs, hazardous waste collection events, and a program to help school districts clean up classroom labs that contain old chemicals.
The fees will increase a basic residential garbage bill by 4 cents to 7 cents per month, DEQ estimates.