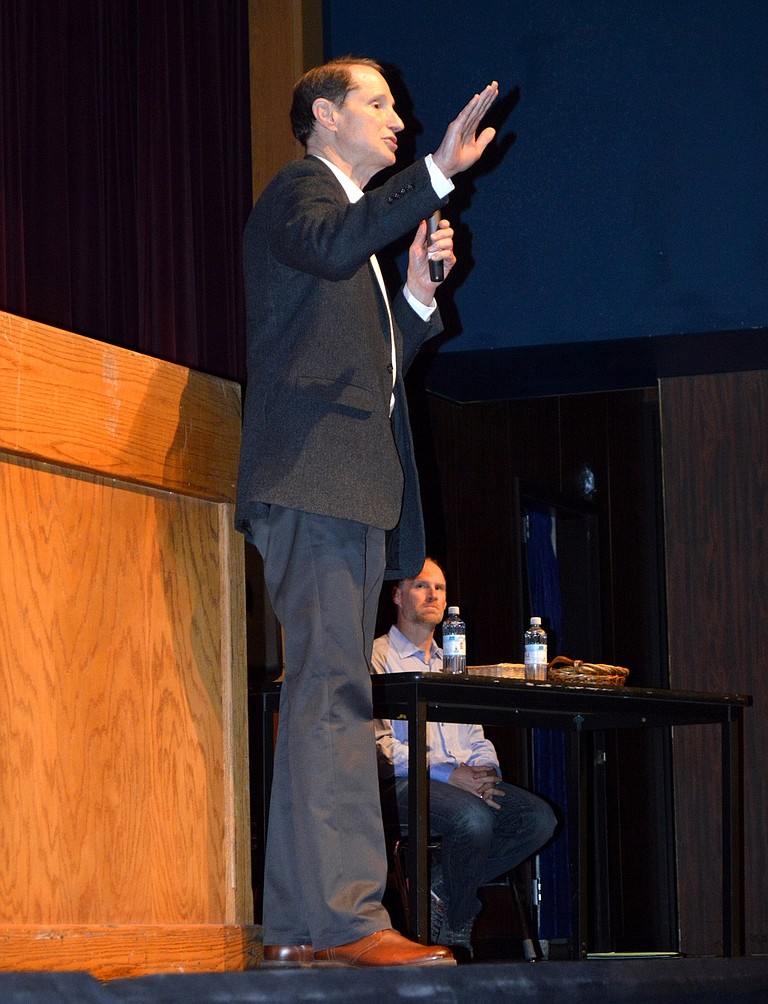 Originally published January 9, 2016 at midnight, updated January 9, 2016 at midnight
Sen. Ron Wyden hit Hood River on his January town hall sweep.
Wyden took center stage at Hood River Valley High School's Bowe Theater Wednesday afternoon, fielding questions from adult audience members and the HRV senior class.
HRV senior Payton Rigert introduced the U.S. Senator, and Mayor Paul Blackburn took on moderator duties.
As an opener, Wyden honored the Yasui family for the presidential medal Barack Obama bestowed posthumously on Hood River's Minoru Yasui in November.
"Minoru Yasui dedicated his life to the pursuit of justice and equality under the law," Wyden said. "He was a trailblazer in every sense of the word, courageous, eloquent … dogged in fighting government bigotry and he is somebody who always should be remembered as what one person can do."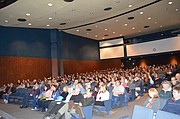 Min's grandnephew, Niko Yasui, accepted a certificate from the senator and showed off the presidential medal for the gathered crowd.
When questions began, funneled by Blackburn in a ticket system, Oregon's workforce took prominence as the hot topic.
A student asked Wyden's stance on minimum wage, to which he responded, "The Legislature is working on this … I definitely support an increase."
On the Trans-Pacific Partnership, a free trade deal between the U.S., Canada and 10 countries in the Asia-Pacific region, Wyden argued international trade was vital to Oregon's future as a workforce player.
"About one out of five jobs in Oregon depends on international trade," Wyden said. "They want to buy manufactured goods and they want to buy wine and bicycles, fruit, drones and you name it.
"I'm looking straight up and I see all these students and I want you guys to have the chance to live and work and support your families in the state of Oregon. There are going to be a million people in the developing world in 2025 … those are people with money and they want to buy stuff that we make because they like the quality."
On education, Wyden lambasted Oregon's high school graduation rates, which rank fourth lowest in the United States.
"That's a blot on all of Oregon," Wyden said. "That's unacceptable for us … we can do something about it."
On college, Wyden mentioned several initiatives he's taken on — an opportunity tax credit for college goers to "dent" the cost of tuition, a financial incentive to universities that freeze or lower tuition, and the "Student Right to Know Before You Go" Act.
For the last piece of legislation, Wyden teamed up with unlikely partner Marco Rubio of Florida (Republican presidential candidate) for transparency on colleges regarding graduation rates and job outlook.
On gun rights, Wyden voiced his favor for expanded background checks — specifically for people on terrorist watch lists, domestic violence offenders and those with long histories of mental illness.
Citing deadly shootings in Thurston, Clackamas Town Center and Roseburg, he said, "The real question for me is are we now just going to watch our televisions and see one tragedy after another … shrug our shoulders?" he said.
On the topic of oil trains, Wyden put increased protections and regulations for crude-by-rail cars as a "big priority" in 2016.
Other questions for Oregon's senior U.S. Senator were more light-hearted in nature.
"How I can get permission from the city to cut down a tree if it's blocking the view?" an HRV senior asked.
Wyden laughed and suggested she follow up with his staff for some contacts in the City of Hood River to help address the problem.
2 Q's and A's
After the town hall meeting, Wyden had time to answer two questions from the Hood River News.
Harney County standoff
Armed protesters seized a remote federal building this week in the Malheur National Wildlife Refuge near Burns, following a demonstration supporting Dwight and Steven Hammond, father-and-son ranchers who were convicted of arson.
First, I understand full well the frustration about the economy in rural Oregon. There's just a tremendous amount of hurt out there, and I also understand the defense that government doesn't listen to meet people there. And it's one of the reasons I started my town meetings in the rural areas, with the message that government is going to be listening to people.
But I think it's important to really think through the next part of the debate. And I believe that to go the next step from that understandable frustration, the one where you're lead of a cliff, mislead by some outsiders who are apparently wiling to break the law — I think that's a big mistake and I think that's bad for Oregon … I'm going to spend my time on solutions, not stand offs. And that's what we've focused on.
Marijuana ads in newspapers
The U.S. Postal Service announced in December the agency will not allow mailing of newspaper or magazine publications that include advertisements for marijuana-related businesses, citing the status of cannabis as a federally controlled substance.
I'm fighting this every step of the way. I think that for a federal institution — the Postal Service — to say it really doesn't matter what Oregon voters have done on a matter that has historically been left to the state is big a mistake. And I'm going to fight to change that, as I am with the (marijuana) banking rules and the tax rules and postal rules.
In each case, this is a question of whether conduct Oregon has voted to make legal is going to be respected. I (will) stay at it until it is.