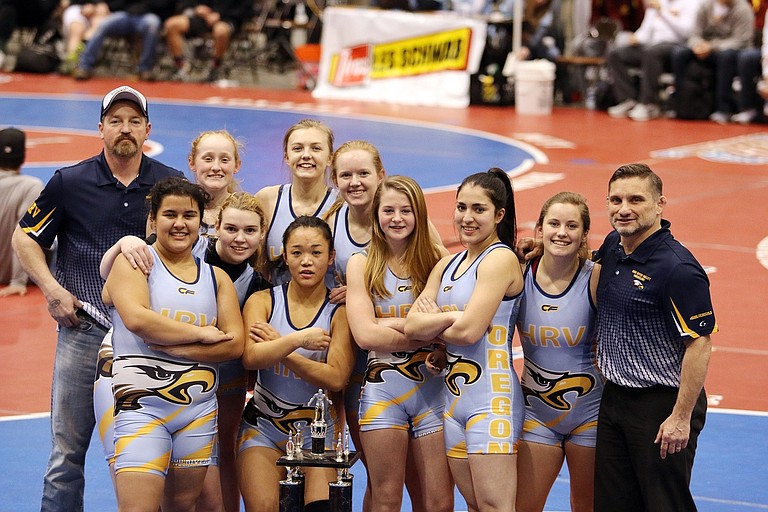 Wednesday, January 20, 2016
The HRV girls wrestling team had by far its most dominant performance of the season Friday evening, when it swept Eugene's Elmira High School during the second annual Girls Dual Meet Championships at the Deschutes County Fairgrounds in Redmond.
In an unexpected outcome, the Eagles went 13-0, winning the dual meet with a score of 76-0 and retaining the dual meet championship trophy.
"Our team really stepped up and fought hard. It was fun to watch. Every match ended in a pin. I'm excited to get back to work with the team and get ready for the end of the season tournaments," said HRV Head Coach Trent Kroll. "They all have set high team and individual goals and this weekend helped motivate us to keep working and believing we deserve to win."
HRV athletes with wins included Alexis McCafferty, Monique Yanez (2-0), Samantha Morley, Joanna Endow (2-0), Grace Miller (2-0), Elena Kroll (2-0), Payton Rigert, Christine Marquez, and Katerina Vackova.
Friday's win wasn't the only great performance Kroll got out of his wrestlers this weekend. The next day, in the same venue, six HRV wrestlers took home medals in the Women's Oregon Classic Tournament.
Yanez, Rigert, and Kroll all made it to the finals and placed second in their weight classes. Third-place medals were earned by McCafferty, Miller, and Vackova. Endow also scored points for HRV with a fourth-place finish as did Marquez, who placed fifth. Samanatha Morley did not place, but "wrestled well," said Kroll.
"This tournament has really gotten big. Most of the brackets had close to 10 people in them. Our team is getting great competition against quality wrestlers," he said.
Next up for the girls is a tournament in Grandview, Wash., Saturday, which starts at 9 a.m.
Varsity
The varsity was also busy with competitions late last week, starting with a dual meet against Special District 4 rival Mountain View Thursday night in a competition known as the "Grapple for the Griffin." This year, the Eagles saw their grip slip from the griffin trophy (so named due to the mythical griffin creature that tops the competition's trophy) as the Cougars won 45-19.
Highlights of the match included pins by Dylan Peterson and Mark Reyes less than four minutes into their matches to score a total of 12 points for HRV. Peterson wrestled in the 145-pound weight class and Reyes wrestled in the 220-pound class. Also grabbing wins were Ryan Zeller at 106 pounds (6-2 decision) and Jason Shaner at 138 pounds (17-4 major decision).
The Eagles also had matches the next two days, competing in the Oregon Classic Dual Meet Championships in Redmond. On Friday, HRV ended up third in its pool, defeating Milwaukie and then losing to Crater and Churchill. On Saturday, the Eagles bounced back, going 2-0 thanks to wins over Central Oregon teams Ridgeview and Summit.
HRV had some standout performances by both ranked and unranked athletes. Leading the charge for HRV were Shaner and Wachsmuth, who both went 5-0 in the 113-pound and 132-pound weight classes respectively. Notable matches included the top-ranked Wachsmuth's pinning of ninth-ranked Hunter Grant from Crater just 32 seconds into their match. Shaner, ranked second in 5A for his weight class, defeated No. 6 Cade Ezell (Churchill) by fall 2:10 into their match and by taking out No. 14 Quintin McCoy (Summit) after he was awarded a 17-1 technical fall.
Oscar Villegas had an upset in his first match, defeating No. 14 Avery Jaramillo (Churchill) in an 11-5 decision. The unranked Villegas went on to attain a 4-1 record in the tournament.
Other Eagles posting winning records in the tournament included Zeller (4-1), Cade Parker (3-2), and Junior Manzo (4-1).
This week, the varsity team doesn't have to do much traveling, starting with a dual meet Thursday night against Pendleton in Hood River, which starts at 7 p.m. The Eagles then travel across the river for a tournament in Stevenson on Saturday that starts at 10 a.m.