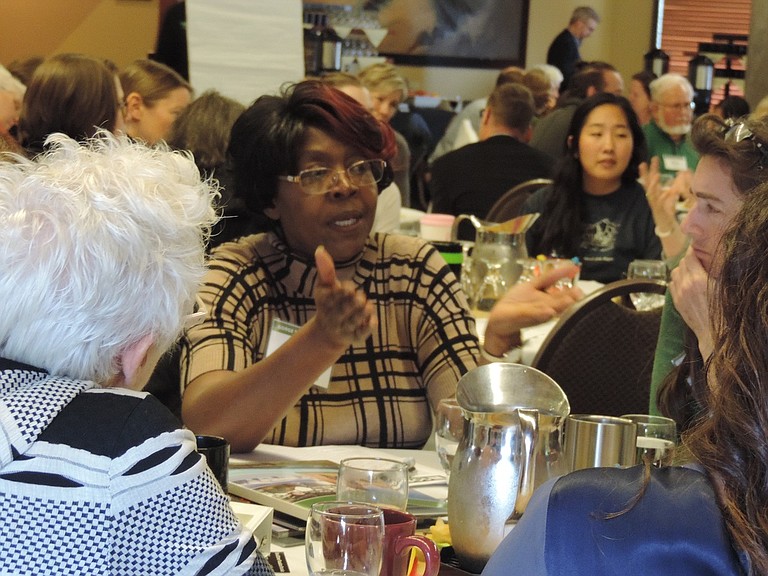 Saturday, January 23, 2016
First of two parts
There's quite a lot on our shoulders.
Developing tourism opportunities in February or October — the shoulder seasons — was a key vision to come from a first-of-its-kind regional tourism gathering Wednesday in Hood River.
The 140 or so participants also heard that the future of sustainable, viable tourism, economically, culturally and environmentally, rests on the shoulders of those at the Gorge Tourism Summit, a day-long gathering Jan. 20 at Best Western Plus Hood River Inn.
Dominant themes were expressed in comments such as "Create community supported sustainable visitor experiences," and "We should not be an elite area of recreation."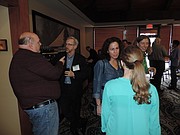 "Ultimately we want everyone who visits to feel the reverence for the land and those producing food that we do, and I am glad we are engaged in the type of process to provide the type of careful tourism that sustains and enhances our region." That's from Sarah Sullivan, executive director, Gorge Grown Food Network, one of five speakers at the start of the summit. Sitting around tables, the participants also had the chance to brainstorm and share visions for responsibly developing tourism in the Gorge.
Gorge business owners, government agency and non-profit representatives, and local, state and regional elected officials met at the summit, which starts Gorge Travel Studio, a three-month series of networking events and workshop sponsored by Travel Oregon. Among the conferees was Todd Davidson, Travel Oregon executive director.
The summit was the start of a long-awaited regional approach.
Casey Roeder, resident of Columbia River Gorge Visitors Association (CRGVA), said, "I'm very hopeful because I've been around a long time and see that this will get us to the next step we've been trying to get to for 20 years." Roeder is also executive director of the Skamania County Chamber of Commerce and a member of the Studio steering committee.
Moderator David Buerle of the consultant group Future iQ Partners, asked attendees to consider "how do we get a balance? What does the future look like in terms of economic vitality and livability? You want prosperity but you also want to be able to turn left."
Visions expressed Monday for positive tourism developing included:
Promotion of bicycling east beyond Hood River;
Resolving funding issues for parks and other agencies (including "where do people go to the bathroom?" and how to pay for facilities' management and maintenance);
Promote longer stays and better geographical distribution of visitors;
"Create a coherent Gorge narrative," particularly regarding cultural heritage;
Develop an incentive-based transportation system to decrease congestion.
The Gorge contains examples of world class adventure and destination points, according to speakers at the summit.
Kristin Stallman of Oregon Department of Transportation pointed to a historic tourism attraction that is literally at a transition point, the Columbia River Historic Highway, which marks its centennial in June. (ODOT plans a major celebration June 7 at Multnomah Falls.) ODOT is promoting three words as part of the centennial — remember, restore and reconnect — on the 100-year-old route from Troutdale to The Dalles.
"Remember that this is one of America's most significant highways — our first scenic highway and the one that taught America how to build roads," she said. "Restore, because we are working hard to restore to its 1924 condition, and reconnect because that involves linking the highway (and trail portions) via several abandoned sections." Primarily that involves a 10-mile stretch located west of Hood River.
She announced Wednesday that "starting today at milepost 56, Starvation Creek, you can see construction happening on the next five miles.
"It will take a while to build but it will be amazing," she said. "That leaves just five more miles of the remaining 10 miles," she said, referring to the most difficult section, based at Mitchell Point. "We have a lot more to fund to make this transformational destination even better."
"2016 is an important year," Stallman said, pointing to a crowd gathered in a 1916 photo of the start of the highway.
"It was a huge project, you can see how crowded it is, crowding is not a new issue to the Gorge; they had a whole transportation plan before the opening, and we are looking at similar projects relating to congestion in the Gorge."
Hood River Chamber Executive Director Mike Glover said the event was "about getting all of these people from these disparate businesses up and down the Gorge, both sides of the river, (and) at the same time recognize (the Gorge) is an extremely valuable asset we maybe all take for granted.
"There are things we need to recognize and take action and not just look at it, 'great to have all these visitors, but let's avoid Dog Mountain because it's overcrowded.' This is a chance to step back and take a higher view and ask, 'how does this really impact people?'" Citing the intense pressure on many National Parks, Glover said the question now is, "Are we at the tipping point? Not yet but we are ramping up to it and we need to do something about it now."
Glover added, "It's akin to city council taking on short term rentals and affordable housing — we need to do it now before we absolutely have to do it. Now we can be proactive. That's the biggest challenge and opportunity is to get out in front of it instead of 'we missed it, and now it's overrun.'"
Roeder said that while areas in central and southern Oregon have assembled funded regional marketing organizations, none has ever gotten off the ground in the Gorge, in part because of the bi-state nature of the area. (Among those attending were Krystyna U. Wolniakowski, executive director of the chief bi-state agency in the area, Columbia Gorge Scenic Area Commission, Lynn Burditt, Columbia Gorge National Scenic Area manager, Hood River County Commissioner Maui Meyer, and Stan Hinatsu, U.S. Forest Service Recreation Program manager.)