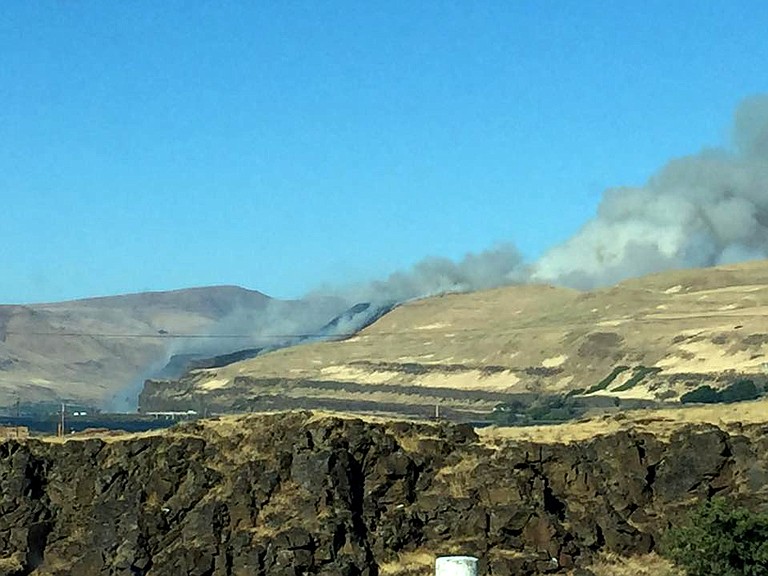 Originally published July 2, 2016 at midnight, updated July 2, 2016 at midnight
A swift moving wildfire is burning east of The Dalles, and has threatened homes in the Moody Road area, west of the Deschutes River.
Celilo Village and Heritage Landing east of The Dalles were temporarily evacuated last night, according to Stan Hinatsu of the U.S. Forest Service.
The fire was estimated at 3,500 acres Friday morning and about 60 percent contained. Thirty people were told to leave their homes as the fire spread.
The fire was reported around 5:30 p.m. Thursday evening near Interstate 84, and was driven by strong winds southeast toward Fifteenmile Creek, where a number of homes were threatened, Hinatsu said. "They are trying to keep the fire from crossing Fifteen Mile Creek and Moody Road," he said at the time. "It's being pushed hard by the wind."
Eight to 10 structures were threatened, according to a press release issued by the Wasco County Sheriff's office, but none had been lost as of Friday morning.
Firefighters stayed on scene throughout the night.
Interstate 84 remained open to traffic and drivers have been asked to use extreme caution, according to a press release from the Wasco County Sheriff.
An American Red Cross shelter was established at The Dalles Middle School for families displaced by the fire.
An Air Boss fire tanker has attacked the leading edge of the fire, and responding agencies have included: Mid-Columbia Fire and Rescue, Columbia Rural Fire Protection District, Hood River County Taskforce, Klickitat County, the U.S. Forest Service, Oregon Department of Forestry, the Bureau of Land Management and the Bureau of Indian Affairs.
Further information can be accessed through the Mid-Columbia Fire and Rescue Facebook page and other social media.