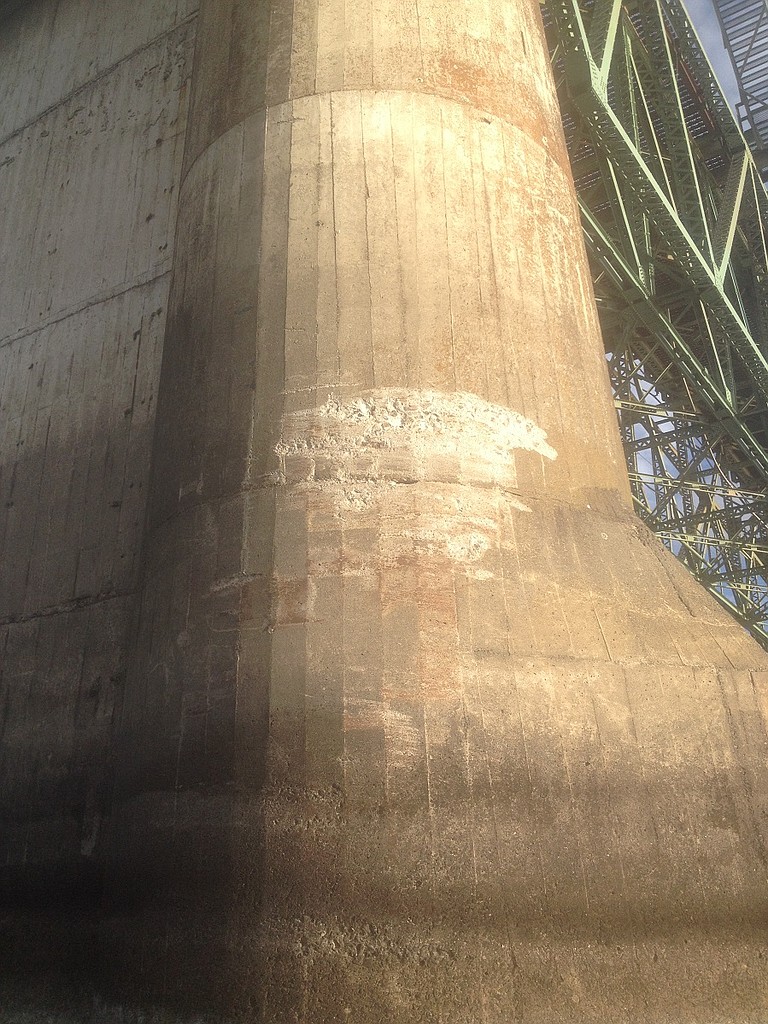 Originally published July 2, 2016 at midnight, updated July 2, 2016 at midnight
The Port of Hood River has reached an initial settlement with its insurance company over damage to the Hood River-White Salmon Interstate Bridge caused by a suspected barge impact in fall of 2015.
Via the agreement, the port will withdraw its legal claim for damages related to the alleged bridge "allision," and instead its insurance company will pay the port $106,000 and allow them access to specialized bridge engineers for repair work.
Last September, a suspected barge tow caused heavy scrapes to the north pier of the bridge. Port engineers launched an inspection in which they found damage to its concrete support pillar, as well as cable connection points to the structure's lift span. The lift mechanism was reportedly rocked by the vessel's impact.
HDR Inc. Engineering crews found that the north tower was "out of plumb," span guides were rubbing on guide rails, and there was socket slippage.
However, there was no danger for vehicular traffic on the bridge, HDR representative David McCurry told the Port Commission last fall. The lift span is rarely raised, except for tall boats passing underneath and periodic lift span tests.
The port filed an insurance claim and coordinated their own investigation, retaining a law firm, after the Coast Guard informed them the agency wouldn't take an active role in the search.
However, Port Executive Director Michael McElwee said it became uncertain if the port could prove the bridge damage in court.
"We reached a point where we felt as though there was a chance the claim would not be successful," McElwee said.
Instead of contesting the claim in court, the port reached an agreement with its insurers, Philadelphia-based Chubb Insurance Group, which would pay for part of the costs of the investigation and repairs.
Now, concerns remain for the bridge's lift span — which has been offline for months. A waiver has stayed in place from the Coast Guard, allowing the port to hold off on any bridge lifts until the mechanism is properly functioning.
The port hopes to have its monitoring system operational again by mid-July, at which point they will begin live testing of the lift span.
The bridge has suffered a handful of other damages recently.
In early June, a truck reportedly destroyed more than 200 feet of guardrail on the right lane northbound. Then, during the June 3 derailment in Mosier, the port waived fees and allowed overload traffic to pass. Some trucks weighed 120,000 pounds, well over the bridge's 80,000-pound limit. The bridge has been assessing the damage to the bridge deck and plans to file a claim to recover some of the costs associated with the derailment.