Originally published July 13, 2016 at midnight, updated July 13, 2016 at midnight
Jeff Hecksel will step into Hood River County's top staff position on Aug. 15.
The Hood River County Board of Commissioners voted Monday afternoon to hire Hecksel, signing off on his employment contract.
"I think he's going to be a really good fit for the commission and the community," County Chair Ron Rivers said.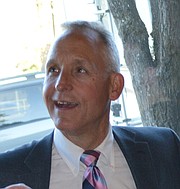 Hecksel will replace David Meriwether, who retired in late June after 15 years on the job. In the meantime, Meriwether has been serving on an interim consulting basis.
"I'm extremely excited," Hecksel said Monday. He plans to move to Hood River with his wife and two sons, both of whom will be attending Hood River Valley High School.
The board chose Hecksel because he was the most experienced out of five finalists, Rivers said. He also praised Hecksel's "relaxed" demeanor and ties to Oregon.
Hecksel began his career in public leadership as an administrative staffer for the City of Mesa, Ariz. He has a bachelor's degree in Local Government Administration from Central Michigan University and a master's in Public Administration from Arizona State University.
Most recently, Hecksel was the city manager for Glenwood Springs, Colo., for 11 years. He has experience in two Oregon cities — six years as city manager for Monmouth and 12 years working for Forest Grove, which he spent in part as assistant city manager.
"I have a great deal of experience in various environments. It certainly has provided me a great knowledge," Hecksel said. "I took a break from Oregon … I'm eager to get back."
IN PROFILE
Jeffrey Hecksel
Education — Local Government Administration, Central Michigan University; Master's in Public Administration, Arizona State University.
Previous posts — Glenwood Springs, Colo., for 11 years; city manager for Monmouth and assistant city manager for Forest Grove, past 16 years.
His first steps, he said, will be reaching out to the community to build relationships with local stakeholders, and generally learning about the role. While Hecksel was familiar with Hood River before applying for the administrator post, he wasn't versed on particulars of the job until he spent some time researching.
Hood River County's search for a new administrator took months as their contracted consulting business sifted for talent. When Prothman Consulting presented the first round of applicants to the board this spring, commissioners decided they needed to look further for a new pool of seasoned candidates.
The board raised the salary range and cast out the net again. Hecksel was the top pick of five finalists who were interviewed by panels of county staff and the board.
Hecksel's salary will be $145,000 per year, the baseline of the wage range the board set in their second round of the search. The job comes with benefits and a $500 monthly vehicle reimbursement.
The contract also includes a paid membership to the Hood River Rotary Club. Rivers said he had advocated for that stipulation, hoping to encourage the new candidate to be active in the community.
A term limit isn't included in the document, which instead states "unless earlier terminated or extended, this agreement shall continue in perpetuity." The board will hold a performance evaluation after six months and from then on that routine will become annual.
The administrator job, an appointed position, is responsible to the Board of Commissioners for "the proper administration of all affairs of Hood River County," according to the county charter.
That includes responsibility over hiring and firing of all county employees except for law enforcement and justice departments. The county has an annual operating budget of almost $35 million and employs about 124 full-time employees.