Yvonne Pepin-Wakefield will discuss her recently published book, "Babe in the Woods: Building a Life One Log at a Time," at the Hood River Library on Friday, July 29 at 6:30 p.m.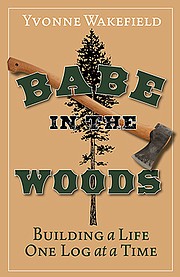 At age 18, Pepin-Wakefield built a log cabin on 80 acres she bought in Oregon's Strawberry Mountains. This true story of one woman's survival in the wilderness puts an honest and gritty face on the fantasy of living alone in the forest. Readers of "My Side of the Mountain" and "Into the Wild" — and fans of "Pilgrim at Tinker Creek" and "Walden" alike — will eagerly follow along on the journey through this candid, revealing account.
Four decades after it was built, the log cabin is still much the same, although over time the outer walls have lost their luster and the author also shows evidence of weathering. "Babe in the Woods" is the first in a three-book series about Pepin-Wakefield's relationship with this cabin and the land. A PowerPoint presentation will accompany Pepin-Wakefield's book signing.
This presentation is free and open to the public. For more information, please contact the Hood River County Library District at 541-386-2535, info@hoodriverlibrary.org, or visit their website at hoodriverlibrary.org.