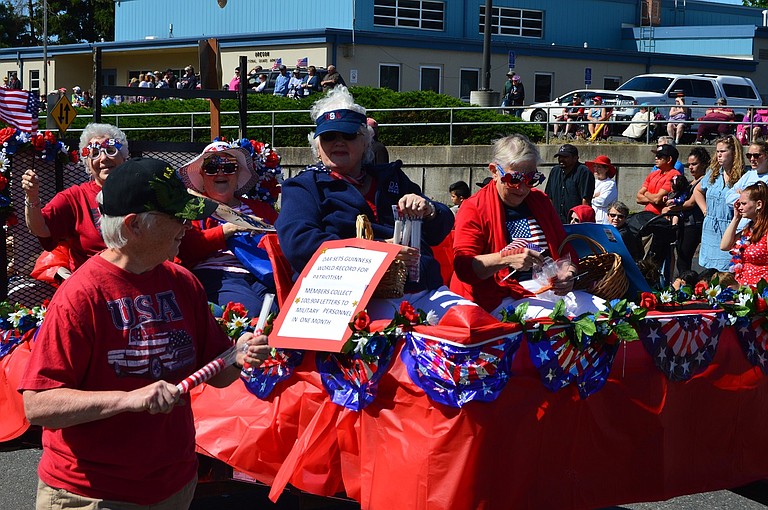 Parkdale students had a hand in helping the Daughters of the American Revolution (DAR) set a Guinness World Record this summer.
During June's 125th Continental Congress, held at DAR's Washington, D.C., headquarters, members set the official Guinness World Record in patriotism for "most letters to military personnel collected in one month." Nationwide, a total of 100,904 letters were collected.
Parkdale Elementary fifth grade students, led by teacher Holly Lavoie, wrote 25 letters in support of the project. According to the guidelines, the letters were handwritten, addressed to an active duty service member and placed inside a stamped, unsealed envelope, and hand-delivered during the Continental Congress meeting.
Lavoie learned of the project from Barbara Menard, member of the local DAR Celilo Chapter, which covers Hood River and The Dalles.
"I thought involving my students in a real world project would allow them to better understand and make connections with our history curriculum," Lavoie said. "The letter writing also gave students an authentic purpose for writing. Barb brought in fancy paper, stickers and envelopes, and we let the kids go to work. They had a great time and were really engaged in the project."
Members of Celilo Chapter collected 157 letters to add to the total. Many DAR members wrote personal messages, but because individuals could only write one letter each, they enlisted help from family, friends and other organizations, including schools — such as Parkdale Elementary.
Chapter members Ellen Hopkins, Nancy Slagle, Mary Parrott and Menard brought the letters to Washington, D.C., and hand-delivered them to a collection station. The tally was revealed at the National Defense Night ceremony on June 18, when members learned they had far surpassed goal of 10,000 letters by more than 10 times.
"Congratulations — you are officially amazing!" the adjudicator proclaimed.
Each letter represents the support of a grateful nation, and Celilo Chapter is humbled by the opportunity to assist in collecting these missives to the defenders of the country, said Parrott.
By the end of June, all 100,904 letters will be on the way to active duty military personnel serving both at home and abroad.