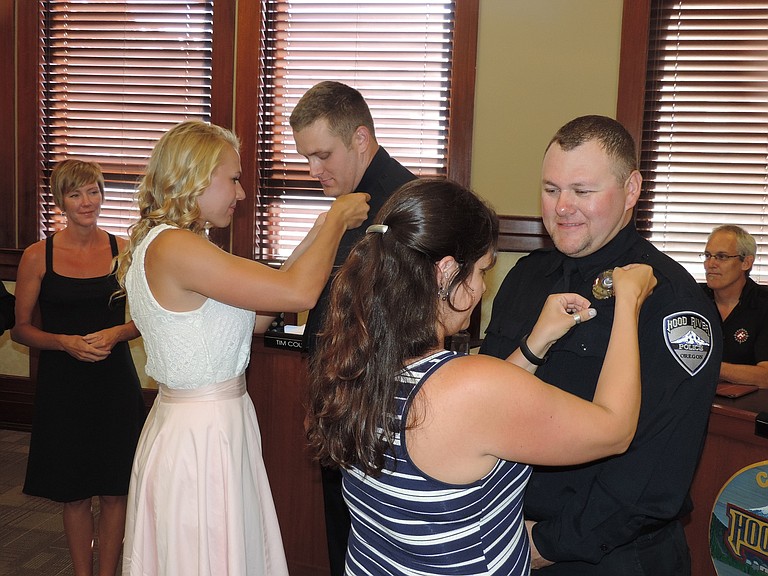 Originally published July 27, 2016 at midnight, updated July 27, 2016 at midnight
A new City Council Member and two new police officers took the oaths of office Monday at Hood River City Council.
At left, Judge Will Cary administers the oath to Tim Counihan, who was appointed two weeks ago to serve on council through the end of 2016, following Laurent Picard's resignation in May.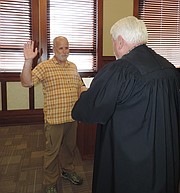 Counihan joins councilors Becky Brun, Peter Cornelison, Susan Johnson, Kate McBride, and Mark Zanmiller, and Mayor Paul Blackburn. New officers Houston Webb, left, and Eric Foster, are now officially on the force. Pinning their badges are Webb's girlfriend, Seabre Church, and Foster's wife, Amber. Webb moved from Estacada and Foster is a long-time Hood River resident. At left is Police Chef Neal Holste's wife, Amanda, who presented Foster and Webb with their badges. One of the two positions was added back after department cuts several years ago, and the other will fill the position held by Sgt. Stan Baker, who is retiring this fall. Webb and Foster will be on patrol in coming weeks, and then attend Oregon Police Academy.