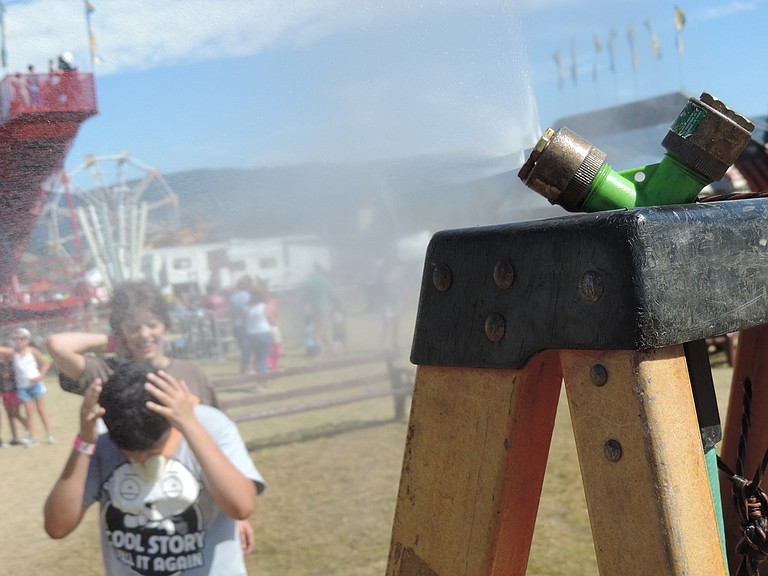 It will be hot.
After a cooled-down 2015 fair, expect high temperatures at this year's edition. The carnival, vendor and food areas are exposed to sun, but plenty of shade — and cooling devices — will be strategically located around the grounds.
"We're trying to do everything we can to keep people cool," said Fair Manager Clara Rice.
Fair Office Manager Kathy Griffin said water stations will be provided throughout the grounds, to help keep people hydrated.
Carnival Amusements provides misting devices at points around the rides, and the Hood River Fire Department will have one at its location at the fair.
Rice said she will set up another mister at a spot to be decided, and she took the new step of putting sprinklers on top of closed barn, as a way to cool down the metal roof.
Rice said that last week maintenance man Jim Glenn told her that the sprinklers seemed to help during a test run: a Hood River Electric crew worked near the ceiling replacing light bulbs last week. It was hot work, given that heat rises and the electricians were working just underneath a metal roof.
"They all told him when they came down what a difference that made, and hopefully that will drift down to the floor," Rice said.
Large fans were added last year and will be employed again; one had a broken motor last week but "it will be here and it will be fixed Wednesday," Rice said.
COOLING CENTERS IN HOOD RIVER
Three locations will provide cooling centers for the public to come for relief from the heat:
• Hood River Library (open 10 a.m. Tuesday through Saturday)
• Hood River Valley Adult Center, Sterling Place, off Brookside Drive, during regular business hours, 9 a.m. to 3 p.m., Monday through Friday
• Mid-Columbia Center for Living, beginning in August — Sundays through October. This is a service of the Hood River Warming Shelter program. The cooling center will be supported by a shuttle van