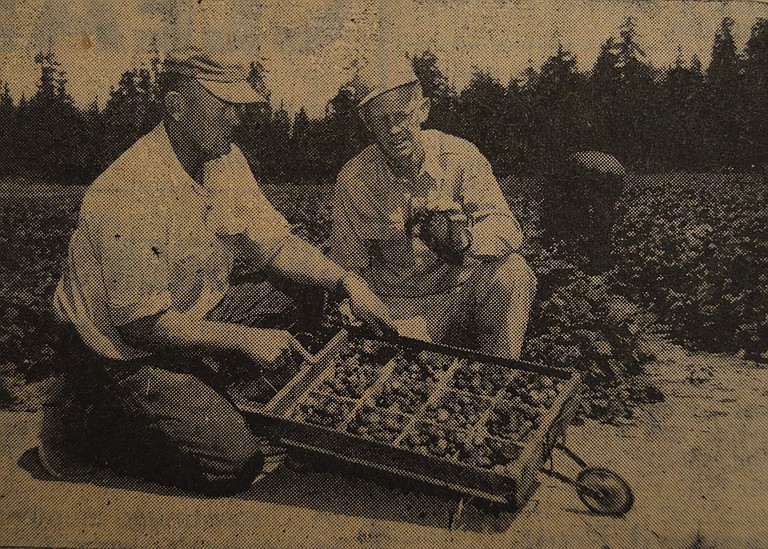 VERBATIM: Recruits Scarce as Hen's Teeth
After spending two days in Hood River attempting to get some recruits for service on the Mexican border, Major Hiram U. Welch gave it up as a bad job, pulled up his tent pegs and moved on to The Dalles.
Major Welch and his assistant came Thursday and opened recruiting headquarters next door to the post office. A crowd of youngsters gathered in awed wonder around the two uniformed officers during the morning, but eligible material failed to put in an appearance. So Major Welch chartered an auto and made a scouting expedition into the valley, but with no success. Everybody was too busy; nobody wanted to fight, and, besides, it looks now as though the dove of peace was hovering around El Paso and the incentive to become a soldier is not as great as it was.
— Hood River News, July 26, 1916
1916 — 100 years ago
Ten government mules in charge of Dee Wright, Chief Government packer in the Mount Hood district of the Forest Service, packed a mile of quarter-inch cable up Mount Hood to the summit Sunday morning. The cable will be used in establishing a permanent telephone line now strung. The pack mules started at 4 o'clock Sunday morning from Government Camp. They went a distance of seven and a half miles up the side of the mountain. Last year a similar pack journey was made, when the government carried timbers up for the lookout station.
1926 — 90 years ago
Ray Lee, Chas. Johnson and Postmaster Thos. F. Johnson returned last Friday from a week's outing at Lost Lake. Fishing was great, and the trio succeeded in landing 60 big ones during their stay. The weather at the lake was ideal, according to Ray. They were surprised to find so few campers there for this time of year. Blueberries, Ray said, are thick this year, and quite a number of people are picking them. All three campers returned with healthy coats of tan, and Ray acquired the most handsome mustache.
1936 — 80 years ago
When a rocket chases a man, it is news! But for a few minutes, which Saturday night seemed like hours, "Rusty" Fowler, the hero of the story, wondered whether he would live to tell the story. Fowler was a member of the "flare" crew and his station was high on the almost vertical snowfield just below the summit of Mount Hood. He had lighted his flares and, at the sound of the second bomb, he proceeded to light a rocket. According to specifications, the rocket was to soar into the air and describe a graceful arc. Instead it headed straight for Fowler, who made one desperate leap for the lifeline, caught it and started to climb. And how he climbed, with the rocket throwing a stream of sparks behind him to urge him on and upward. Then came the explosion and Fowler was showered with stars. When he heard other members of the "flare" contingent laughing heartily, he knew the worst was over, and joined them in the laugh.
1946 — 70 years ago
A grass and brush fire, started by a stockpile of lettuce crates on the John Dickey ranch at Bingen Tuesday of this week, rapidly got out of control, and swept up Burdoin Mountain, setting fire to a number of trees in the mountain gorges. From the Hood River area, across the Columbia River, the blaze offered a spectacular picture. By Wednesday noon, the blaze, which had covered an area of two miles square, was well under control. About two thousand crates were destroyed on the Dickey ranch. Damage was estimated at around $3,000. The fire was believed to have been started by a discarded cigarette stub.
1956 — 60 years ago
Forty-four planes from Oregon and Washington landed at the Cascade Locks airport Sunday for the seventh annual "fly in" celebration sponsored this year by the Stevenson Lions Club with assistance of the Cascade Locks club. Coming farthest for the celebration was a plane from Ellensburg, Wash., approximately 300 miles by air. Cascade Locks Lions served a hearty breakfast to 237 guests at the Cascade Locks High School cafeteria throughout the morning. In keeping with the new program of alternating responsibility for the show, next year's event will be sponsored by the Cascade Locks club with aid from Stevenson.
1966 — 50 years ago
Growers here had strawberry and cherry harvests pretty well behind them late this week, and they were casting a nervous look ahead to large pear and apple harvests. Estimates from Diamond Fruit Growers made it clear that plenty of harvest help will be in demand. "We're not worried about Bartletts," said Employment Office Manager Boyd Jackson. "We are worried about finding enough workers for winter pears and apples." He expects the critical time to start around Labor Day. Concern about labor has been increasing since the federal Bracero program ended before last season.
1976 — 40 years ago
A continuing hot-weather water shortage in Hood River will soon bring a change in laws governing irrigation here. City councilmen passed the first reading of an ordinance on Tuesday which will change the rules regarding irrigation, hopefully easing the shortage which has already drained the city reservoir dry once this summer. Even as the council was discussing the plan, a water shutdown was in effect because the reservoir had dropped below the 10-foot mark on the charts. The new law, which will alter the present alternate-day sprinkling ordinance, provides there can be no irrigating at certain times.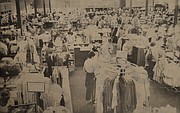 1986 — 30 years ago
Cool July weather, plus an extended schedule, led to an all-time fair attendance record for the Hood River County Fair, said Manager Doris Jensen after the four-day run ended Saturday night. It was a fitting way to introduce a new building project, which will add even more reasons for people to come to the fairgrounds next year. Jensen said bids were opened Friday on a new multi-purpose building and sewer system on the fairgrounds. Howell Construction was the winning bidder, and the fair manager said work will begin immediately to reroute the water system to accommodate the new facilities. The structure will rise immediately north of the picnic area and main entrance, south of the present office building, which will remain in place.
1996 — 20 years ago
Sprint's recent announcement that corporate restructuring has eliminated Hood River as a regional headquarters is another signal of the winds of change blowing through the telecommunications industry. As evidenced by the Sprint's latest move, the telecommunications industry is experiencing a time of change and turbulence, with downsizing and restructuring the norm for all major players. And that means that Hood River, where Sprint is a major employer, is in for a whirlwind ride, too. In the wake of Sprint's announcement that it is restructuring — seven existing regional offices were combined into four — would leave Hood River out in the cold as a headquarters, it is difficult to gauge the move's long-term effects.
2006 — 10 years ago
The Mount Hood Legacy Act was given a unanimous vote of approval by House members on Monday. U.S. Reps. Greg Walden, R-Ore., and Earl Blumenauer, D-Ore., authors of the bill, said the approval of their peers was a great reward for three years of hard work. House Resolution 5025 now moves to the Senate for consideration. "This is a significant development for Oregonians everywhere," said Walden. "It's remarkable to think that less than a year after Congressman Blumenauer and I hiked for four days and 41 miles around the base of Mount Hood that this bill would resoundingly pass through committee and the House. This wasn't an easy task."
— Compiled by Trisha Walker, news staff writer