Several upcoming exhibits will feature quilts and fiber art by members of the Columbia River Gorge Quilters' Guild. Through Saturday, visit the Hood River County Fair to see 21 quilts created by members in answer to a guild challenge: Participants were asked to make a 24-inch square quilt using only two colors — plus lime green.
Marbe Cook, organizer of the "Make Mine with Lime" challenge, was amazed by the response. "The quilts are incredible," she said, "especially when you see them all together. They are all beautiful and so different."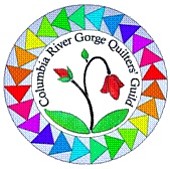 A current exhibit at Stevenson Library presents Guatemalan quilts through August 5. This traveling exhibit features the work of several Gorge quilters who, in 2012, embarked on a textile-themed tour of Guatemala, a country known for colorful fabrics and regional costumes embellished with stunning embroidery. The show displays quilts made from the hand-woven textiles members acquired at open air markets across the country. Also on display are watercolor paintings by two local artists who joined the tour and several pieces of hand-embroidered, hand-woven traditional clothing. The library is open Monday through Saturday from 9 a.m. to 5 p.m.
In August, art quilts by several guild members will be part of the Architecture show at The Dalles Art Center, which runs through Aug. 27. Building-themed quilts were created by members of "Beyond the Block," a group of fiber artists associated with the Gorge guild. The gallery is open Tuesday through Saturday, 11 a.m. to 5 p.m.
In September, the Stevenson Library presents the annual Quilters of the Gorge exhibit. The title of this year's show is "A Garden of Quilts."
"This exhibit is always popular with locals and tourists," said Kathleen Roulet, show and exhibit chair. "Each year, we fill the library walls with the color and artistry of more than 60 quilts. It's always a beautiful show!"
This exhibit is followed by the annual Columbia River Gorge Quilt Show, the ultimate presentation of quilts by the guild. This year's show will be held at the Hood River Armory on Oct. 21-22, with more than 100 quilts on display, representing the current traditional and contemporary work by quilt makers from communities throughout the Gorge. The two-day event features several vendors, demonstrations, quilts for sale and the popular Quilt Market.
"Our members clean out their sewing rooms and studios and we put it all on sale at bargain prices — fabric, patterns, tools, books, and magazines," said Roulet. "Plus there's a consignment boutique that includes a selection of handmade items for sale."