Originally published July 30, 2016 at midnight, updated July 30, 2016 at midnight
Two Hood River News special publications from 2015 have received statewide honors.
Panorama received first place prize and Women In Business third place in Special Section judging among all multi-weeklies in Oregon, in the 2016 Better Newspapers Contest.
The contest is conducted by the Oregon Newspaper Publishers Association. ONPA is a professional organization of media throughout the state. The awards were announced last week at the ONPA convention at The Oregon Garden Resort in Silverton.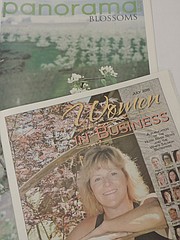 The 2015 edition Women In Business is published each July, jointly by the Hood River News and White Salmon Enterprise. (The current edition is available at the Hood River News, and was inserted in the July 27 edition.) Women in Business contains 14 features of women who own or manage local businesses.
Panorama is a four-part publication issued each April. In its Blossoms, Community, Reflections and Recreation sections, the publication looks at the economy, history and culture of the county, with writings and photos provided by staff as well as residents of the county.
"The ONPA awards reflect the way all parts of our operation work together to create beautiful and informative special sections for our readers," said publisher Chelsea Marr. "They are the combined efforts of all areas of our operation: news, production, advertising and the print shop."
Editor Kirby Neumann-Rea noted that the special section judging looks at writing, photo and ad quality, layout and design, and printing quality, and how well the content tells the story of the community.