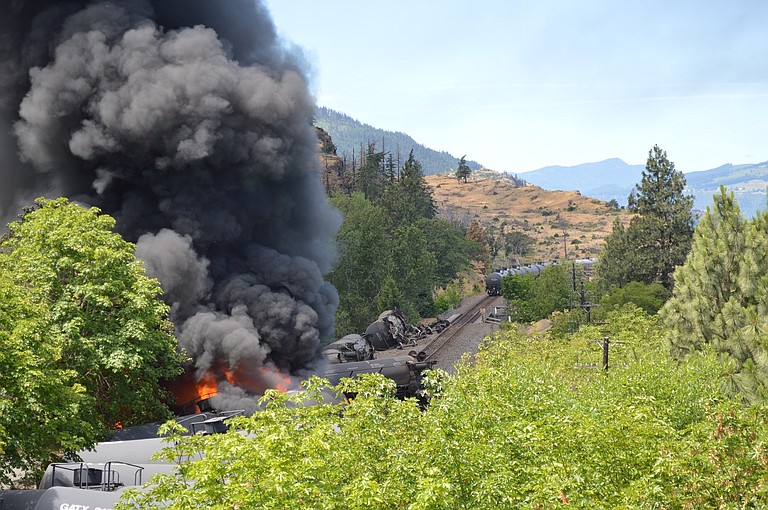 The Mosier fire continues to burn; details are scarce.
At about 1 p.m. today, a Union Pacific train bearing crude oil derailed in Mosier, just west of the the Highway 30 overpass west into the town. A reporter on the scene saw flames billowing from at least one railcar on the tracks. Several more were overturned.
No injuries have been reported so far.
Interstate 84 was closed in both directions from The Dalles to Hood River, as of 3 p.m. Traffic is backed up through most of Hood River, and on the interstate bridge. There will be no cash tolls. Motorists may use all lanes at the toll plaza.
Highway 14 is also heavily congested. Klickitat County Emergency management said in a a statement that Washington State Patrol requests that motorists avoid travel on Highway 14 between Bingen and Dallesport.
"This is anticipated to be a long term event that will effect traffic on both sides of the Columbia River," the management office said.
There is no word yet on estimated reopening of I-84.
A staging area for fire response was set up at the overpass, but moved back to the I-84 eastbound onramp after threat of an explosion.
Residents within a half a mile of the fire have been evacuated. Students at Mosier School have been evacuated to Wahtonka School in The Dalles. Students were awaiting the Wasco County Sheriff's Office for word of when they can return, a school official said around 2:10 p.m. The bus for students at Horizon Christian School was also not sent "until the situation improves," according to a 3:30 p.m. news release from the school. (The art and talent show has been cancelled for the evening).
Wy'east Fire Chief Greg Borton said around 2:30 p.m. that fire crews were waiting for Union Pacific's go-ahead before taking suppression action against the fire.
Union Pacific officials responded with HAZMAT, environmental assessment works and their own police officers, he said. Union Pacific trucks could be seen rolling into Mosier from I-84. Two drones flew over the scene, but a reporter could not confirm if they were Union Pacific's equipment.
Due to the smoke produced by the fire, agencies released an air quality advisory for the Gorge, stating that the air was "unhealthy for sensitive individuals."
Agencies:
The following agencies have responded: West Side Fire District, Wy'East Fire, Lyle Fire District, White Salmon Fire, Appleton Fire, Klickitat County Fire, Dallesport Fire, U.S. Forest Service, Oregon Department of Forestry Mid-Columbia Fire and Rescue, Gresham Hazmat, and police agencies such as Wasco County Sheriff's Office, Hood River County Sheriff's Office, Hood River Police Department, Oregon State Police, and Intertribe Fisheries.
More agencies have been responding.
First Friday update:
Jennifer Gray, recorder with City of Hood River, said that due to the situation, the STEM fair that was originally scheduled for tonight's First Friday event has been rescheduled to July