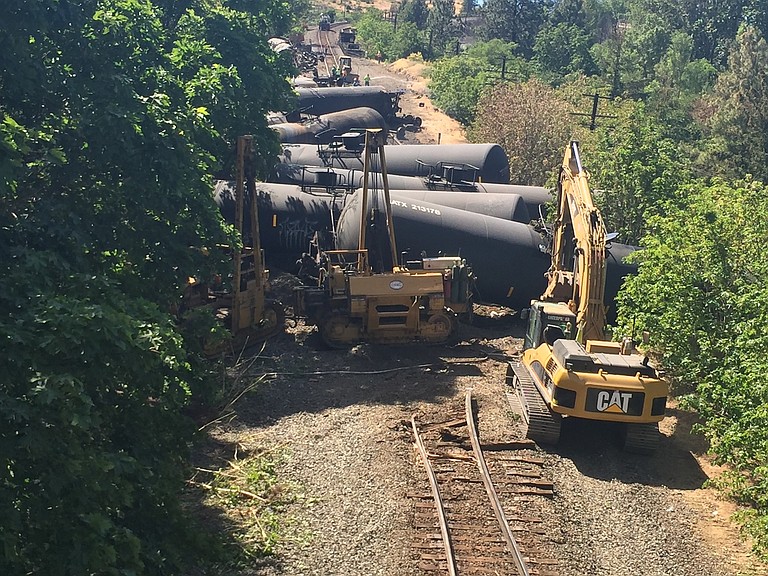 Originally published June 4, 2016 at 7:24 p.m., updated June 4, 2016 at 7:24 p.m.
The Mosier derailment fire was knocked down in the early hours of Saturday, but work continues for emergency crews on scene.
Officials said today that 14 Union Pacific cars left the rails (increased from the 11 a railroad official said yesterday) and four caught fire in the fiery derailment near Mosier Friday afternoon. A reporter saw at least one car fully engulfed in flames that afternoon.
The tank car fire was extinguished at 2:05 a.m. Saturday.
Later that morning, an oil sheen was spotted in the water of the Columbia River near the derailment scene, and agencies contained it this morning.
At first light Saturday morning, a light sheen of oil was observed about six feet offshore at the mouth of Rock Creek, which feeds into the Columbia, incident information officer Judy Smith said.
About 1,000 feet of "containment boom" was used to contain the sheen. Environmental crews were working to identify and control the source of the sheen, as of this afternoon.
The containment boom placed this morning was in addition to three lines of "sorbent booms" placed across Rock Creek by the Union Pacific Railroad officials to protect the waterways during the response, Smith reported.
It wasn't conclusive from incident reports whether the sheen originated from one of the derailed railcars. The derailment was near the Mosier wastewater treatment plant.
This evening, emergency crews have been working amid the damage of the derailment.
Oregon Department of Transportation released a photo taken around 4 p.m. of work on scene, which appeared to show mechanical excavators lined up by the fallen tank cars. At least six workers were pictured; one of whom was spraying the gravel shoulder along the tracks with a hose.
Railroad's response
A Union Pacific Railroad spokeswoman, Raquel Espinoza, apologized for the derailment and said an investigation would ensue at a press conference Saturday.
"My message to the residents is I'm very sorry and we appreciate everybody's cooperation and we're not going to leave here until everything is in order," Espinoza said. "We absolutely want to know what happened because we want to prevent it from ever happening again."
She said the company is federally mandated to ship hazardous materials by rail, and that 99.9 percent of their crude oil shipments arrived at their destination without incident.
Evacuation Update
A Red Cross shelter in the The Dalles for evacuees closed at about 6:48 p.m. Saturday.
"Thank you to Dry Hollow Elementary School for allowing the Red Cross to use this facility to shelter individuals who were evacuated due to yesterday's train derailment," Red Cross officials said in a statement.
During the day, Wasco County deputies were patrolling the evacuated area to protect homes. The Sheriff's office was set to re-assess evacuation conditions Saturday evening, and will contact citizens with an update.
North Central Public Health District released the following evacuation update at about 4:30 p.m. this evening:
Per DEQ air monitors, air quality remains good.
I-84 has been open since 11 p.m. Friday, June 3rd; however, the Mosier exit remains closed.
Approximately 125 Mosier residents remain evacuated.
A client center for Mosier residents impacted by this incident has been opened in Mosier (located behind the Mosier Middle School Gymnasium or 3rd Avenue. Union Pacific will provide lodging for residents and provide reimbursement for hotels utilized last night by displaced Mosier residents. A Union Pacific call center has also been set-up at 877-877-2567. Press option #6 to speak to a representative.
The Center for Toxicology and Environmental Health will also be available at the claims center to answer any health related questions or can be reached at 1-888-623-3120.
The Red Cross Shelter will remain open until they have verified that those currently at the shelter have secured alternate lodging.
Home at Last is offering to house pets of Mosier evacuees. Call 775-430-0882.
The Boil Water Notice for Mosier residents remains in effect until further notice.
Mosier resident are still being asked not to flush toilets, shower, do dishes, etc. due to low well levels and possible overflows at the water treatment plant.
The information hotline continues to be updated. Call 541-506-2792 to hear updates.
Citizen Alert, Wasco County's reverse 911, continues to send updates. To register for Citizen Alert visit the Wasco County Web page at co.wasco.or.us.
Questions can be emailed to mosiermp70@gmail.com.
For more information, please contact North Central Public Health District at (541) 506-2600 or visit us on the web at www.ncphd.org.