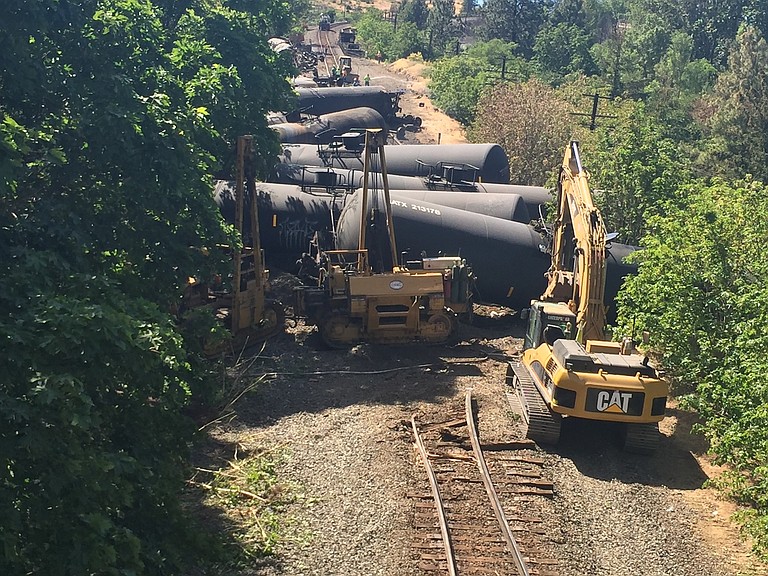 With the roughly 280,000 gallons of oil remaining in the 16 derailed train cars in Mosier offloaded Wednesday morning, and stored in The Dalles, work began right away on removing the cars themselves.
The derailed cars, which were decontaminated first, will be taken to Portland and scrapped, said Greg Svelund, a spokesperson for the Oregon Department of Environmental Quality.
Two rail cars had already been removed by noon Wednesday, and the process is expected to be done by Thursday, Svelund said.
Once that is done, work will quickly, perhaps immediately, turn to removing the contaminated soil and replacing it with clean dirt, he said. He expected that work could begin by the end of the week.
He didn't know how much soil was involved, but said that would become known in the next couple of days. "There's not a lot of soil contamination but it will all be removed regardless of how much is there."
He said the work will be done with "a lot of heavy machinery and trucks" and was unsure how long it would take.
He said the size of the spill is "not a very large amount from a cleanup perspective. We've had tanker trucks on the sides of Highway 26 that have spilled more oil than was spilled here."
The oil was taken off the cars and hauled by truck to the Union Pacific rail yard in The Dalles, the closest area where the oil could be stored, he said. From there, it will be staged to proceed to its original destination of Tacoma, Wash. It is undetermined when it will be sent to Tacoma.
In the derailment that happened around noon last Friday, approximately 42,000 gallons of oil spilled. Of that about 40 to 50 percent burned off and/or evaporated, Svelund said.
About 10,000 gallons seeped into the Mosier wastewater treatment plant, and some went into the Columbia River. The small sheen that was noticed has already gone, he said.
He said the derailment "happened literally on top of" Mosier's wastewater treatment plant. The plant itself has to be decontaminated and some piping replaced. He doesn't know if damaged pipes were burned or crushed by the weight of the derailed cars.
"There was a manhole right at the derailment site and some oil got in through the manhole and got into the larger system," he said.
"That's really most of the damage to that system: there was just an influx of a lot of oil into the plant and it really mucked everything up."
And while Rock Creek outfall is right by the derailment, the creekbed is dry right now, Svelund said.
However, the treatment plant outfalls treated waste water into the Columbia River in that same area.
He said the oil and water mixed in the treatment plant, which uses biological processes — such as bugs — to decontaminate waste. Not only does the plant itself have to be decontaminated, but some piping and manholes need to be physically fixed and repaired, he said.
Meanwhile, waste is being trucked off to Hood River's waste treatment facility, which is what is enabling Mosier residents to continue to use their toilets.
"The actual plant itself won't be repaired for weeks or even a month or two," Svelund said.
He said about 200 people — from government workers to private cleanup contractors hired by UP — have come to Mosier because of the derailment.
The feedback he's gotten from the public is that "it's a big footprint for them. There's 400 people (who live in Mosier) and 200 suddenly came into their town overnight. So it's things like parking and people and traffic disruptions, that's what we've heard, it's an inconvenience. But people have also been incredibly appreciative of the response of people doing the real work out there."
There have been no cost tallies estimated for the cleanup yet, he said, but UP has apologized for the spill and said it would cover the cost of cleanup.