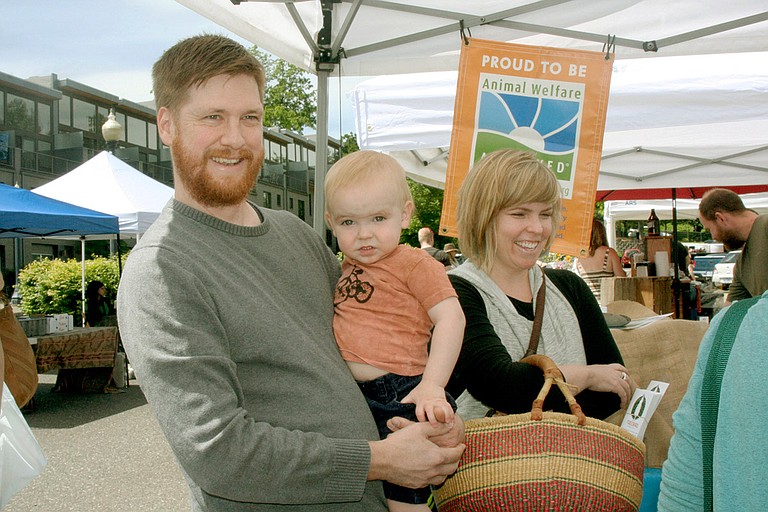 Here's something that may not come as a surprise to you: a lot of people in the Gorge go hungry every week.
You may not be surprised, because you have a one-in-three chance of being one of those people. A 2014 study of more than 4,000 people in the Gorge found that a third are worried about where their next meal might come from, or if they will have enough money to feed their family.
"We've done the food security survey. We knew it was an issue, but to see it in a chart, a written document: here are the numbers. We knew it was big, we just didn't know how big," said Coco Yackley, operations manager for the Columbia Gorge Health Council, one of the 40 groups that helped with the initial Community Health Needs Assessment. "It showed us the magnitude of the issue. That scared some people. It was so big."
For the other two-thirds of you who don't go hungry, there are some things you may not know about Gorge hunger.
"Everybody's carrying around assumptions about who these hungry people are," Yackley said. "We have really strong biases. They're illegal immigrants, slackers who won't work, 'those' people. What the data shows is that it can be anybody."
Anybody like Mandi Rae Pope, her husband Adam, and sons Henry, age three, and Arlo, age one.
"We moved to the Gorge in a really difficult time for us," said Pope. "My husband was in his last quarter of graduate school, so I moved here first with Henry, I got pregnant with Arlo, and we were living off my husband's stipend at the university and a part time job. We were really struggling."
Her own circumstances took her by surprise. "Things changed so quickly for us," she said. "Poverty doesn't look the way people think it looks: the trailer park, the alcoholic mother. We were college educated, but we were one step away from catastrophe, counting out coins for gas."
When Pope went to a state office to apply for WIC (Women, Infant and Children) food support, they asked her two questions:
"In the last 12 months, did you and the people you live with worry that you would run out of food before you were able to get more?" And, "In the last 12 months, did you and the people you live with run out of food before you were able to get more?"
Pope answered yes. And that's when she heard about Veggie Rx for the first time.
Veggie Rx is an innovative program of the Gorge Grown Food Network in which doctors and other health care providers ask their patients the same questions that Pope was asked. And if the answer is yes, the doctor writes a "prescription" for fresh fruits and vegetables, and gives the patient a book of coupons worth $20 that can be used only for fresh food, at farmers' markets in the season, and at local grocery stores in the fall and winter.
Gorge Grown Food Network, the organization that pioneered Veggie Rx, has raise $70,000 for the prescriptions. Funders include all three Gorge hospitals—Providence Hood River Memorial Hospital, Mid Columbia Medical Center and Skyline Hospital—as well as the Washington State Farmers' Market Association, One Community Health, Hood River Rotary, Turtle Island Foods and private donors. More than 39 health care providers have written them, and 29 grocery stores and the local farmers' markets have accepted them as cash.
So what makes it worth a doctor's time to write a prescription for food? For Molly Fauth, a family practice physician for more than 10 years at One Community Health (formerly La Clinica), the answer is that it turns a doctor's advice into something a patient can really take action on.
"I know my patients pretty well," Fauth said. "We've been through a lot of things together, so for 10 years, I've been talking to my patients about feeding themselves fresh fruits and vegetables to attain the highest level of health. The problem is, fruits and vegetables are the most expensive things. So with Veggie Rx, here's a way I can help them get those fruits and vegetables."
The patient reaction is different than when she prescribes medication. "When you give people a drug, it's not very empowering," she said. "This is empowering. It helps people take their health back into their own hands."
What happened when the doctors starting writing the fruit and vegetable prescriptions surprised just about everyone.
"The redemption rate is higher than the redemption rate for drug prescriptions," Yackley said. "They are valuing these fruit and vegetable prescriptions more than the drugs the doctors were giving them to feel better. They acted on these." And for older patients on Medicare, the redemption rate was even higher.
"We thought it would be difficult to engage seniors in the program," said Sarah Sullivan, executive director of Gorge Grown Food Network. "They generally have the lowest enrollment rate in other food assistance programs." It turns out some of the senior centers had the highest rate of Veggie Rx redemption, up to 98 percent. "I think a prescription removes the stigma of accepting help because it's the doctor saying you deserve access to quality food and it is really important to your health," Sullivan added.
Other things surprised the Veggie Rx coalition.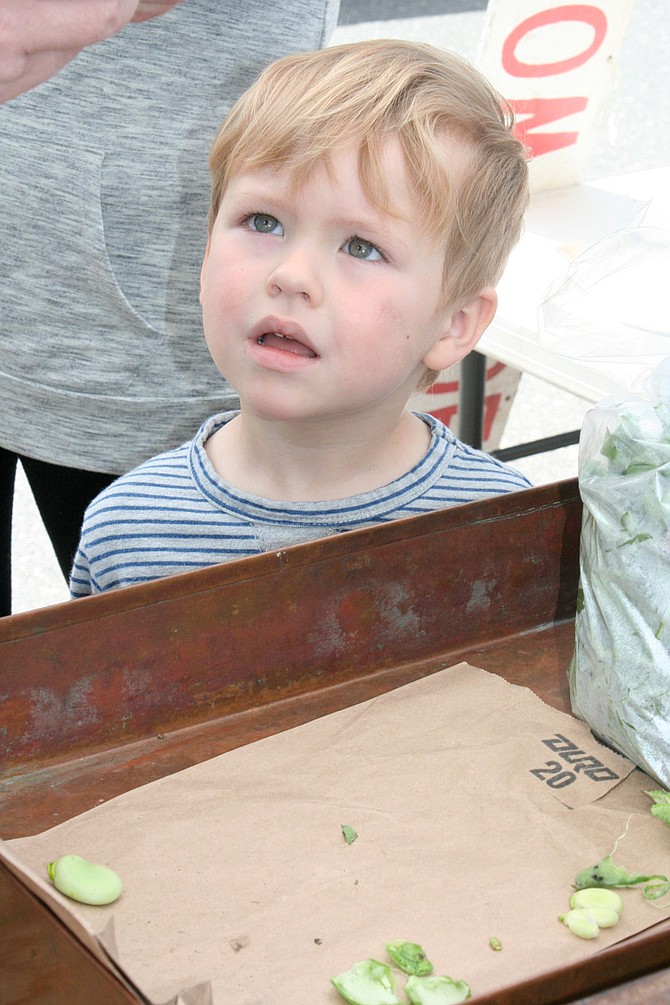 "We've learned a lot about our assumptions," Sullivan said. "We thought everyone enrolling would need to learn to cook with fruits and vegetables. And yes, many do. But many grasp this quickly, and know how to shop on a budget and put those marked-down bananas into banana bread."
A study of the effort commissioned by Providence Hood River Memorial Hospital asked Veggie Rx participants to take pictures of the food they were preparing, and bring them to talk about. One participant, who wished to remain anonymous, showed how she stretched what she bought through Veggie Rx: "We wanted to find a way to make the leftover turkey last. So I filled a crock-pot. There's tons of vegetables in there," she said, describing the picture of the turkey chili. "Mushrooms, peppers, tomatoes. I bought all of those using the 'prescriptions.' I got the peppers on sale. You have to use them fast, because they go bad. It feels good to make your own food, but you have to make it last. I've got my boy, and then his friends come over and they want to eat, too. Sometimes I don't have much. But that chili fed us for three days."
Veggie Rx also brought many people to the region's farmers' markets for the first time, an experience both the farmers and participants found enriching.
"My kids came with me to the market," said another anonymous participant. "I feel like for the first time they are learning that food doesn't come from the refrigerator. People work so hard to grow this food for us, and we live in a special place. My son got to try a fresh peach for the first time. His eyes got so big—peaches are fuzzy, you know. It's such a privilege to be there with a person when they try something for the first time."
For Mandi Rae Pope, who found that an overabundance of processed food was causing her migraine headaches, the vouchers were a way to eat cleaner and reduce the headaches. "I'd take the vouchers to the farmers' market, and Henry was eating blueberries like it was his job," she said. "I'd get the blueberries and freeze them and have them for the next month for snacks instead of crackers. When Arlo came, I was able to make his baby food from the farmers' market and Dickey Farms. It meant so much to me."
These are all gratifying stories. But how do the healthcare organizations involved in the program measure what happens to patients' health when they eat more fresh food? That's as problematic as it sounds. David Edwards, CEO of One Community Health, takes a stab at it.
"We've seen meaningful differences in people's lives as a result," he said. "It's powerful for our organization, and ignites a lot of passion for our staff. It's an effective lifestyle intervention."
The proof of his sincere belief in the program is in One Community Health's budget. "It's a no-brainer," Edwards said. "We've built $24,000 into our budget for 2016 for Veggie Rx, as part of our direct patient support. It's safe and meets the real needs of our patients. I've never heard of anyone overdosing on broccoli."
And that's a good thing for the program, because that $70,000 that GGFN raised? It's all gone, used by more than 1,000 people. All the prescription pads have been written down to the last carrot. Sullivan says she has another $35,000 grant pending, and other clinics besides One Community Health are beginning to budget for veggie prescriptions, but the future of the program is unclear. And that means the chance of Veggie Rx helping to reduce that stark 1-in-3 hunger ratio is still an uphill push.
"SNAP [food stamps] and WIC and supplements and food banks are not enough to provide people with the food they need," Sullivan said. Sullivan would like to see a "dosage" of $1 a day per person available to hungry people here. With 25,000 Gorge residents living with food insecurity, do the math. It's a big dollar figure, or as one presidential candidate would say, it's huuuuge.
Sullivan and others in the community health coalition keep pushing on hunger, and hunger keeps pushing back in a hundred different ways. Housing costs keep rising, meaning less money is left for food. Wages aren't budging much either.
"Complicating the whole fresh food delivery system is the fact that government subsidies which bring down the price of food go primarily to corn, soy and other crops that end up as processed foods," said Sullivan. A very small percentage of the farm bill goes to 'specialty crops' which are fruits and vegetables. Imagine if those subsidies went to fresh food?
Yackley ponders what it will take to create a local food system that really works. "It's not as optimized as it should be," she said, pointing out that food banks don't have strong connections to farmers, and that donors are still asked to bring in boxes of mac and cheese. She wonders how people with home gardens, like herself, could get their surplus into the hands of hungry people, or how local kitchens, like the new one at Mt. Hood Town Hall, might help people with canning, expanding on work underway by Lauren Kraemer, manager of SNAP Education and instructor for Family and Community Health at OSU Extension.
"We have all the pieces, but such frustration," Yackley said. "Can we find a way to weave through this to get food to people?"
Though Sullivan continues to direct a strong Veggie Rx fund-raising effort at GGFN, she believes the answer to hunger in the Gorge is the development of a comprehensive strategy in which everyone is making decent wages and can buy food.
"The ultimate answer is to eliminate the need for this program," she said.
And that is indeed what happened in the Pope household. Adam Pope is using his graduate degree at the U.S. Fisheries operation at Willard, Wash. And Mandi Rae is working as a server at Celilo Restaurant.
"I love that I'm serving food from local farms," she said. "It's that whole circle thing. Now that we're in the middle class, we don't need those vouchers anymore. But those months we used them? That was a game changer for us. I want to go tell it on the mountain."
Kathy Watson is chair of Fresh Start Culinary Arts Program in Hood River, and is writing a memoir, "No bun for Corky: My life as a Small Town Chef."